Written by Aaron R. Winston
Last Updated: May 20, 2023 2:32pm CDT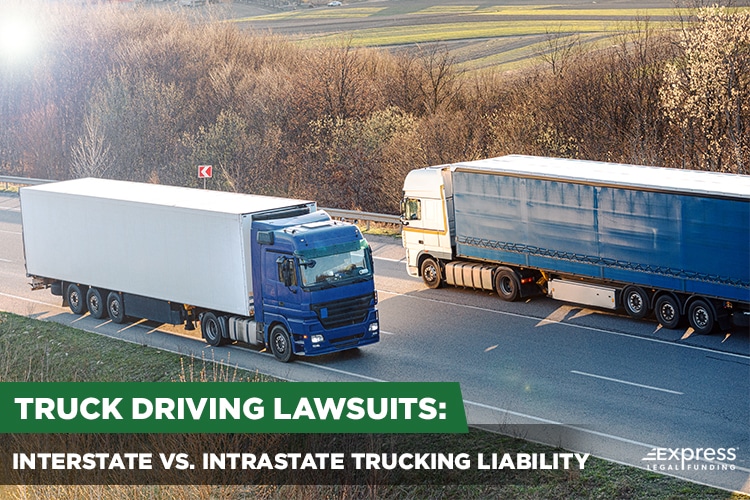 Motor vehicles are virtually everywhere. There are literally billions of motor vehicles worldwide.
According to the Office of Highway Policy Information's most recent study (revised in 2023), more than 282 million registered motor vehicles are in the United States alone. 282,354,993, to be exact.
As that number has increased over time, we have also seen the options, sizes, and types of cars and trucks become more diverse and complex.
In the years after gasoline-powered cars began to be manufactured on a larger scale and leading up to the mass production of the Ford Model T, the available car models had relatively similar weights.
The average car weighed about 2,000 lbs, with the heaviest being above 3,000 lbs.
So few of those cars could be labeled as significantly more "dangerous" than others due to their size and weight. As we know, that is far from the case today.
The various types and sizes of private and commercial vehicles that we can purchase range from small compact cars to massive 18-wheeler motor carriers that weigh 35,000 lbs empty.
Truck driving makes for dangerous and potentially fatal roads and highways where the risk to your safety varies and can drastically increase depending on the car you are in.
One of the largest vehicles we see daily is the semi-truck, a massive vehicle designed to cross state lines and transport large amounts of cargo. These trucks are essential, making the commercial industry viable through transport and delivery.
However, even with their crucial role, oversized trucks present a significant moving hazard to people in smaller vehicles.
It is often devastating for drivers of sedans or compact SUVs and their passengers who get hit by a semi-truck.
Despite the dangers, trucking is a major industry. Being a truck driver is often touted as a distinctly American career despite existing in most first-world (industrialized and technologically advanced) countries.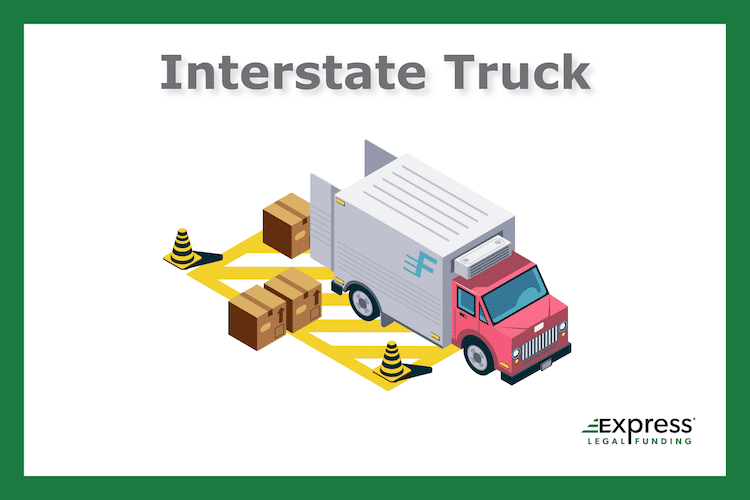 Driving alongside and passing semi-trucks has become synonymous with a cross-country road trip and driving on the interstate, as the semi-trucks are often seen on highways that connect multiple states (interstate).
Most often, these truck drivers have the job of transporting merchandise from warehouses and production facilities to retailers and local distributors in other states.
Unfortunately, these commercial vehicles are not immune from causing motor vehicle collisions and present a deadly threat when the truck driver is reckless.
Negligence from the operator of a semi-truck is a severe threat that can directly jeopardize your life and inflict serious injuries and financial costs on accident survivors.
Fortunately, this does not have to be where the story ends, as recovery can be made. The American legal system and those of other countries provide legal options for victims of truck accident collisions to obtain compensation, often via a personal injury claim and lawsuit.
However, critical details alter how an injury case can be pursued.
In this article, we will provide insight into those specific by focusing on the differences between interstate and intrastate trucking highway systems.
So let's begin.
Interstate Trucking vs. Intrastate Trucking
The laws and regulations of the trucking industry are more complex than many people realize and are unique to commercial trucks. These unique legal aspects can complicate a truck accident, which is not the case with the average rear-end accident.
A legally ambiguous issue afflicts trucking due to trucks constantly crossing state lines.
That can make it difficult to track how the legal system will affect the situation, especially if you are driving outside the boundaries of your home state.
Still, this is not always the case since many truckers do not travel across the country or between states, as they only operate and transport cargo within a specific state's borders.
There are two distinct types of truckers depending on where they operate within the United States, and their legal responsibilities differ significantly.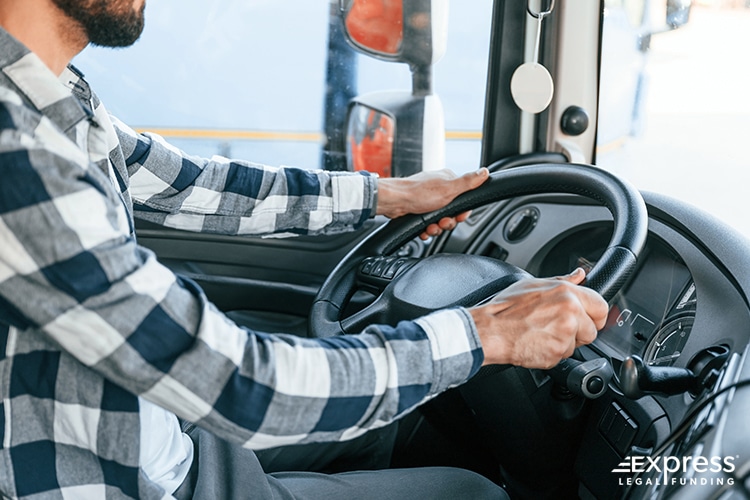 Types of Truck Drivers Based On Where They Operate:
Interstate truckers.
Intrastate truckers.
To understand the differences between interstate and intrastate trucking, let's define each one:
What Does Interstate Mean in Trucking?
Interstate Trucking: Interstate truckers are semi-truck operators transporting goods and cargo across state lines. An interstate trucker is usually responsible for bringing products from one state to another or traveling through one state to reach another.
As a result, an interstate trucker usually crosses multiple borders within a single commission and embodies the typical perception of a trucker in the United States.
Intrastate trucking comes with extra-legal requirements that truck drivers and companies must follow.
Common Types of Interstate Trucks:
16-wheeler trucks
18-wheelers trucks
Flatbed trucks
Car transport trucks
Gas tanker truck
Diesel tanker truck
Propane tanker truck
Tractor trailers
Interstate moving truck
Open trailer trucks
Large refrigerator trucks
What Does Intrastate Mean in Trucking?
Intrastate Trucking: Intrastate truckers are semi-truck operators transporting goods and cargo within a single state's borders. An intrastate driver never professionally operates their vehicle outside a specific state and usually only transports products from one end of the state to the other.
The classification of an intrastate trucker is less known and often mistaken for an interstate trucker due to preconceptions from the general public.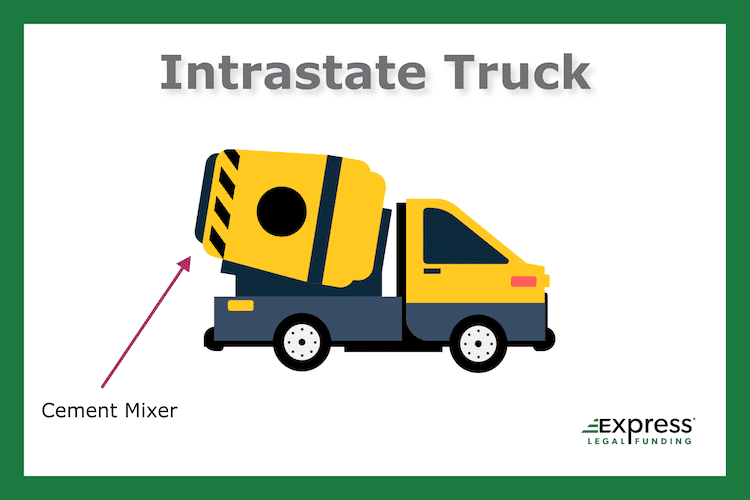 Common Types of Intrastate Trucks:
Garbage trucks
Dump trucks
Local delivery trucks (UPS, FedEx, DHL)
White glove delivery trucks
Storage trucks
Cherry picker trucks
Bucket trucks
Tow trucks
Cement mixer trucks
Water tanker trucks
Local moving and storage company trucks
Although interstate and Intrastate trucking are categorized as two types of truckers with different legal classifications, their differences are often lost on the general population. Evidence of this is how many people are unaware that intrastate truckers exist until they face a firsthand experience.
The reality is that most people are not truckers and do not have a commercial driver's license, so the way they are introduced to interstate and intrastate truck driving results in a car accident and the subsequent legal battle in which truckers are involved.
Knowing the difference between them is crucial because the liability regulations for interstate and intrastate truckers differ. As a result, there is concern that this detail might complicate the subsequent legal proceedings.
Trucker Accident Liability
When someone follows the law and gets a regular motor vehicle license before driving a passenger car, which does not exceed their state's dimension and weight limits, they now legally have the privilege to drive the types of vehicles covered by the license.
Once licensed with a regular driver's license, there is little a driver must actively do besides renewing it to maintain it.
The risk of license revocation for a regular driver primarily comes down to if they break the law by driving under the influence (DUI) or another type of recklessness behind the wheel, like speeding.
This ease is not afforded to truck drivers. Truckers who require a commercial driver's license (CDL) must actively meet additional requirements. It's similar to the concept that with great power comes great responsibility.
Both regular licensed drivers and truckers with commercial driver's licenses (CDL) are expected to maintain a duty of care and can be held liable for any collision they instigate.
The main difference between a car accident and a truck claim is that traditional vehicle owners typically maintain independent liability and insurance coverage.
In contrast, most truckers do not own their vehicles and are contracted as employees to operate commercial motor vehicles.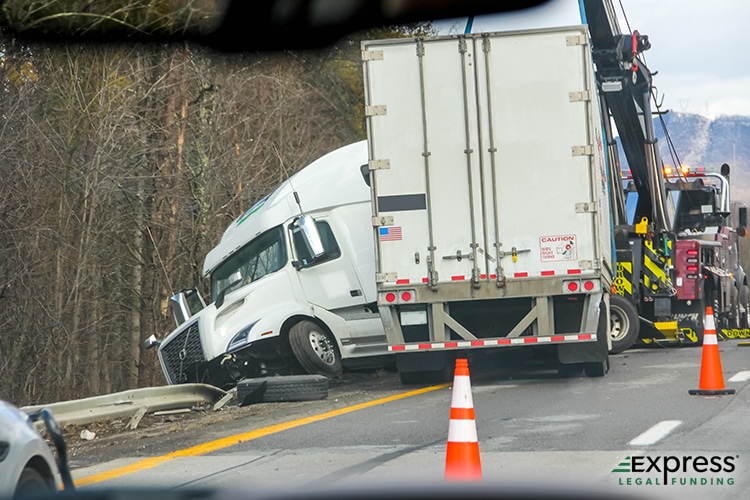 Do Most Truckers Own Their Truck?
No, most truck drivers do not own their own trucks. The majority of truckers work for a specific trucking company and do not own the commercial truck they drive for their job. Instead, the trucking and transport company whose payroll they are on owns it.
This is the case for both intrastate and interstate drivers. However, the insurance requirements for interstate trucking are almost no difference in terms of liability with interstate vs. intrastate truckers regarding car accident and personal injury claims.
Are Truck Drivers Responsible For Damages?
Ultimately, the liability lies with the truck's owner if a trucker is involved in a motor vehicle collision. More often than not, the truck's owner is the trucker's employer rather than the trucker themselves.
Truckers can operate independently and self-own the vehicle themselves, at which point they become liable for all injuries and damages they cause in collisions and requirement violations.
The question of liability is also a concern of whether the truck's owner has the appropriate insurance policy.
If the trucker is an intrastate operator, they must have a valid policy for the state that issued the CDL.
Conversely, an interstate operator must have more extensive insurance coverage incorporating further protections for out-of-state scenarios.
USDOT Regulations
Another critical detail affecting commercial truckers impacts motor vehicle collisions and the insurance company's liability. All interstate truckers and most intrastate truckers are required by federal and state law, respectively, to maintain an extra layer of identification known as a USDOT number.
Without it, the truckers cannot purchase liability insurance, which can hurt a truck accident claim.
What is a USDOT Number?
Commercial trucks owned by companies or nonprofit organizations that use the trucks for commercial purposes are required to have a United States Department of Transportation (USDOT) number for interstate commerce.
USDOT numbers are issued by the Federal Motor Carrier Safety Administration (FMCSA) and act as a unique identifier that allows the government to track commercial trucks when monitoring and collecting data from safety and compliance audits and information gathered from crash investigations.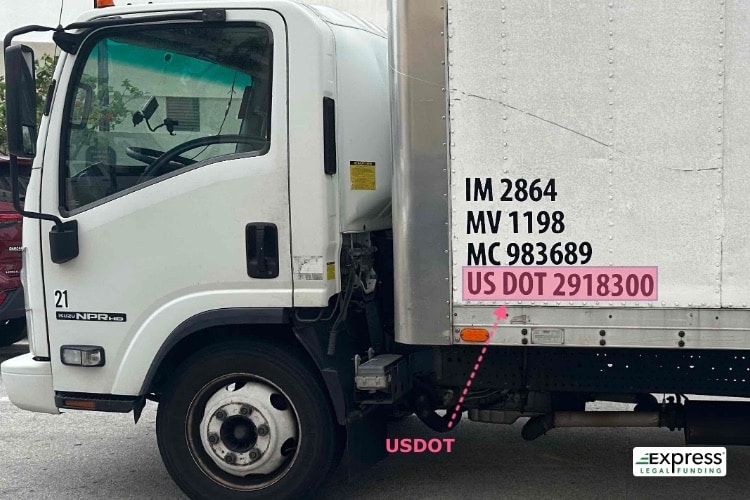 The Federal Motor Carrier Safety Administration (FMCSA) requires USDOT numbers for all vehicles involved in interstate commerce and to meet specific criteria for truckers, such as passing medical exams and drug tests.
USDOT Number For Hazardous Materials
The FMCSA requires vehicles to have USDOT certification if the vehicle is used to transport the types and quantities of hazardous materials requiring a safety permit in interstate or intrastate commerce. The exact details of these criteria are defined in 49 CFR 385.403.
Additionally, a DOT number is required if a vehicle used for interstate commerce (Trade, transport, or traffic in the US) meets any of the following criteria:
The vehicle has a gross vehicle weight rating, gross combination weight rating, gross vehicle weight, or gross combination weight of 4,365 kilograms (10,001 pounds) or more (For example, a loaded flatbed or semi-truck).
The vehicle is designed to transport more than eight passengers (including the driver) for compensation (For example, a tour bus or a hotel shuttle).
The vehicle is designed to transport more than 15 passengers (including the driver) without compensation (For example, a church bus).
USDOT Numbers Are Always Required For Interstate Trucking
Interstate truckers are required by federal law to have a USDOT number associated with their vehicle. This requirement applies to any vehicle used to transport products between states, so interstate truckers are not the only ones expected to follow the federal motor carrier safety regulation.
However, interstate operators are not the only truckers required to maintain a USDOT number.

38 States Require USDOT Numbers For Intrastate Trucking
Most states have state laws that require and enforce the use of a USDOT number for intrastate operators. That has enabled these states to maintain a more comprehensive registry of vehicles transporting goods within their borders.
The states that require intrastate truckers to have a USDOT number include the following:
States That Require FMCSA USDOT Numbers:
Alabama
Alaska
Arizona
California
Colorado
Connecticut
Delaware
Florida
Georgia
Hawaii
Idaho
Indiana
Iowa
Kansas
Kentucky
Maine
Maryland
Massachusetts
Michigan
Minnesota
Missouri
Montana
New Jersey
New York
Nebraska
Nevada
North Carolina
Ohio
Oklahoma
Oregon
Pennsylvania
Puerto Rico
South Carolina
Texas
Utah
Washington
West Virginia
Wisconsin
Wyoming
Out of the 50 states, only 12 do not require intrastate truckers to maintain a USDOT number to identify their vehicles.
States That Do Not Require FMCSA USDOT Numbers:
Arkansas
Hawaii
Illinois
Louisiana
Mississippi
New Hampshire
New Mexico
North Dakota
Rhode Island
South Dakota
Tennessee
Vermont
Even with twelve states not requiring truckers to obtain USDOT numbers for intrastate commerce, most states do, and all interstate truckers are required to. So these unique identifiers have become a factor for most truckers.
This is important because a trucker that fails to maintain a mandatory USDOT number invalidates their ability to purchase insurance coverage.
This means truck drivers' personal liability and potential costs skyrocket if they get involved in a collision because they are uninsured, a serious violation of federal motor vehicle law.
The federal government requires all motorists to have insurance so the proper resources are available when a car accident occurs.
Without a USDOT number, interstate and intrastate (where state law requires USDOT numbers) truckers cannot be insured because they violate federal (and possibly state) statutes.
How Do Lawsuits Work Against Truckers?
Being struck by a semi-truck is probably one of the most dangerous scenarios one can face while on the road. Semi-truck accidents only account for 3.5% of the total traffic accidents in the country. However, the issue is that the large truck accident fatality rate is disturbingly high compared to regular car accidents.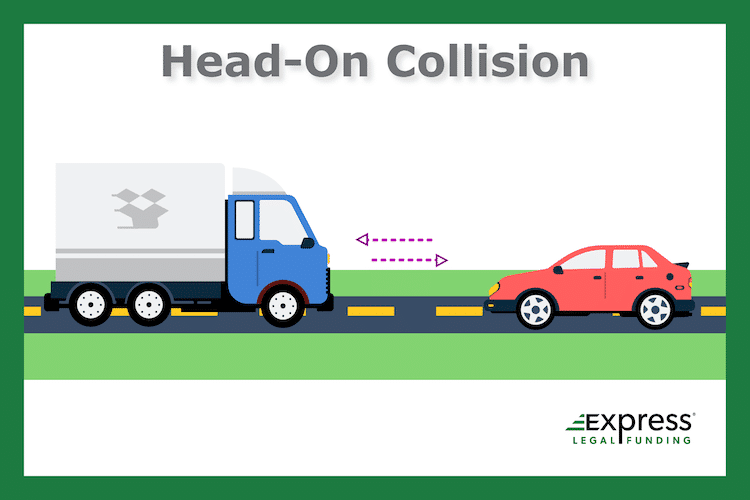 Surviving a head-on collision with a semi-truck while driving in a smaller car is rare, and those who do live to tell the tale are typically left with catastrophic injuries that drastically reduce the victim's quality of life.
This reality makes it that those involved in motor vehicle collisions with a semi-truck are unlikely to fully recover their quality of life from before that accident, which translates to increased medical costs and loss of future income.
The more severe the truck accident injuries, the more the cost of medical treatments will add up.
As a result, incidents involving truck drivers are more likely to find their way to litigation when the survivors or the family of victims seek compensation to recover financially.
Typically, the defendant in trucking accidents is the company who hired the trucker who caused the accident, while the driver is later disciplined or terminated at the company's discretion.
Still, the truck driver is likely to be involved in the legal proceedings by providing a deposition. In these situations, you can file an official claim to seek compensation for the damages the victim suffered in the accident.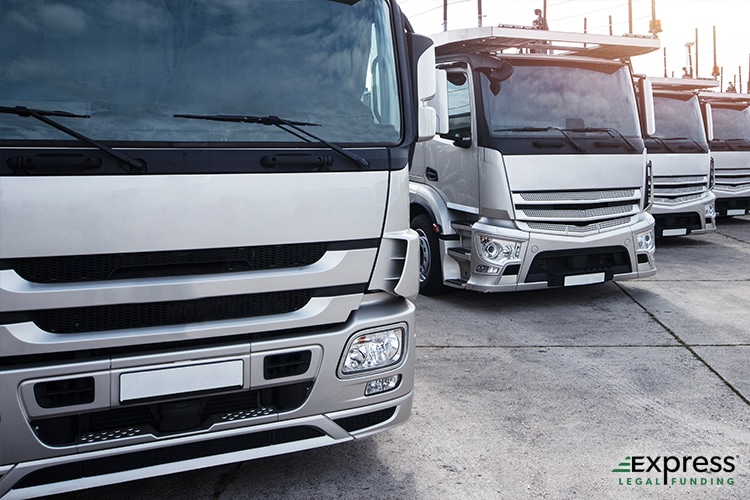 Trucking Insurance Companies Seek to Settle Out of Court
Most insurance companies are eager to settle out of court when facing a legitimate claim, as defending a truck accident lawsuit can become expensive. Doing so removes the risk of a jury awarding a victim a large trial award.
Even though they may have to write a large settlement check, it will cost the insurance company less in the long run. It allows them to cut their losses and move on.
If you are a truck accident victim and seek to hold the trucking company accountable and potentially getting a fair settlement check becomes a moot point if you do not take the steps leading up to the litigation process.
How Can a Truck Accident Lawyer Help?
Hiring a truck accident lawyer is the best way to help ensure legal success, as you will almost always receive a larger settlement amount by hiring an injury attorney to represent you on a truck accident case than attempting to represent yourself.
Just like all industries, not every truck accident attorney is as experienced or will be as good of a fit for you, especially if you and the attorney do not get along.
That is why law firms offer free case evaluations, so you don't have to commit to the first attorney you have a free consult with.
Hiring a personal injury lawyer to represent you can give you legal options as they can help you throughout mediation (negotiating with the insurance company for a settlement) and move on to file a personal injury claim (a civil lawsuit) if your settlement demands are not met.
The purpose of these claims is to recover from the financial loss incurred from your medical treatment and, in all likelihood, if a semi-truck struck you, for future medical costs.
All personal injury claims are brought to seek compensation for injured victims to be reimbursed for the cost of their treatment.
What is the Average Truck Accident Settlement Amount?
The average settlement for a truck accident lawsuit is known to be higher than those of car accident injury cases. There are two primary reasons for truck lawsuits' higher case value and settlement amounts, which include:
Severe injuries: The severity of truck accident injuries tends to be higher and often requires surgery, which increases the amount owed for medical costs. Attorneys can negotiate larger settlement amounts when they can point to expensive medical bills. Additionally, insurance adjusters take plaintiffs who had surgery more seriously, as you can't fake having orthopedic surgery to mend your broken bones, which resulted from a truck accident.
Increased insurance policy limits: The FMCSA requires truckers to purchase insurance coverage with a minimum policy limit of $750,000.00. Depending on the type of cargo, that number could be required to be as high as $5,000,000.00 per incident, with hazardous materials topping out that minimum limit range.
High policy limits are a good thing for personal injury victims. It enables them to recover more money than when suing defendants who carry personal car insurance policies. Some states' minimum coverage amount is only $15,000.00, which means that is the most a car accident victim can sue an at-fault driver for.
Commercial policies for trucks increased the average truck lawsuit settlement, as recovery is not capped with the same low and often too low amount as with personal car insurance policies.
In summary, the average truck accident settlement amount is more than that of a car accident case due to the severe injuries and the high policy limits.
You must overcome another crucial detail, even with these variables in place, to obtain a large truck accident lawsuit settlement. You must prove the truck driver is at-fault and caused the accident.
Prove Truck Driver is At-Fault
Proving fault and establishing liability are crucial to a truck accident lawsuit. You and your lawyer must prove the accident was the trucker's fault, which can be done by gathering evidence, such as expert witnesses and other forms of testimony.
The settlement should cover the cost of your losses and pay the contingency-based fee of your lawyer, with some leftover funds for you to keep.
Truck Driving Accidents: Wrongful Death Claims
Unfortunately, personal injury claims are the lesser claim type able to be filed for passenger car collisions involving large trucks. It is more likely that a loved one will need to file a wrongful death claim against the trucker's employer to be compensated damages than the accident victim themselves filing a personal injury claim on their own behalf.
Surviving a semi-truck accident involving a head-on collision in a passenger car happens only a minority of the time.
Wrongful death claims are a type of civil lawsuit similar to yet distinct from personal injury claims. Like with personal injury cases, a wrongful death suit's purpose is to sue for money.
However, with wrongful death, the plaintiffs seek compensation through damages, which is different from being awarded injuries. The surviving immediate relatives are not filing for the victim who died due to the accident.
Instead, they are bringing the wrongful death suit on their behalf to be compensated for the harm they suffered.
Wrongful death laws change depending on the state, but the basic concept is that you must prove the plaintiff is legally responsible for your loved one's passing.
Wrongful death suits are more complicated because you must prove that you have suffered damages because of your loved one's passing, in contrast to personal injury claims that primarily rely on total medical costs.
Although we wish no one ever died in a semi-truck collision, the small saving grace is knowing their family can file a wrongful death claim to help them recover financially.
Closing Statements on How Intrastate and Interstate Trucking Are Different
Motor vehicle collisions involving semi-trucks are severe incidents with a high risk of killing the victims in a passenger car. The survival rate is drastically lower than the average car accident.
Whether the accident was with a tractor-trailer on the interstate or a semi-trailer driving intrastate, victims can file lawsuits to receive compensation. That is the very idea and purpose of negligent tort law.
If you ask anyone who suffered a traumatic car accident whether they had more or less costs due to the incident, they will presumably answer yes.
With that being the case, they, in all likelihood, also filed a personal injury claim, demonstrating how truck accident survivors find themselves in the months and years following a car accident.
We at Express Legal Funding understand this more than most, as we are a pre-settlement funding company that speaks and strives to help car accident victims and their families multiple times daily.
The lawsuit process can be emotionally and physically stressful, and the more severe the injuries, the longer it often takes.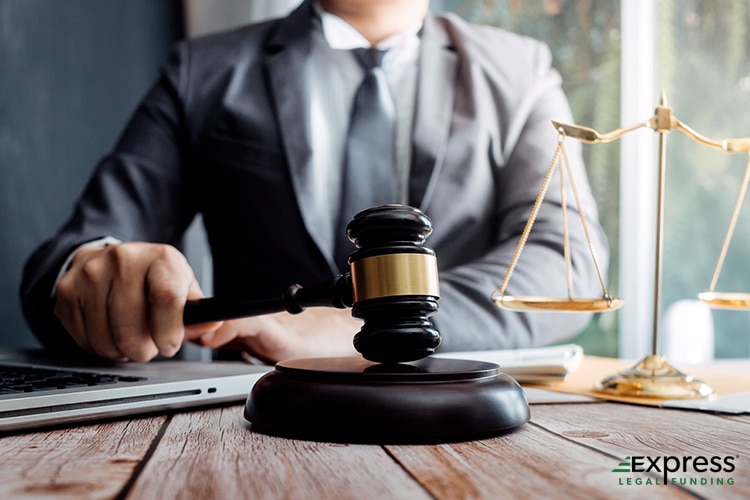 Legal Funding For Truck Accident Lawsuits
When car or truck accident plaintiffs find themselves wading through the lengthy litigation process and are short on financial resources, that is when we can step in and help by advancing legal funding to help them stay financially afloat.
Clients can use it to keep up with their everyday cost of living payments and make new purchases, such as a put a down payment on a replacement car.
In addition to pre-settlement funding enabling people to get the money they need now and not only later after their case is settled or won, it is also a risk-free advance on the claim proceeds, not a loan.
That means you do not have to worry about losing their claim regarding paying us back as a legal funding company since the lawsuit funding transaction we provide is a purchase agreement between a buyer and a seller. It's not a loan, as there is no borrowing.
Instead, we can advance you some non-recourse pre-settlement money in exchange for you assigning us the right to receive a share of your claim's potential proceeds.
With each funding we provide a client, we are making an investment by betting on your claim resolving successfully and sharing in some of your settlement winning, which means helpful money for you now even if you feel your case is at a standstill.
(Important facts for Missouri consumers: The financing we can provide to injured and damaged claimants in Missouri are recourse loans and not risk-free cash advances with repayment contingent upon settlement or trial proceeds.
Pre-settlement lawsuit loans and post-settlement loans in states like Missouri are recourse loans and must, technically, by law, be repaid. Express Legal Funding-Missouri, LLC is a loan company licensed to give these loans to consumer borrowers in MO.)
If you have an ongoing lawsuit in which you are suing someone for money and have hired a "no win, no fee" truck accident lawyer and cash on hand now and not only later when your case ends, and the settlement check is delivered, we are the company to call to apply for legal funding help.
Call us or apply online anytime, 24/7, to learn more and see if getting help from Express Legal Funding, a nationwide lawsuit funding provider based in Plano, Texas, is the best choice. We are here to help.
Aaron Winston is the Strategy Director of Express Legal Funding. As "The Legal Funding Expert," Aaron has more than ten years of experience in the consumer finance industry. Most of which was as a consultant to a top financial advisory firm, managing 400+ million USD in client wealth. He is recognized as an expert author and researcher across multiple SEO industries.
Aaron Winston earned his title "The Legal Funding Expert" through authoritative articles and blog posts about legal funding. He specializes in expert content writing for pre-settlement funding and law firm blogs.
Each month, tens of thousands of web visitors read his articles and posts. Aaron's thoroughly researched guides are among the most-read lawsuit funding articles over the past year.
As Strategy Director of Express Legal Funding, Aaron has devoted thousands of hours to advocating for the consumer. His "it factor" is that he is a tireless and inventive thought leader who has made great strides by conveying his legal knowledge and diverse expertise to the public. More clients and lawyers understand the facts about pre-settlement funding because of Aaron's legal and financial service SEO mastery.
Aaron Winston is the author of A Word For The Wise. A Warning For The Stupid. Canons of Conduct, which is a book in poetry format. It consists of 35 unique canons. The book was published in 2023.
He keeps an academic approach to business that improves the consumer's well-being. In early 2022, Aaron gained the Search Engine Optimization and the Google Ads LinkedIn skills assessment badges. He placed in the top 5% of those who took the SEO skills test assessment.
Aaron's company slogans and lawsuit funding company name are registered trademarks of the United States Patent and Trademark Office. He has gained positive notoriety via interviews and case studies, which are a byproduct of his successes. Aaron R. Winston was featured in a smith.ai interview (2021) and a company growth case study (2022).
In 2023, Aaron and Express Legal Funding received accolades in a leading SEO author case study performed by the leading professionals at WordLift. The in-depth data presented in the pre-settlement funding SEO case study demonstrate why Aaron Winston maintains a high-author E-E-A-T. His original writing and helpful content continue to achieve unprecedented success and stand in their own class.
Aaron was born in Lubbock, TX, where he spent the first eight years of his life. Aaron attended Akiba Academy of Dallas, TX.