Written by Aaron R. Winston
Last Updated: June 13, 2023 1:37pm CDT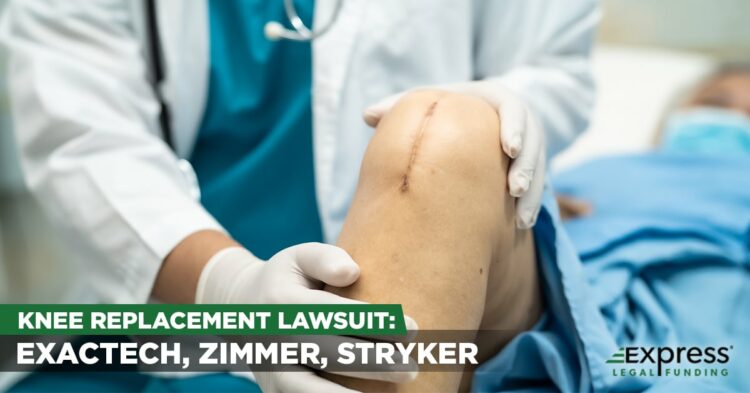 There are several situations where we are subject to injuries that impact our overall health and the physical state of our bodies.
Depending on the type of injury, our bodies might suffer damage that requires surgical intervention.
One of the most sensitive and most important parts of the body is the knee, precisely the knee joint, which connects the bones of the upper and lower legs.
The knee is the largest joint in the human body and is involved in all forms of leg movement, which makes it crucial to daily activities that involve walking and standing. When a knee sustains enough damage, whether from a traumatic injury or slowly over time, our bodies cannot repair the damage.
That often leaves patients with the final options of doing nothing or going ahead and replacing the knee joint with artificial parts through orthopedic surgery, known as knee replacement surgery.
The first knee replacement surgery was performed in 1968 and since has become a standard procedure primarily performed on the elderly and on patients whose knees were devastated by physical trauma, such as sports players.
It continues to become more commonplace for orthopedic surgeons to perform knee replacement surgeries each year. In fact, according to the 2022 annual report from the American Academy of Orthopedic Surgeons, 753,818 total knee arthroplasties were performed in the U.S. in 2021.
So it should be no surprise that with over three-quarters of a million knee implants in 2021 alone, several medical device tech companies have produced their own knee replacement devices to be sold.
There is money to be made, and the price of each implanted device can range wildly. According to one 2012 study, the cost of a total knee replacement device was reported to be anywhere between $1797 and $12,093.
Although there are over one hundred manufacturers of artificial joint implants, some larger and more notable knee implant companies exist.
Some of the largest knee implant companies:
Stryker
Depuy Synthes
Zimmer Biomet
Exactech
Smith & Nephew
Unfortunately, this level of lucrativeness may have facilitated some patients getting hurt by some of these companies having defective products to the point of necessitating FDA device recalls.
Knee surgeons always warn their patients that surgery comes with risks and there is no guaranteed successful outcome. The doctors do this out of an ethical obligation and to legally protect themselves if something goes wrong, as even a safe surgery on a healthy person can go very wrong. That is known as informed consent.
However, when it comes to medical device implants, sometimes the surgery can be unsuccessful, and it is neither the fault of the surgeon nor due to the risk they informed their patient about ahead of time.
Knee Replacement Recall Lawsuits
The problems with the surgery could be caused by the surgery involving a defective medical device, which means the responsibility of the surgery not healing the patient can be that of the companies who make the implant.
With that said, many patients and their loved ones have filed claims alleging this applies to their knee joint replacement surgery, as they were left experiencing problems afterward.
Specifically, for this article, we will discuss in depth the knee replacement device recalls and lawsuits for the following three knee replacement medical technology companies:
Exactech is the only company with an active knee replacement lawsuit against it in the U.S. (Zimmer could now face NexGen knee replacement lawsuits in the United Kingdom.)
With there being several knee replacement device recalls over the years, we will discuss the lawsuits filed against the three companies listed above. Some of the reported problems among the different knee replacement devices include:
What Are the Symptoms of a Defective Knee Replacement Recall?
Patients with a recalled defective knee replacement implant may experience symptoms, including
Pain
Oxidation
Limited range of motion
Bone loss
High failure rates
Total implant failure
Unfortunately, details about knee replacement lawsuits are slow to be forthcoming to the general public. There is a good chance you found this article searching for more details about the Exactech, Zimmer, and Stryker knee replacement recalls.
You found the right article to answer your questions, as it was written for anyone wanting to learn more about the current status and history of knee replacement lawsuits.
Let's start off with the Exactech knee replacement lawsuit.
Exactech Lawsuit
Exactech, Inc. is one of the leading implant systems manufacturers in the country and has been in operation for years. Among the products Exactech, Inc. manufactures is its Exactech knee replacement implant.
The Exatech knee implants are one of the most widely circulated in modern surgical procedures, with some of the earliest implants dating back almost 20 years to 2004.
Unfortunately, the implants from 2004 are where Exactech's legal issues began since the implants from that time led to a lawsuit against the company.
Exactech recently launched a mass knee implant recall of their defective knee implants manufactured after 2004 due to a significant issue that impacted the product's safety and drew the attention of the U.S. Food and Drug Administration.
You can see a list of the Exactech recall on the FDA website. In addition to the Extactech knee replacement recalls, hip implants and ankle replacements were also recalled.
It was recently discovered that the vacuum seal packaging used to secure and transport the Exactech Optetrak, Optetrak Logic, and Truliant knee replacement implants had a severe defect. The packaging was breaking and losing its air-tight seal.
The knee implants produced by Exactech, Inc. were manufactured with a polyethylene insert designed to provide padding for the implant.
Unfortunately, the packaging defect caused the polyethylene insert to be exposed to oxygen before use, causing oxidation, which degraded the knee replacement material.
That resulted in the implants being compromised before installation, and several failed prematurely (within a few months after the orthopedic surgery / total knee arthroplasty).
The premature degradation of the polyethylene insert and failure of medical device implants like those produced by Exactech, Inc. can cause serious health complications.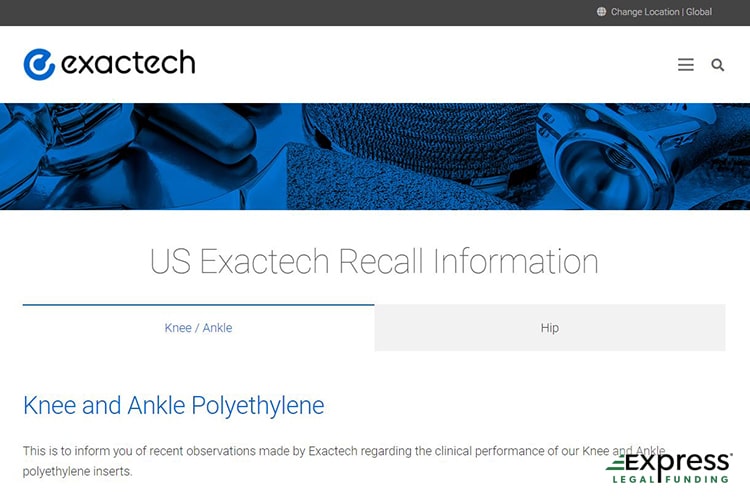 Is There an Exactech Knee Replacement Lawsuit?
Yes, there is an ongoing MDL lawsuit against Exactech for its knee replacement recall. On behalf of plaintiffs, several law firms have filed lawsuits against Exactech for defective knee replacements.
They allege failing Exactech knee implants led to suffering acute pain severe enough to warrant having doctors order x-rays and perform knee replacement revision surgery to remove the faulty devices.
The law firms that have filed lawsuits against Exactech seek compensation for the victims for what they went through.
Required Knee Implant Revision Surgery
The biggest issue for the Exactech knee replacement lawsuit claimant is that not only did they experience additional pain and recovery time, but having to undergo another surgery on a body part already operated on is risky.
Combined with the suffering caused by the implants, faulty implants' consequences are a severe issue.
Exactech MDL Lawsuit in Eastern District of New York
The high number of injured victims across the country led a New York judge on October 11, 2022, to consolidate the nationwide personal injury claims against Exactech into a single class action MDL. The single multi-district-litigation knee implant lawsuit saves money and makes it more manageable for the law firms involved.
Exactech is only the first of three companies in this list article whose knee implants are the subject of legal scrutiny.
Zimmer Biomet Lawsuit
Another major medical device company facing lawsuits is Zimmer Biomet, which is another one of the older med-tech companies. Since its founding in 1927, Zimmer Biomet has produced many medical products, but one of the more critical products is its knee implants.
Zimmer FDA Device Recalls
Unfortunately, Zimmer Biomet has an unfortunate history insofar as its product quality is concerned since Zimmer has issued multiple recalls. Zimmer Biomet has issued over 101 device recalls since 2003, with the determined cause being "Device Design."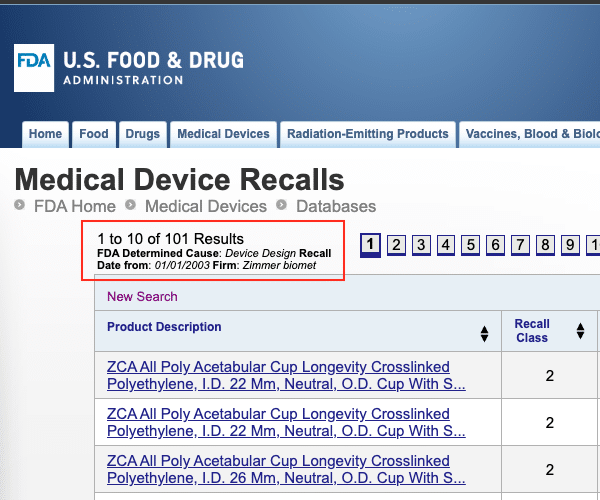 There have been many Zimmer Biomet product recalls for other determined causes.
Zimmer NexGen Knee Replacement Recall
One of the more significant Class 2 device recalls was the Zimmer NexGen Complete Knee Solution Cruciate Retaining (C.R.)FLEX Knee replacement. Although Zimmer initiated the recall on November 29, 2017, that was not the first time Zimmer was made aware of NexGen's large-scale issue.
Dr. Richard A Berger and Dr. De Valle Report Study to AAOS
In 2010, two Rush University orthopedic surgeons, including Dr. Richard A. Berger, who worked for Zimmer designing artificial replacements, released a report which highlighted issues they noticed surrounding the tibial and femoral components in the NexGen knee replacement.
They also called for a recall due to premature loosening in NexGen's implant components. In the report, the doctors stated:
[l]oosening and revision were not related to surgeon, approach or patient type.
Zimmer attempted to deflect and counter the report's claim by releasing its own report, which showed the NexGen knee replacement device's success in other countries like Australia.
Still, the greater orthopedic community did not doubt the two Rush University physician's orthopedic skills. As mentioned above, the NexGen was eventually recalled seven years later, and stated the following as being the reason for what caused the loosening that necessitated the recall:
The LDPE bag packaging for various highly polished hip and knee implants may adhere to the highly polished surface, leaving residue or material from the LDPE bag on the implant after it is removed from the bag.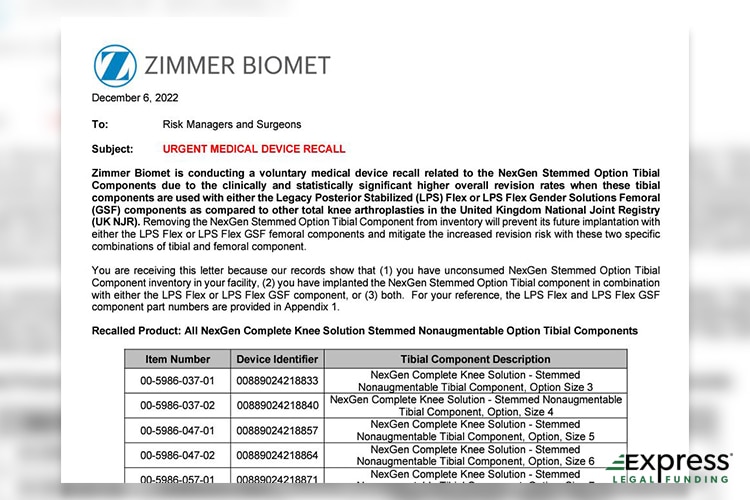 Zimmer NexGen Lawsuits
Ultimately, once the recall was issued, Zimmer NexGen lawsuits began to get filed by many plaintiffs, as they sought compensation for their revision surgery costs and for the pain they experienced.
Like other large medical device lawsuits, the number of plaintiffs suing Zimmer Biomet became too many to litigate separately. So the individual NexGen knee replacement claims were consolidated into a single multi-district litigation (MDL) in Illinois against Zimmer.
It's important to note the opportunity to join the Zimmer NexGen Knee replacement MDL has passed. The MDL is now closed. As of February 2018, Zimmer settled the remaining MDL tort claims for an undisclosed settlement amount.
Zimmer Persona Knee Replacement Recall
In addition to the Zimmer NexGen Knee recall in 2018, the FDA posted another voluntary Class 2 device recall for a more personalized Zimmer knee implant a few years earlier in 2015.
The 2015 device recall was for the Zimmer Persona Trabecular Metal Tibial Plate knee implant, and this time 11,658 artificial knees were recalled.
The definitive root cause of the Zimmer Persona design defect remains unclear to the general public. No official reason has been released, as the FDA Device 2 Recall page for the Zimmer Persona, first posted on March 12, 2015, still says the FDA determined the cause as being: Under investigation by the firm.
Zimmer Biomet attempted to deflect blame for their products' failing by blaming the doctors who performed the knee replacement surgeries. Zimmer alleges that the orthopedic surgeons installed the implants incorrectly, so they came loose after a short time and not due to defective device issues.
The medical community widely disregarded Zimmer's claims since the surgeons who installed the implants had extensive experience in their field.
While Zimmer Biomet has tried to avoid product liability lawsuits, several patients who received a Zimmer knee implant claim they suffered because of the loose devices. Moreover, they allege their pain and suffering led to their needing revision surgery to remove the implants or correct the failing installation.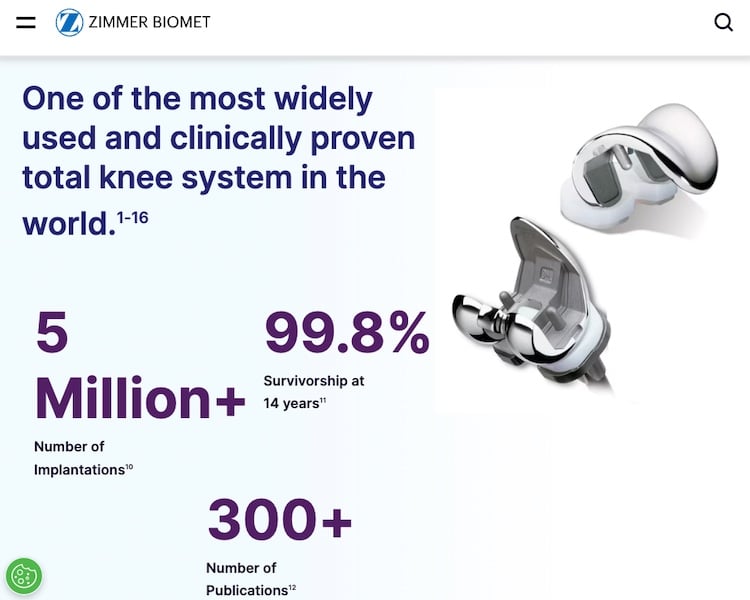 These additional surgery expenses, combined with the pain they experienced, have led the patients to file lawsuits against Zimmer Biomet for compensation.
Like other large medical device lawsuits, the number of plaintiffs suing Zimmer has become too large to litigate separately with the intent of recovering financial compensation for their injuries.
So the individual knee replacement lawsuits have been consolidated into a single multi-district litigation (MDL) against Zimmer.
The Zimmer knee replacement class action MDL is still active and working its way through the legal system.
Stryker Lawsuit
The third medical technology company on our knee replacement lawsuit list worth discussing is Stryker, another old name initially founded in 1941 by Dr. Homer Stryker.
Dr. Stryker realized the medical technology of the early 20th Century was insufficient for his patients' needs and founded his namesake company to produce more effective alternatives.
Since then, Stryker has become a leading medical technology corporation worldwide.
While a lone doctor with noble intentions founded Stryker, the company has since grown into a publicly traded company on the New York Stock Exchange (NYSE: SYK).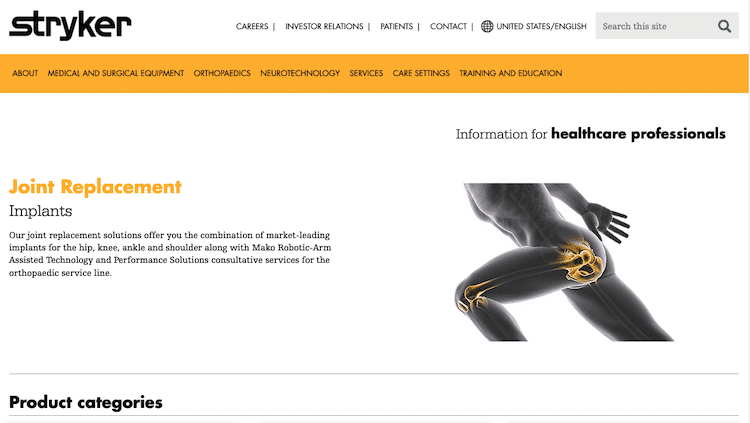 Stryker's current leadership puts a premium on quantity and production, which can lead to defective products. This can prove to be an issue for companies struggling to balance production rates with quality control.
Unfortunately, the stakes are higher when a medical technology company faces this problem. Stryker's products have developed issues that led to a mass recall of their knee implants due to the medical complications patients have experienced.
Stryker Triathlon Total Knee System Recall
On March 4, 2021, a Class 2 device recall was issued for several knee joint implants manufactured by Howmedica Osteonics Corp., a subsidiary of Stryker. Unlike Zimmer Biomet, Stryker voluntarily launched the recall by issuing letters to notify and protect the safety of patients.
Several Stryker brand implants suffered a unique flaw that could cause them to fracture and damage their integrity during transport or the knee replacement surgery itself. This Device 2 recall affected a total of 113 units distributed by Stryker.
The Stryker Triathlon Knee Defective device locations:
California
Georgia
North Carolina
New Jersey
Nevada
Oklahoma
Texas
Canada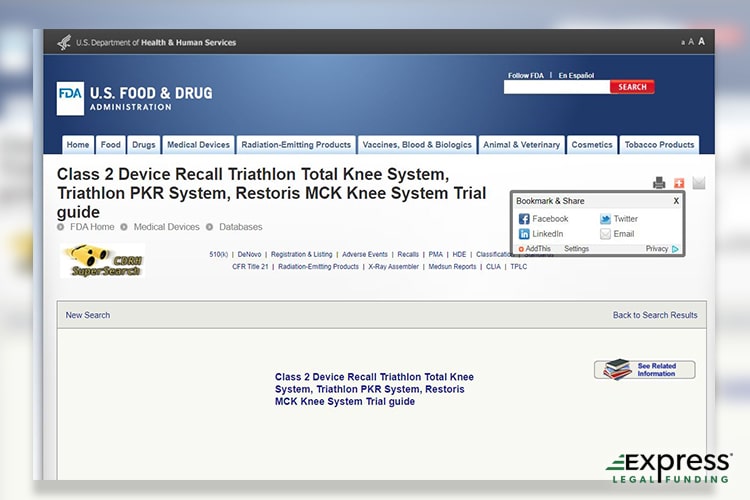 Unfortunately, Stryker faced several other issues between 2013 and 2016, with over 28,000 products being recalled. The implants subjected to the recall were all designed to repair the problems in the legs and knees, making them crucial to the surgery treatment.
However, the issues with defective Stryker products have damaged the health of many patients, which includes some who received a Stryker total knee replacement.
Thus this Stryker makes for another prime example of a medical technology company subject to device recalls for its knee replacement devices and has faced lawsuits for faulty products. As a result, multiple victims filed lawsuits against Stryker for pain and suffering.
Like Exactech and Zimmer, recalled device lawsuits against Stryker continued over the years and ended up being prosecuted as part of an MDL.
However, the background of Stryker and the other two companies has only been the start of the knee replacement lawsuit situation.
What is the Status of The Knee Replacement Lawsuits?
The big question on your mind if you've suffered knee replacement issues and are considering taking legal action is what is the current status of these lawsuits anyway, and are they close to settling?
It is a reasonable question and concern since the damage caused by faulty medical devices can be debilitating and financially devastating.
When a company like Exactech or Stryker manufactures a defective product that harms you instead of helps you, it is understandable to want to know if there is an ongoing lawsuit and its status.
While the MDLs for Exactech, Zimmer, and Stryker are separate from one another, they all go through the same process while being prosecuted.
For simplicity's sake, we will focus on the knee replacement system lawsuits in order of discussion.
Exactech MDL Lawsuit Status
The Exactech, Inc. lawsuits are among the newest. They are the only active knee replacement MDLs among the three companies discussed, as both Zimmer and Stryker are not currently facing knee replacement class actions.
While several claims and some legal action have been taken, the MDL is nowhere near the settlement phase. The federal court system has only recently allowed the MDL to accept future claims against Exactech for faulty knee replacement implants.
That is hardly surprising since the MDL was only authorized this year. Nevertheless, more lawsuits are filed against Exactech daily, and legal professionals feel confident about knee replacement plaintiffs' odds.
Although, it will still be at least a few years before most plaintiffs can expect to get an Exactech knee replacement court verdict or settlement check sent out, no matter how strong their winning claim is.
Exactech is not close to settling and has only begun reviewing the knee replacement lawsuits.
All successful MDL and class action lawsuits arrive at a point where the personal injury and mass tort law firms can no longer accept new claims. Judges set provisions and deadlines in multidistrict litigation when new claims can no longer be filed for a particular MDL against a company.
What is the Stryker Lawsuit Settlement Amounts?
One Stryker defective product lawsuit was that of the Stryker Duracon Unicompartmental Knee MDL. It finally settled in 2016 for $7,600,000.00 after 15 years of litigation.
These lawsuits had slightly different circumstances, but Stryker's legal history puts the plaintiffs at a distinct advantage since the number of cases filed against the company in the past for similar products makes repeating issues more believable. While this is not the only thing the courts will consider, it is crucial.
Stryker Corporation FCPA Settlement with SEC
An interesting but less pertinent Stryker lawsuit settlement occurred in 2013 when Stryker Corporation agreed to a $13,200,000.00 settlement with the SEC for FCPA violation charges.
The SEC charged Stryker with violating the Foreign Corrupt Practices Act (FCPA), alleging its subsidiaries in five different countries bribed doctors, health care professionals, and other government-employed officials to obtain or retain business.
These alleged criminal behaviors share similar motivations with companies prioritizing quantity and production over product safety.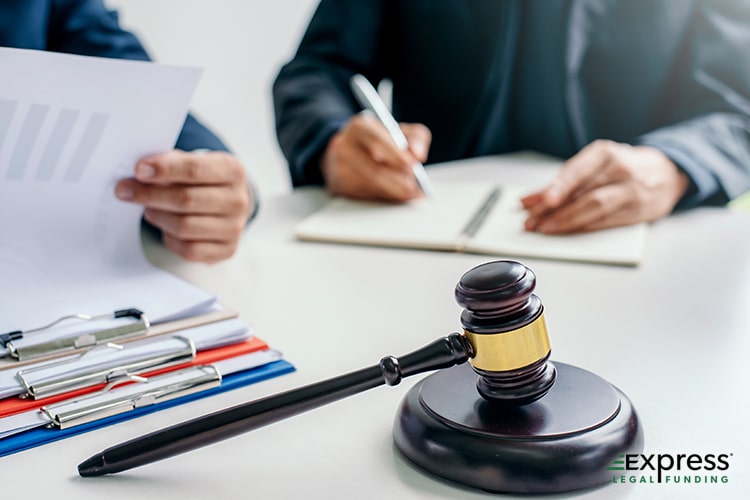 Zimmer Biomet is at a different stage of the litigation process compared to Exactech and is not likely to remain active too much longer. It is not close to settling and has only begun reviewing the knee replacement lawsuits.
While this is still an early aspect of the case, it has advanced enough that most firms are no longer accepting new claims since the MDL is too far along to add more claims.
A good example of this is the Smith & Nephew knee replacement lawsuit from 2021, where most attorneys are no longer accepting new clients for this case.
Nevertheless, those claims currently associated with the MDL are being assessed fairly and will face the same legal process as any other MDL. Unfortunately, the claimants on the MDL will still have to wait before a settlement agreement is reached and they can financially recover from their injuries.
The Stryker lawsuit is similar to the others but has older MDLs that can be referenced for possible results. While some cases are still in the early stages, an older MDL launched in 2013 settled for an undisclosed amount.
These lawsuits had slightly different circumstances, but Stryker's legal history puts the plaintiffs at a distinct advantage since the number of cases filed against the company in the past makes a repeat offense more believable. While this is not the only thing the courts will consider, it is an important detail.
While these MDLs are awaiting further litigation, they will likely settle within the next few years.
Unfortunately, a delay like that can be problematic for the victims since they are dealing with injuries and the cost of medical care needed to manage the consequences.
This reality makes handling a knee replacement lawsuit, even an MDL, very difficult when struggling with other essential costs, and can make dealing with a suit a more significant expense than you are prepared to deal with and leave you struggling to make ends meet without assistance.
Closing Statements on Knee Replacement Lawsuits
While Exactech MDLs are awaiting further litigation, there will likely be another few years before plaintiffs can expect financial compensation for the injury and loss they suffered from the defective knee replacement devices.
Unfortunately, these long delays make it harder on the already suffering victims of knee replacement lawsuits. Needing revision surgery can leave patients disabled and having to endure extra medical bills they cannot afford, which is why the Exactech MDL is so vital in the first place.
The positive news for plaintiffs waiting on their Exactech knee replacement lawsuit to progress through the courts is that they can apply for pre-settlement funding from our team at the Plano, Texas-based Express Legal Funding.
That way, the plaintiffs who were injured from defective implants can access cash now when they need it and not only after their case settles.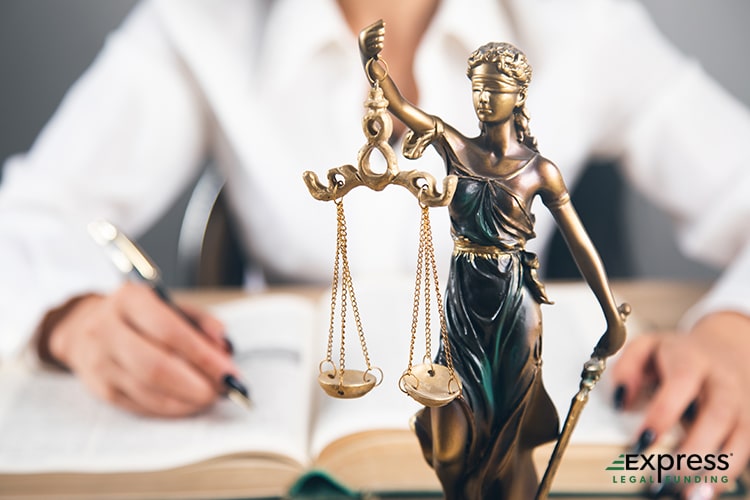 Pre-settlement Funding for Knee Replacement Lawsuits
Qualifying for legal funding is easier than you may think. The first step starts the same for all claimants taking legal action against another party to recover the financial losses they incurred, whether from missing work or additional medical expenses that come with knee replacement lawsuits.
The Approval Process involves Evaluating Cases.
The approval process is also fairly straightforward as the most important part is that there be a viable claim to receive the pre-settlement cash advance for, as that is where the unique part of how lawsuit funding works comes in.
Since lawsuit funding is not a loan, it is a non-recourse cash advance with the lien requiring repayment contingent upon the claim proceeds (a settlement or court award).
Legal funding companies have to feel confident in the strength and merit of the claim to provide a client with pre-settlement funding. That is because people who obtain pre-settlement funding are not required to repay the funds advanced to them if they do not recover any money from their claim.
So if the case is weak and ends up with a loss or an insurance company flat-out denies liability, the legal funding company will incur the loss and not the client.
That concept of the lien going on the claim and not the client means two primary crucial things about lawsuit funding:
The funds are advanced risk-free and therefore are not a loan.
If the claimant loses their case and recovers nothing, the legal funding is theirs to keep. They do not have to pay it back.
(It is important to note that the financing we can provide to claimants in Missouri is a loan product and, therefore, not risk-free. Pre-settlement loans in Missouri are loans and must, technically by law, be repaid. Express Legal Funding-Missouri, LLC is licensed to give these loans in MO)
It's worth exploring your pre-settlement funding options if you need money now and not only later when your claim ends. It can be a great financial way for people to not get behind on bills and cover sudden expenses during an injury case.
The team at Express Legal Funding enjoyed writing this article and hopes you found it a helpful and easy-to-grasp resource about knee replacement lawsuits and class action claims.
If you found this article insightful and satisfying in your search for answers about defective medical devices getting recalled, we encourage you to browse more of our blog.
Thousands of readers come monthly to read our articles about lawsuits, and legal funding, ranging from car accident injury cases to class action claims.
Remember, if you believe you have an Exactech knee replacement lawsuit, you can contact an Exactech recall law firm for a free consultation. You should not hesitate as it's not too late to see if you qualify with a free case evaluation for the Exactech MDL claim.
To get started, you can search "Exactech knee recall lawyer" on Google or Microsoft Bing.
Last but not least, you can give us a call or apply online anytime to hear more about your pre-settlement funding options if you need money now and not only later when your claim is resolved.
It can be an excellent way for you to not get behind on bills and cover sudden expenses during an injury or another type of civil lawsuit case.
Aaron Winston is the Strategy Director of Express Legal Funding. As "The Legal Funding Expert," Aaron has more than ten years of experience in the consumer finance industry. Most of which was as a consultant to a top financial advisory firm, managing 400+ million USD in client wealth. He is recognized as an expert author and researcher across multiple SEO industries.
Aaron Winston earned his title "The Legal Funding Expert" through authoritative articles and blog posts about legal funding. He specializes in expert content writing for pre-settlement funding and law firm blogs.
Each month, tens of thousands of web visitors read his articles and posts. Aaron's thoroughly researched guides are among the most-read lawsuit funding articles over the past year.
As Strategy Director of Express Legal Funding, Aaron has devoted thousands of hours to advocating for the consumer. His "it factor" is that he is a tireless and inventive thought leader who has made great strides by conveying his legal knowledge and diverse expertise to the public. More clients and lawyers understand the facts about pre-settlement funding because of Aaron's legal and financial service SEO mastery.
Aaron Winston is the author of A Word For The Wise. A Warning For The Stupid. Canons of Conduct, which is a book in poetry format. It consists of 35 unique canons. The book was published in 2023.
He keeps an academic approach to business that improves the consumer's well-being. In early 2022, Aaron gained the Search Engine Optimization and the Google Ads LinkedIn skills assessment badges. He placed in the top 5% of those who took the SEO skills test assessment.
Aaron's company slogans and lawsuit funding company name are registered trademarks of the United States Patent and Trademark Office. He has gained positive notoriety via interviews and case studies, which are a byproduct of his successes. Aaron R. Winston was featured in a smith.ai interview (2021) and a company growth case study (2022).
In 2023, Aaron and Express Legal Funding received accolades in a leading SEO author case study performed by the leading professionals at WordLift. The in-depth data presented in the pre-settlement funding SEO case study demonstrate why Aaron Winston maintains a high-author E-E-A-T. His original writing and helpful content continue to achieve unprecedented success and stand in their own class.
Aaron was born in Lubbock, TX, where he spent the first eight years of his life. Aaron attended Akiba Academy of Dallas, TX.