Written by Aaron R. Winston
Last Updated: September 17, 2023 4:24am CDT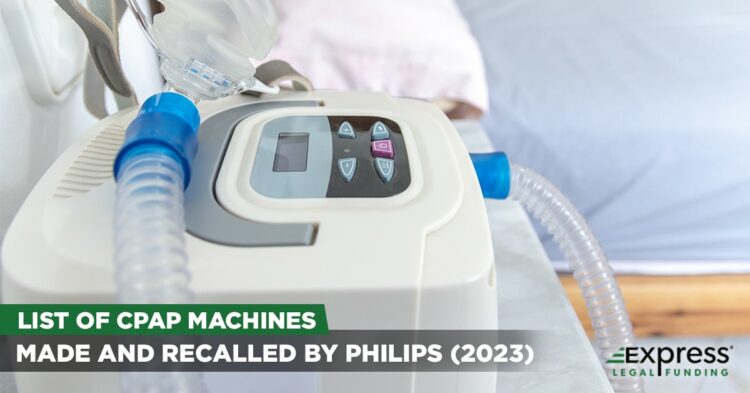 The advent of modern medical technology has improved the resources we can access for our health needs. These modern resources include everything from new treatments to new devices. Many products can improve our health, safety, and overall quality of life by reducing symptoms from underlying chronic issues.
Although some conditions necessitate more advanced medical equipment that is more of a burden, we are fortunate they exist, as one thing is for sure. Medical technology has made medical devices far more accessible to patients and their caregivers and is a staple of home healthcare medicine.
While medical tech companies continue to produce new machines that allow people to live longer and more carefree, the devices can still pose health risks to the people they are intended to help.
There is always the risk of medical treatment causing more harm than good. Specifically, when it comes to new devices, they can be defective and have significant issues that cause harm to the people using them.
A lot can happen when a damaging product is discovered after it is already in use. However, one common theme is that the manufacturer or the FDA will often recall the affected devices to protect the public from further harm.
Unfortunately, this is not a rare issue and one that consumers must consider alongside their healthcare providers. This article will discuss one specific to people with sleep apnea and the BIPAP and CPAP machines they depend on.
If you currently use a CPAP machine, you may have heard about a series of CPAP recalls issued by a company called Philips, known for its health technology. Although not all device recalls have the same level of seriousness, they should not be taken lightly.
Companies issue recalls as a last resort, as they bring unwanted consequences such as new class action lawsuits, MDLs, and a significant increase in expenses. All of these make a company board and shareholders unhappy to hear about.
This is all the more true for recalled devices that are medical equipment, as the potential health risks tend to be more severe and permanent.
Similarly, the Philips CPAP recalls were issued because of health risks and safety concerns caused by design flaws in the recalled machines.
Being aware of and knowing the details about the Philips recall are two very separate things for CPAP machine users, as there is a lot of information to process, especially when wanting to learn whether you can qualify for a replacement device or to file a lawsuit.
List of CPAP Machines in the Philips Recall
If you are a customer of Philips Respironics or Dreamstation devices, you might wonder if your CPAP machine is among the products the company has recalled.
We wrote this for you and anyone interested in learning about the CPAP and BiPAP device recall.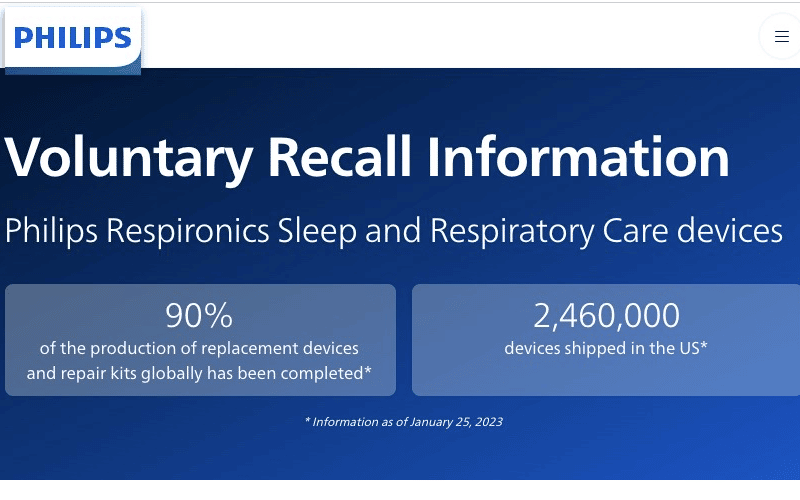 So here's a list of the recalled devices with up-to-date details on each sleep apnea machine.
Note: Here's a link to the Philips recall website. Info from Philips about the voluntary recall, along with other information on the replacement program and shipment of new Dreamstation 2 CPAP devices, can be found on Philips.com. You can also read the US Food and Drug Administration safety communication on FDA.gov.
#1: A-Series BiPAP A30
The BiPAP machine (bilevel Continuous Positive Airway Pressure) called the A30 ventilator is one of Philips' main products from their A-series ventilator systems. The A30 is designed for home care settings and is available for purchase to anyone.
Unfortunately, Philips felt the situation required a Class 1 voluntary recall of the A-Series BiPAP Hybrid A30 to address concerns about plastic safety issues exposing patients to harmful chemicals unrelated to the Pe-Pur foam and its toxic gas.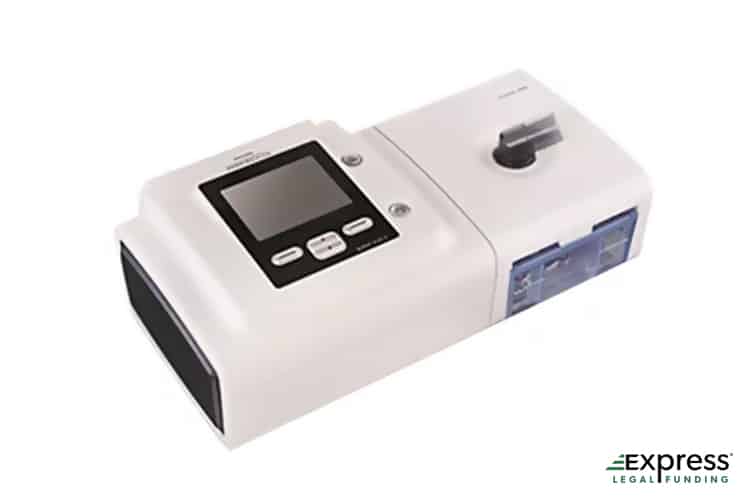 How Many Philips A30 BiPAP Devices Are Recalled?
According to recent statistics, defective BiPAP A30 ventilators were among the 386 devices recalled. The defective A30s were sold between August 6th, 2020, and September 1st, 2021, and were marketed outside the US.
The Class 1 recall reports 8,047 affected devices are in commerce. So there are 8,047 devices recalled from overseas.
However, while Philips allegedly sold the products between these years, the CPAP recall affected products manufactured between 2009 and April 26th, 2021.
Users that purchased one of these products will likely receive a recall notification in the mail.
#2: A-Series BiPAP A40
The BiPAP A40 ventilator device is another of Philips' A-series and the next model up from the A30 mentioned earlier.
Despite being a later model, the A40 and A30 units are available, so Philips' customers can select the product that fits their needs and finances.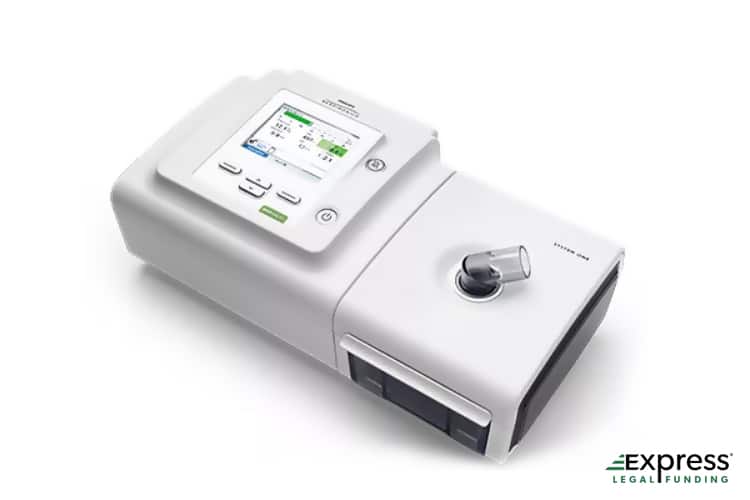 How Many of the A40 BiPAP Machines Are Recalled?
The A40 line of Philips ventilators is distinct in that they are used in home and clinical care environments, unlike the A30. Like the A30, the A40 units were part of the June recall of 386 Philips products.
Unfortunately, the exact number of A40 units sold versus the A30 is not readily available to the public.
#3: A-Series BiPAP V30
The V30 BiPAP device is similar to the A30 but is exclusively used in clinical environments and is not available for private ownership.
While citizens can purchase the A30 and A40 models, the V30s are considered clinical medical equipment and held to a higher standard than equipment sold to the general public.
That means the recall of the V30 ventilators only applies to medical facilities with these units for their patients.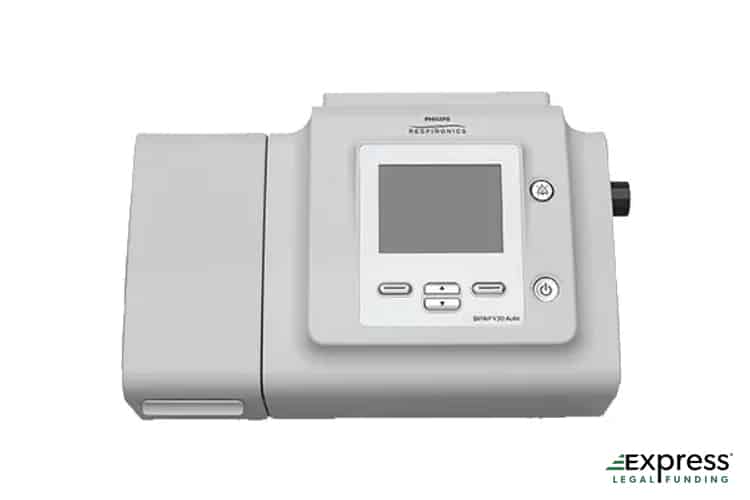 How Many of the V30 BiPAP Devices Are Part of the Recall?
The V30 ventilators were initially part of a less severe Class 2 recall before being part of a second and most serious Class 1 recall.
The Class 1 recall for the BiPAP V30, which is the most severe type of medical device recall, was issued by Philips on August 26th, 2022, and recalled 295 units, while the less severe Class 2 recall was from April 6th, 2021, and recalled 22 units.
Philips V30 BiPAP Machines Class 2 Recall
Unfortunately, exposure to the off-gassing of volatile organic compounds is not the only reason for the Class 2 recall.
V30 Bilevel PAP Design Defect Caused Sudden Failure
The recalled device had a design defect, which caused the sudden failure of the ventilator device and the BiPAP V30 to go into an inoperative condition.
Bi-level PAP design issues that stop airflow are serious health risks that can cause asphyxia if not immediately identified and addressed by a healthcare provider. It can be deadly for the sleep apnea patient when it stops working.
#4: Trilogy Evo Ventilator
One of the more interesting product lines Philips manufactures is the Trilogy series of ventilators that have become a staple of their business. The Trilogy Evo models are non-invasive and extremely popular among sleep apnea patients, as they were created with travel and mobility in mind.
The Trilogy EVO CPAP machine is very durable and has a long, 15 hour battery life.
Unfortunately, the Trilogy EVO was just as susceptible to the Pe-Pur sound abatement foam as other CPAP machines in a Philips recall.
However, what makes the EVO CPAP machine unique where device recalls are concerned is, as of now, only EVO models manufactured and distributed between April 15th and May 24th of 2021 have been recalled.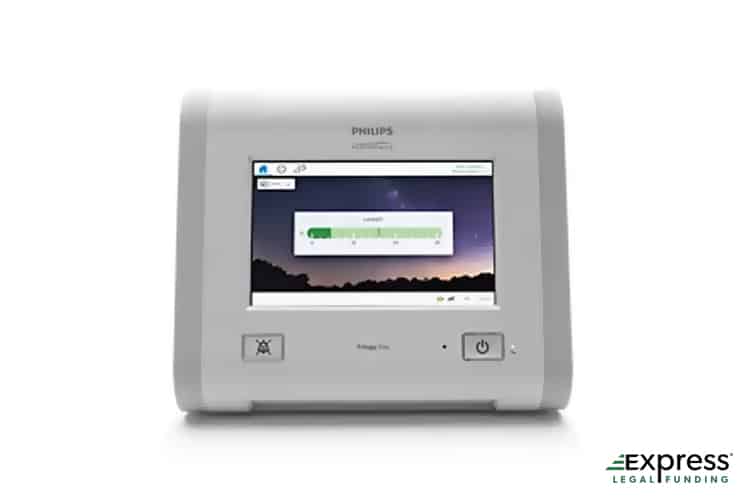 Evo CPAP Recall
Because of the inconsistencies with the Trilogy Evo ventilators, the FDA has a database that contains serial numbers to help the public determine if their unit was affected by the Pe-Pur foam and is part of the Class 1 recall.
FDA database for Class 1 Device Recall Trilogy EVO: DS2110X11B (US Distribution)
Where in the US Did Philips Distribute the Recalled Trilogy Evo CPAP Device?
Philips distributed the affected Trilogy EVO devices in the Class 1 recall to the following 16 US states during those five weeks:
Arkansas
Colorado
Florida
Iowa
Illinois
Kentucky
Louisiana
Michigan
Montana
Ohio
Pennsylvania
Tennessee
Texas
Utah
Virginia
West Virginia
Wyoming
According to the FDA reports, 205 ventilators and 51 repair kits were recalled in the US when the current Class 1 recall was posted on January 26, 2022.
Where Outside the US Did Philips Distribute its Recalled Trilogy Evo CPAP Machines?
The affected Trilogy Evo devices were distributed to the following countries outside the United States:
Argentina
Brazil
Romania
Netherlands
How Many Trilogy Evo CPAP Devices Are Part of the Recall?
The worldwide distribution quantity in commerce of the Trilogy Evo devices is much higher, as there are 473 devices and 205 Evo repair kits being recalled by Philips.
#5: Trilogy 100 and 200
These mechanical ventilator devices are from the same general line as the Trilogy Evo series. Still, the Trilogy 100 and 200 series are less advanced models geared towards less mobile and more impacted patients.
Reworked Respironics Trilogy 100 and 200 Models
The Trilogy 100 and 200 models had the same PE-PUR sound abatement foam issue as the Trilogy Evo, except after being reworked after the first device recall, an additional recall was applied to certain reworked Trilogy 100 and 200 devices.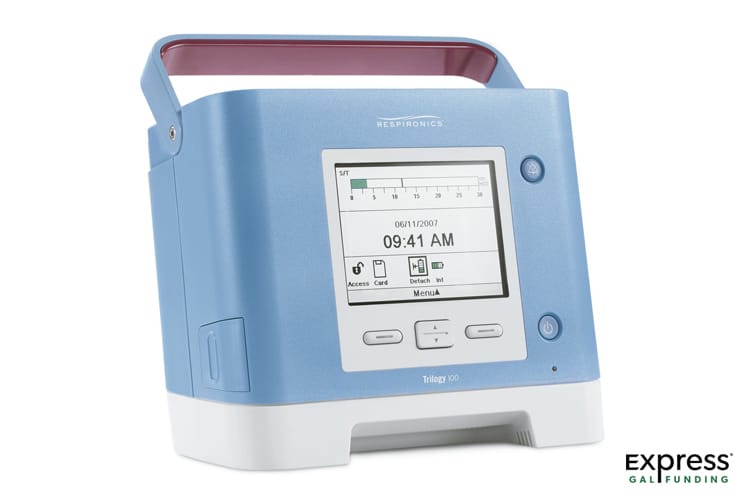 Philips Recall Due to Silicone Foam Adhesion Failure and Residual Pe-Pur Foam Debris
The second recall was that Philips recalled devices that had already been between March 1, 2022, and September 6, 2022.
The issue that necessitated the reworked device recall is that when Philips replaced the dangerous Pe-Pur with the new, nonharmful sound abatement foam, they had silicone adhesion failure because they left residual Pe-Pur foam while doing the repair.
So, the reworked ventilators posed a new health risk due to residual Pe-Pur foam, causing silicone adhesion failure.
Updated to Class 1 Device Recall
The FDA updated the recall to a Class 1 in January 2023. Still, due to the type of patient using the ventilator device, the FDA did not instruct immediate discontinuation of use.
Instead, patients or their in-home caregivers should contact the healthcare provider responsible for their respiratory care for direction.
How Many of the Trilogy 100 and 200 Ventilators Are Recalled?
Currently, there are 13,811 distributed Trilogy 100 and 200 ventilators in the United States affected by the recall.
An additional 7,544 defective ventilators were distributed on the foreign market.
However, fewer injuries have been reported by users outside the US, according to the US Food and Drug Administration's (FDA) research.
#6: Additional Models
The largest Class 1 recall of Philips products consists of 5 different devices combined into a single recall. These five products include:
DreamStation CPAP: A standard bi-level pap ventilator that Philips made available for retail sale directly to consumers with a physician's prescription.
DreamStation Go: A versatile CPAP machine. The Go CPAP device is a portable alternative to the DreamStation designed to travel with the sleep apnea patient and includes accessories that require regular replacement.
Dorma 400: This older ventilator is produced by Philips for sleep apnea patients outside the US, such as in Canada and Germany. The device includes a humidifier. The Dorma 400 Philips Respironics CPAP device has discontinued distribution.
Dorma 500: The updated model to the Dorma 400 sleep apnea ventilator. Philips Respironics distributes the Dorma 500 CPAP machine internationally.
REMstar SE Auto CPAP: The REMstar SE CPAP is marketed as an inexpensive ventilator for people with sleep apnea who need an entry-level CPAP price.
All five of these affected device lines suffered serious issues and presented potential health risks that endangered its users and triggered the most catastrophic recall in Philips' history.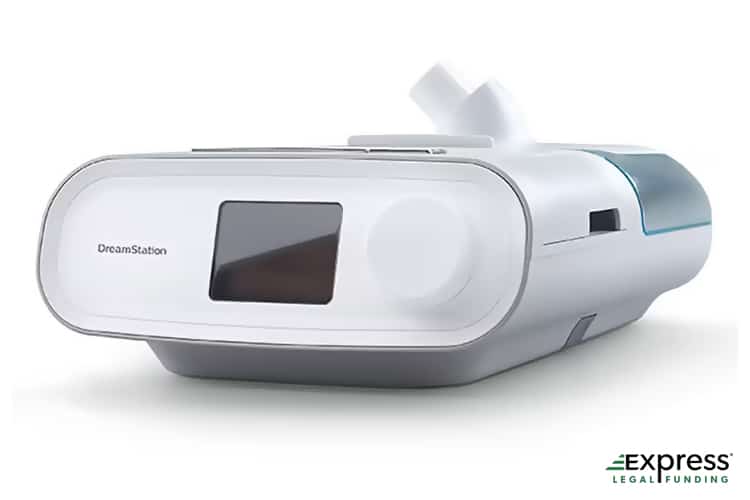 How Many Philips CPAP Machines Are Part of the Recall?
The Philips CPAP recall began on June 14th, 2021, and has led to a staggering 15,357,775 units being recalled worldwide. Of the recalled units, 10,307,186 were from the United States, while Philips sold the remaining 5,039,748 products to outside its United States customers.
The recall was categorized as Class 1, the most significant stain on Philips' corporate image. As of this article, the recall is open, but the Dorma 400 series is discontinued, and the other products might not survive the bad press. There have even been talks speculating on a possible bankruptcy.
Other units are being recalled for Pe-Pur sound abatement foam health risks. Among these additional units are the following:
C-Series ASV
C-Series S/T and AVAPS
DreamStation ASV
DreamStation ST, AVAPS
E30
Garbin Plus, Aeris, LifeVent
OmniLab Advanced+
SystemOne ASV4
SystemOne (Q-Series)
While details are sparse on these additional models, they are among the units being recalled by Philips. Knowing which CPAP ventilators are being recalled is extremely important since you might currently own such a unit.
However, there are other details you must consider before submitting the product you own to a recall order.
Why Are Philips Products Being Recalled?
The sheer number of Philips devices being recalled brings an essential question to the forefront that must be answered. Why are these products being recalled, and how does it affect the users? Philips' recalled CPAP devices use a polyester-based polyurethane (Pe-Pur) foam for sound reduction.
This sound abatement foam helps muffle the sound Philips CPAP machines generate while in use, so they do not disrupt the user's sleep or wake those sleeping in the same area.
Noise reduction (especially in a medical device that forces continuous bi-level positive airway pressure) is essential since it would otherwise be unbearably loud when the user is trying to sleep.
Unfortunately, the Pe-Pur used in Philips' product is defective, making it a hazard for users and those who assist with their at-home healthcare.
Pe-Pur Foam Contains Diethylene Glycol
The Pe-Pur foam used by Philips in the affected devices contains diethylene glycol (DEG), a common solvent used to produce resins and plasticizers. Diethylene glycol, when degraded, is extremely dangerous and generates a toxic gas that can poison and kill people who inhale the substance.
Combining a toxic chemical emission with a device that promotes continuous positive airway pressure to aid respiration while asleep turns the device into a serious hazard.
Warmer "high heat" climates could accelerate the breakdown of this foam and cause harmful gases to emit from the PE-PUR foam, damaging the user of the CPAP machine.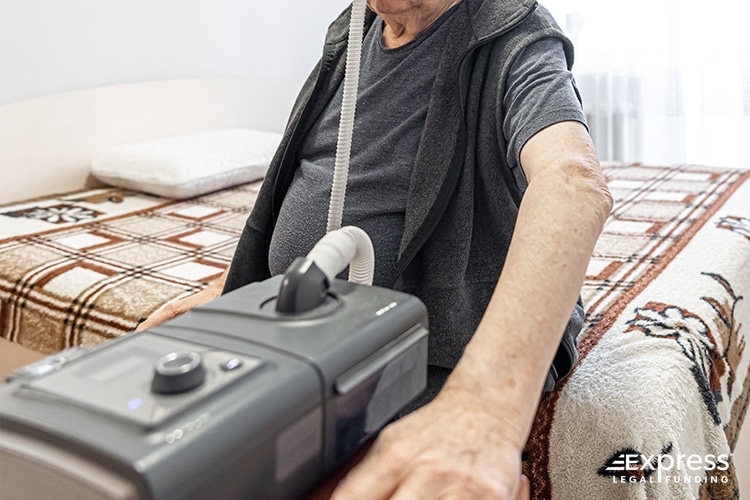 The diethylene glycol toxic gas can cause respiratory tract issues and, in some cases, cancer and cardiovascular disease when inhaled for an extended period. While the CPAP machines manufactured by Philips treat conditions like sleep apnea, the defective units could introduce far more severe health issues.
The danger in the defective units was amplified since the foam particles could degrade due to environmental factors and general wear and tear. Research shows that Philips CPAP units over three years old had a higher risk of foam degradation and, therefore, toxic gas from the Pe-Pur foam.
Initially, Philips claimed the emissions from their devices were not high enough to pose potential health risks. Still, the deteriorating health of certain users proved a concern that Philips devices were endangering their customers' health.
So when the severity of the issue became prevalent, Philips recalled all devices using the Pe-Pur foam and replaced it with a silicone alternative.
However, as mentioned earlier, in December of 2022, the FDA issued a notice about a second issue. The silicone adhesion foam replacements in the reworked machines have also been recalled, as they are causing hazards to users by separating from their backing and blocking air inlets.
Unfortunately, product recalls are rarely preemptive, and the damage caused by the faulty units has already been done. Several victims of the recalled CPAP machines have been injured or left with chronic health issues.
This is a devastating and unfair situation, but fortunately, the US civil justice system offers a solution for the Philips CPAP recall victims.
What Legal Options Exist for Philips CPAP Victims?
Whenever an injury is caused by defective products or negligence of a corporate entity, those harmed can number in the hundreds to even millions. This abundance of victims is typically increased when caused by a long-trusted manufacturer.
Depending on the product type and behavior of the company responsible, it can devastate or even destroy our faith in them.
Worse, that becomes a moot point for those with debilitating injuries, which have lifelong complications, impacting the quality of life and sometimes ending lives.
Regardless, the expenses for medical care, healthcare providers, and becoming disabled are substantial, and being financially responsible for the loss caused by a company's alleged negligence and alleged faulty products is unfair, not to mention debilitating.
CPAP Recall Victims Can File a CPAP Lawsuit and Sue Philips
Fortunately, legal options exist that are already being used by victims of the Philips CPAP recall. Lawyers and plaintiffs can seek to hold a company financially responsible by filing lawsuits against suing for the harm they suffered.
In the case of the CPAP devices, plaintiffs are suing Philips for the injuries they suffered from using an affected device with the Pe-Pur foam.
While you might be familiar with filing lawsuits for motor vehicle injuries or slip-and-fall incidents, filing a claim against a multi-national conglomerate like Philips, not your typical company, is a different experience, especially when so many others suffered alongside you.
While it only takes a single victim to file a personal injury or product liability claim against a company to seek compensation, issues as widespread as the Philips recall situation affects multiple people simultaneously.
That makes things more complicated yet more accessible at the same time.
While you might be familiar with filing lawsuits for motor vehicle injuries or slip-and-fall incidents, filing a claim against a multi-national conglomerate like Philips, not your typical company, is a different experience, especially when so many others suffered alongside you.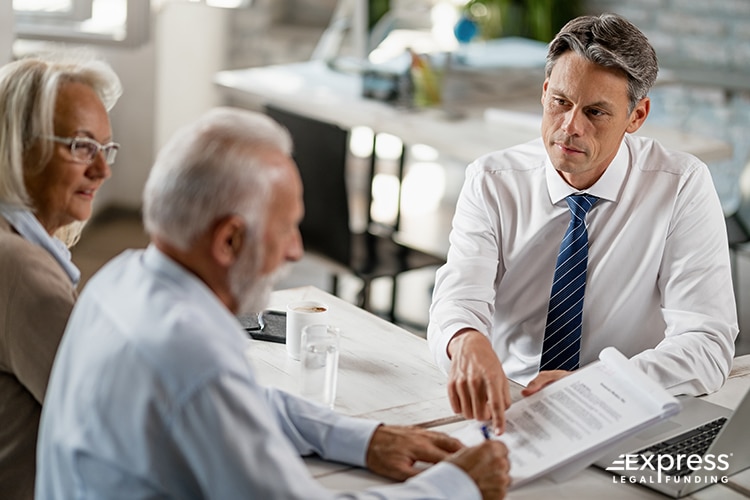 Already hundreds of people allege they were harmed by using their CPAP machine or BiPAP device, and they have filed a claim against Philips for compensation. However, the sheer number of claims has transformed them from multiple individual lawsuits into a single MDL lawsuit against the Philips company.
Philips CPAP Recall Lawsuit
There have been as many as 60,000 injuries caused by defective Philips CPAP machines, the majority of which have joined the claims registry on the Philips website. This list protects potential claimants from the statute of limitations on their CPAP recall claim running out.
There are 354 lawsuits currently pending against the company. Users have reported tract infections and sinus infections after using these devices.
According to the FDA, the breakdown of this foam has carcinogenic effects that cause inflammation, headaches, "toxic or cancer-causing effects to organs," and other dangerous symptoms, according to the FDA.
It's Still Early in the Philips CPAP Lawsuit
Unfortunately, MDL and class action lawsuits progress very slowly. The MDL lawsuit against Philips is not an exception to this reality, and it is still very early in the case. However, the good news is the general consensus among CPAP recall lawyers is that the case will end in favor of the plaintiffs.
Although it is too early to give an estimate without any CPAP bellwether trials, leading MDL law firms and MDL lawsuit professionals have said the suit is projected to award settlements of at least $50,000.00 to the victims.
This makes the CPAP lawsuit among the most significant medical device MDL or class action claims in recent history. Unlike many recent medical device class action lawsuits, the CPAP recall lawsuit against Philips is not for a surgical implant.
While the MDL class action lawsuit is experiencing a few delays, it seems to be on track to compensate the victims of faulty Philips devices.
Is There a Recall of ResMed CPAP Machines?
No, as of this time, there is no FDA recall of the ResMed brand of CPAP ventilator devices, so sleep apnea patients can continue use as directed by their healthcare provider. Philips and the California-based ResMed company are not connected. The Philips recall has no bearing on the safety of the ResMed ventilators.
This has been iterated by Mick Ferrel, CEO of ResMed, who released a statement that included, "…I want to reassure our patients, providers, physicians, and communities that ResMed devices are safe to use and are not subject to Philips' recall."
Closing Statements on the Recalled Philips CPAP Machine
The issue with Philips' products has caused significant pain and suffering to those who inhaled the Pe-Pur gases. The sheer number of products affected by this design issue is horrifying.
A widespread problem like this can destroy people's faith in a significant company like Philips, with the lawsuit exacerbating any concern it might generate.
If a Philips product has injured you or a loved one, you might be dealing with feelings of depression and betrayal, but the worst part is that you are left coping with financial struggles outside the lawsuit.
Unfortunately, the cost of living is not deferred over a suit or other issues, meaning you might need some financial assistance.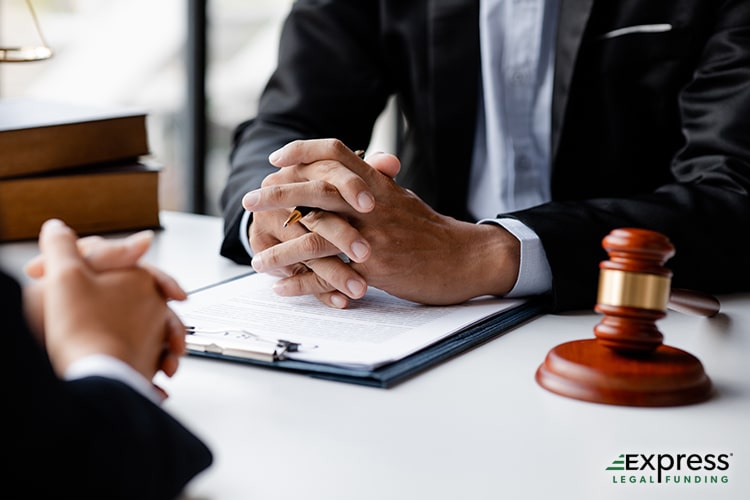 Legal Funding for Class Action Lawsuits
We at Express Legal Funding know that the financial struggle during a lawsuit is unpleasant. That is why we can offer our pre-settlement funding service to injured plaintiffs throughout the lawsuit claims process.
If you apply and get approved for legal funding, you can use the funds advanced to you to pay for essential services like power or housing. The money can be offered as a non-recourse cash advance with the lien placed against your potential case proceeds. That means it is risk-free funding and is not a loan.
From a legal agreement standpoint, that essentially boils down to us, as the legal funding company, purchasing a piece of and placing a lien on the potential settlement or trial award money of your claim.
You are selling us a right to receive some of your potential case proceeds. It's potential because no personal injury case is for sure, and that is why you hired your lawyer on a contingency fee basis. The law firm takes on the risk making it risk-free for you, the client.
It's the same for us. We can give you funding by buying a stake in your case potential proceeds. That means you are not a borrower, and we are not giving you a loan.
Lawsuit funding can be a great financial option for claimants who need money now but can't access funds they need to pay their bills elsewhere.
We are there for people who can't afford to put their monthly payments on hold while they wait for their settlement money to arrive. In the case of the CPAP recall lawsuit, that wait will easily be at least a few years.
It's worth exploring your pre-settlement funding options if you need money now and not only later when your claim ends.
(It is important to note that the financing we can provide to claimants in Missouri is a loan product and, therefore, not risk-free. Pre-settlement loans in the state of Missouri are loans and must, technically by law, be repaid. Express Legal Funding-Missouri, LLC is licensed to give these loans in MO)
The team at Express Legal Funding enjoyed writing this article and hopes you found it a helpful and easy-to-grasp resource. It is our second in-depth post about the current Philips CPAP recall lawsuit.
If you found this article insightful and satisfying in your search for answers about the CPAP machines getting recalled, we encourage you to browse more of our blog.
Thousands of readers come monthly to read our articles about lawsuits, and legal funding, ranging from car accident injury cases to class action claims.
Remember, if you have questions about whether your Philips CPAP recall claim can qualify for our pre-settlement funding service, you can contact us to learn more and apply with our risk-free consultation anytime. We are here to answer your call 24/7.
Aaron Winston is the Strategy Director of Express Legal Funding. As "The Legal Funding Expert," Aaron has more than ten years of experience in the consumer finance industry. Most of which was as a consultant to a top financial advisory firm, managing 400+ million USD in client wealth. He is recognized as an expert author and researcher across multiple SEO industries.
Aaron Winston earned his title "The Legal Funding Expert" through authoritative articles and blog posts about legal funding. He specializes in expert content writing for pre-settlement funding and law firm blogs.
Each month, tens of thousands of web visitors read his articles and posts. Aaron's thoroughly researched guides are among the most-read lawsuit funding articles over the past year.
As Strategy Director of Express Legal Funding, Aaron has devoted thousands of hours to advocating for the consumer. His "it factor" is that he is a tireless and inventive thought leader who has made great strides by conveying his legal knowledge and diverse expertise to the public. More clients and lawyers understand the facts about pre-settlement funding because of Aaron's legal and financial service SEO mastery.
Aaron Winston is the author of A Word For The Wise. A Warning For The Stupid. Canons of Conduct, which is a book in poetry format. It consists of 35 unique canons. The book was published in 2023.
He keeps an academic approach to business that improves the consumer's well-being. In early 2022, Aaron gained the Search Engine Optimization and the Google Ads LinkedIn skills assessment badges. He placed in the top 5% of those who took the SEO skills test assessment.
Aaron's company slogans and lawsuit funding company name are registered trademarks of the United States Patent and Trademark Office. He has gained positive notoriety via interviews and case studies, which are a byproduct of his successes. Aaron R. Winston was featured in a smith.ai interview (2021) and a company growth case study (2022).
In 2023, Aaron and Express Legal Funding received accolades in a leading SEO author case study performed by the leading professionals at WordLift. The in-depth data presented in the pre-settlement funding SEO case study demonstrate why Aaron Winston maintains a high-author E-E-A-T. His original writing and helpful content continue to achieve unprecedented success and stand in their own class.
Aaron was born in Lubbock, TX, where he spent the first eight years of his life. Aaron attended Akiba Academy of Dallas, TX.