Written by Aaron R. Winston
Last Updated: March 18, 2023 11:34am CDT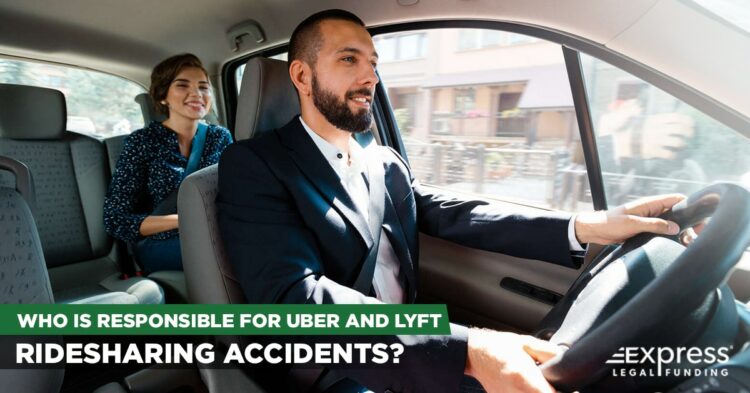 Over the last 50 years, more and more people in the United States relied on personal motor vehicles to go from place to place. The use of taxis, limos, and buses allowed for paid and public transit without a personal car but was not a viable option for most commuters except for in a few big cities like NYC and Chicago.
Even major cities like Houston, Miami, and Los Angeles did not have paid transit, which was practical for most on a daily basis.
All that changed for cities big and small when the 21st Century gave rise to rideshare apps. The first of these applications was Uber, which launched in 2009, and shortly after that, Lyft entered the fray to compete with Uber's business model. The ridesharing companies are now mainstream. Uber has 118 million monthly active users of its platform worldwide.
The convenience offered by rideshare applications does not offset the risks and dangers associated with driving any vehicle. The only significant difference is that you are always the passenger and never the driver.
Motor vehicle collisions are among the most common accidents in the world. In the United States alone, there are approximately 22,500 car crashes daily(Including accidents without injury). This figure includes simple two-vehicle collisions and collisions that spiral out of control and strike multiple different vehicles due to one initial event.
Ordinarily, such accidents involve the vehicles' owners, making any legal claims to recover damages from the crash reasonably straightforward.
Unfortunately, the process is not quite as simple if you were a passenger in an Uber or Lyft vehicle involved in a collision. Determining who is responsible for the accident can be a little more complicated when the injured party is not the one behind the wheel.
Who is at Fault in Ridesharing Accidents?
The question of fault in a motor vehicle accident is a longstanding detail of personal injury claims. Fault helps the legal system determine who deserves compensation and who will be doing the compensating.
Although, fault can be challenging to determine when the injured party was not actively driving the vehicle involved in the collision.
When you are a passenger of a rideshare application, you are putting your health and safety in the hands of the driver, which might make it seem like they are wholly responsible for any injuries you sustain in a collision while using their services. Nevertheless, this is not always the case.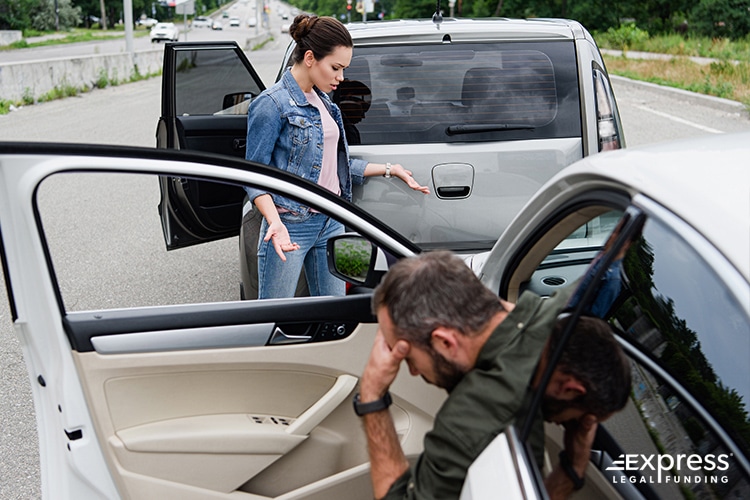 The at-fault driver is determined by the events that led up to the collision and what caused the crash. Details such as whether the accident involved another driver or if the rideshare driver collided with a building or other public property affect the determination of fault.
These details can make it a little simpler to determine whether the rideshare driver was at fault or not. There are three primary ways this can break down for Uber and Lyft car accidents:
Scenario A: You are riding as a passenger in an Uber or Lyft vehicle, and the driver is not paying enough attention to the road. As a result, they collide with a building or object and injure you – this would place the rideshare driver at fault for the collision.
Scenario B: You are riding as a passenger in an Uber or Lyft vehicle, and the driver is not paying enough attention to the road. As a result, they strike another car and injure you – this also places the rideshare driver at fault for the collision.
Scenario C: You are riding as a passenger in an Uber or Lyft vehicle, and, despite the driver being fully aware of their surroundings and obeying the laws of the road, the car is struck by another driver, and you are injured. Unlike the other scenarios, this driver who negligently struck the rideshare vehicle is at fault.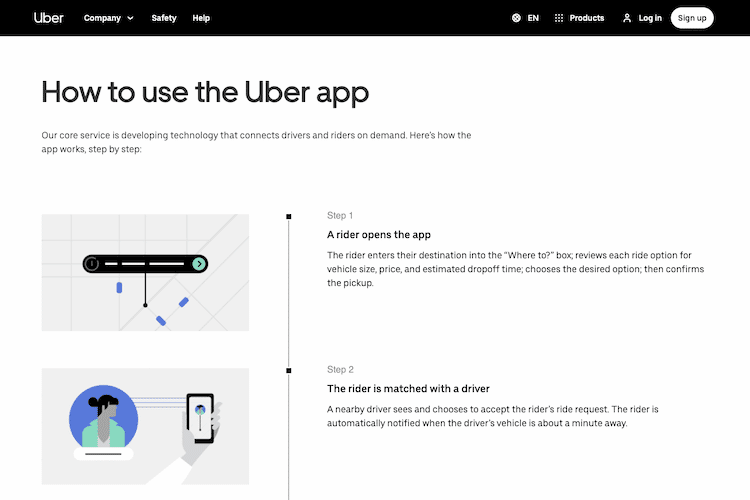 When a driver working for Uber or Lyft gets into an accident while you are a passenger of their vehicle, fault becomes a matter of who caused the car accident. If your driver is not paying enough attention and gets into an accident, the fault lies with them.
Still, they cannot be expected to ensure the rest of the drivers on the road are being cautious. So, when another driver strikes the Uber or Lyft vehicle, they cannot be held accountable.
Hiring an accident lawyer or law firm and seeking legal compensation for the injuries you sustained in the Uber or Lyft accident is an arduous task in itself. The first thing to determine is how auto insurance affects the claim. Remember, determining fault in such situations is only one part of the equation.
In a typical motor vehicle accident, the drivers involved would use their insurance policies to cover the costs of any damages. The at-fault driver's insurance would also be responsible for compensating the victim for their injuries.
However, when it comes to rideshare apps, companies like Uber and Lyft add an extra dimension where insurance coverage is concerned.
Does Uber cover accidents for passengers?
Yes, Uber and Lyft do cover passengers in accidents. However, there are exceptions due to the uniqueness of ridesharing companies. Ridesharing companies offer transportation services via independent contractors, not employees.
This means that the service providers do provide insurance for their services to protect their customers, albeit in a limited capacity. Since Uber and Lyft drivers are classified as independent contractors rather than full-time employees, the insurance used by both Uber and Lyft is not comprehensive.
Uber and Lyft require their contractors to have personal car insurance to cover the basic costs of collisions. In addition, the companies also supplement the individual policies of their contractors with an overarching policy that extends to any drivers using their applications.
While the particulars of these supplementary insurance policies are complex and usually require guidance from a legal professional to navigate, the general idea is that the supplemental policy protects passengers and bystanders and is affected by the driver's status.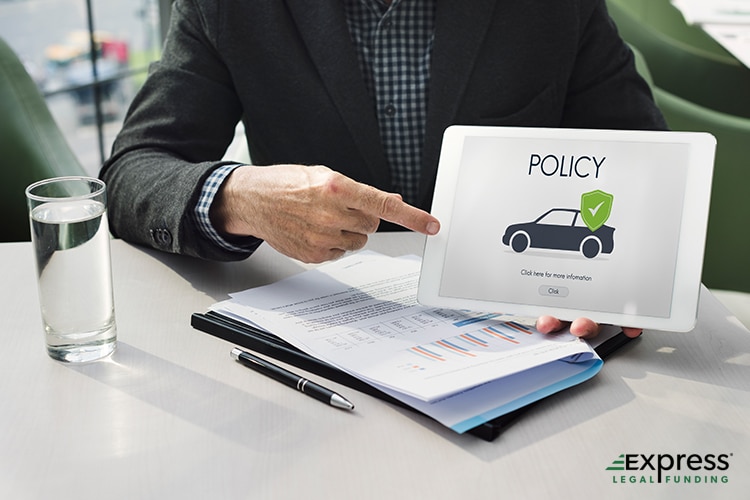 The policy covers Uber and Lyft for individuals injured by a rideshare driver who was not actively driving for the rideshare company but is logged into the app to wait for a potential customer.
The insurance policy offers up to $100,000.00 in liability coverage for bodily injury plus an additional $25,000.00 for any associated property damage. So, if an Uber driver were to crash into you while not actively transporting you, this policy would offer some liability insurance coverage for your injuries and lost property.
Conversely, the coverage is more significant if you were a passenger in the Uber or Lyft driver while using the rideshare company's services. Both of the company's insurance policies offer coverage of up to $1,000,000.00 for passengers injured by the driver during the ride or the pickup process. This policy is generally sufficient to cover anything from moderate to serious injuries.
However, the insurance offered by Uber and Lyft only takes effect if the motorist is actively using the application to find customers. If the application is not active at the time of the incident, then the driver was not actively representing Uber or Lyft, absolving the company of liability, and leaving the driver personally responsible for your injuries.
Additionally, this is only applicable when the Uber or Lyft driver is the at-fault party for the collision. Suppose another driver was responsible for the crash, and you are injured despite the rideshare service driver's best efforts.
In that case, that other driver's personal insurance policy is the only viable option. If the other driver is uninsured, the situation can become more complicated.
You must provide proof that the motorist was responsible for your injuries. As we have mentioned in other articles, insurance companies are not organizations that are happy about paying out what you are owed. They will do everything justifiable they can to find a reason not to.
Fortunately, this is where the situation becomes more recognizable compared to a standard personal injury claim. Establishing liability for the Uber accident is often the main battle you will face.
What Are The Ridesharing Insurance Phases with Uber and Lyft?
Uber and Lyft's willingness to accept liability in motor vehicle accidents involving their drivers is not 24/7, nor is it to the same policy amounts. Instead, the insurance coverage offered by Uber and Lyft for their drivers only depends on the ride's status.
Ridesharing insurance is a reasonably new concept since Uber and Lyft have existed for less than 20 years.
As a result, a 4-phase system was implemented to help Uber and Lyft determine when they, as a corporate entity, were expected to use insurance to cover collisions involving their drivers.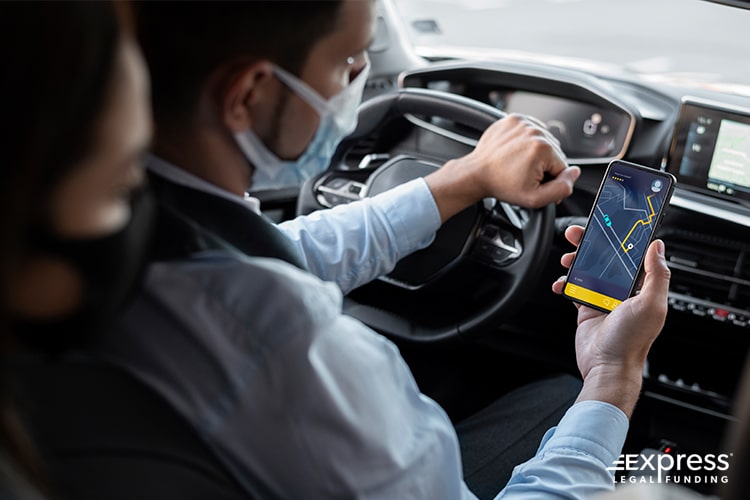 Rideshare Insurance Coverage Phases:
Period 0: Period 0 is so named because it is the point where Uber and Lyft are not responsible in any way. The driver does not have the application opened and is not acting in "driver mode," making all collisions they are involved in their responsibility.
Period 1: Period 1 is when Uber and Lyft begin to play a role in any insurance coverage for accidents. Period 1 is when the driver under their employ has the application open and is waiting for a ride request to come through. Period 1 coverage covers up to $50,000.00 per passenger injured, a $100,000.00 total injury liability, and a $25,000.00 property damage liability.
Period 2: Period 2 maintains the responsibility of Uber and Lyft as they had in Period 1. Period 2 begins when the driver receives a ride request, accepts it, and is en route to pick up the customer. Period 2 coverage includes the $1,000,000.00 coverage we mentioned previously.
Period 3: Period 3 is similar to Periods 1 and 2 in terms of Uber and Lyft's responsibilities concerning coverage. Period 3 is when the driver has the customer in their vehicle, and the ride has begun in earnest. The tricky part is that Period 3 automatically reverts to Period 1 when the ride is complete and the passenger disembarks the vehicle.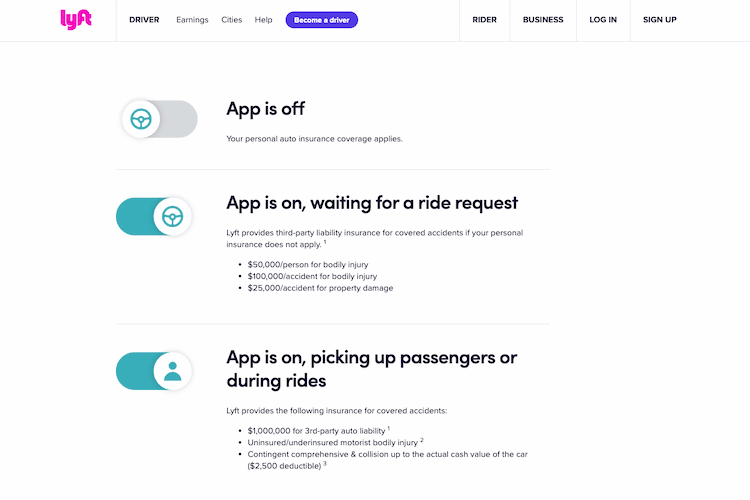 The driver phrase determines whether Uber or Lyft is expected to cover the injuries and damages the passenger might have sustained during the ride.
However, the additional coverage offered by Uber and Lyft's corporate insurance policies only takes effect if these damages exceed what the driver's insurance can cover. This insurance also only applies to the passenger and not their employed driver.
The only exception is if the driver is "endorsed" by Uber or Lyft. In this situation, Uber and Lyft's insurance might kick in to help cover damages to the vehicle.
The contingent coverage offered by Uber and Lyft is far from a perfect system. Still, it does ensure that they are not paying out for incidents where their driver was operating independently at the time of the accident.
This means you will be stuck with the policy limits the driver purchased for their own insurance policy. Most likely, it will be much less than the amounts offered by the rideshare companies.
What Should You Do After a Ridesharing Accident?
It is understandable to feel a little flustered and disoriented following a collision. This becomes even more disorienting when the crash occurs in a rideshare vehicle you cannot control.
This likely means you might not be entirely sure what the next steps are after your Uber or Lyft ride ends in a crash. Fortunately, this is where things begin to operate more like a standard personal injury claim.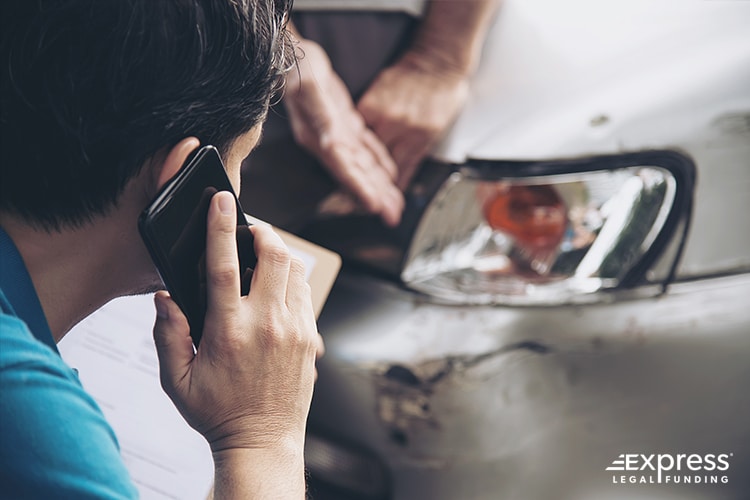 Like with any motor vehicle collision, you need to do the following after an accident while riding in an Uber or Lyft vehicle.
Check yourself for significant injuries.
Gather evidence and documentation of the crash.
Draft a written statement detailing the accident.
However, there is only one major difference between a typical motor vehicle accident and one involving your rideshare service. You must report the situation to the company after the Lyft or Uber accident.
While you might think that the driver will handle informing their employer about the collision, you must submit your own report and account of the situation. The odds are high that a representative of Uber or Lyft will reach out to you anyway.
Although you can submit the report yourself, you should seek out legal advice from a car accident attorney or law firm to prevent the companies from railroading you into an unfair Uber or Lyft accident settlement.
Your lawyer will instruct you on what to do and when. Saying something that does not accurately represent the Uber or Lyft accident can significantly hurt your settlement chances, even if it is just from confusion or the details in your mind are fuzzy.
A personal injury attorney can evaluate your situation and advise you on some legal options for how to file your accident claim.
Passengers Can Sue for an Uber Accident Settlement
Uber and Lyft drivers are now a common sight on the roads of many countries across the world. However, they are no safer than any other mainstream passenger motor vehicle. Car accidents are a universally shared danger.
So booking a ride with Uber or Lyft come with the same primary risks of car accident collisions as if you drive your vehicle on the same roads and streets. The main difference is with Uber and Lyft is that the control of the vehicle is out of your hands.
When collisions with a rideshare service occur, it's often more stressful (and terrifying) when you are simply a passenger who is along for the ride. However, you retain your legal rights even if you are just a customer of the rideshare company. The only concern lies in how the legal proceedings can affect you.
Despite being a passenger in an Uber or Lyft vehicle and typically in the safer backseat, you were still in a motor vehicle accident and got bung up at the very least. You will likely require medical attention. The costs that come from healing from even a minor accident can quickly add up, especially when you cannot work.
That automatically makes the daily cost of living more difficult to meet. So you may want to take the rideshare settlement amount offered to you by Uber or Lyft even though you deserve more for your injuries. If this is you and you don't have an attorney yet, keep reading a few short paragraphs further.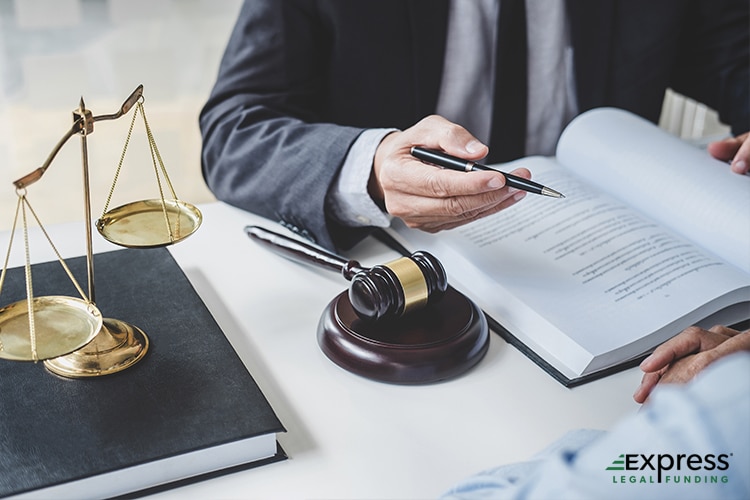 Pursuing a personal injury claim against the at-fault driver or insurance company of the ridesharing service is complicated and takes time. That's why you should hire a personal injury lawyer and not try to resolve an Uber or Lyft accident lawsuit by yourself.
Car accident victims who hire lawyers on a contingency fee basis come out ahead even with having to pay their attorney the fee. So too, Uber accident attorneys help clients get larger Uber accident settlements.
Besides, the fact having a car accident lawyer represent will give you a better chance to receive a larger settlement for an Uber or Lyft rideshare claim, and it can also make it possible for you to receive pre-settlement funding against that car accident claim.
We at Express Legal Funding can offer some assistance with your personal costs during the accident claim process. The service we can provide you with is a type of non-recourse funding(In some states, it is a recourse pre-settlement loan), which is a pre-settlement cash advance against your case proceeds. That means we can purchase a piece of your potential settlement or trial award by advancing money to you now.
So you can use it to pay for essential utility costs and medical bills while your lawyer negotiates your rideshare settlement on your behalf. The best part about the legal funding besides that you can get money for your case now and not only when you receive a settlement check. Plus, we only expect repayment if you win or settle your car accident case.
If you see your Uber accident lawsuit to the end and went to court but lost, that's not the end of the world when it comes to you and us. The lawsuit funding we advanced to you is yours to keep. That's what makes it risk-free for you and not for us.
So, if your expenses are proving to be a challenge following a car accident, call us today for a free consultation to see if you can qualify for legal funding and whether it is a good option for you.
That way, you can start your financial recovery early before your Uber or Lyft accident case ends.
Aaron Winston is the Strategy Director of Express Legal Funding. As "The Legal Funding Expert," Aaron has more than ten years of experience in the consumer finance industry. Most of which was as a consultant to a top financial advisory firm, managing 400+ million USD in client wealth. He is recognized as an expert author and researcher across multiple SEO industries.
Aaron Winston earned his title "The Legal Funding Expert" through authoritative articles and blog posts about legal funding. He specializes in expert content writing for pre-settlement funding and law firm blogs.
Each month, tens of thousands of web visitors read his articles and posts. Aaron's thoroughly researched guides are among the most-read lawsuit funding articles over the past year.
As Strategy Director of Express Legal Funding, Aaron has devoted thousands of hours to advocating for the consumer. His "it factor" is that he is a tireless and inventive thought leader who has made great strides by conveying his legal knowledge and diverse expertise to the public. More clients and lawyers understand the facts about pre-settlement funding because of Aaron's legal and financial service SEO mastery.
Aaron Winston is the author of A Word For The Wise. A Warning For The Stupid. Canons of Conduct, which is a book in poetry format. It consists of 35 unique canons. The book was published in 2023.
He keeps an academic approach to business that improves the consumer's well-being. In early 2022, Aaron gained the Search Engine Optimization and the Google Ads LinkedIn skills assessment badges. He placed in the top 5% of those who took the SEO skills test assessment.
Aaron's company slogans and lawsuit funding company name are registered trademarks of the United States Patent and Trademark Office. He has gained positive notoriety via interviews and case studies, which are a byproduct of his successes. Aaron R. Winston was featured in a smith.ai interview (2021) and a company growth case study (2022).
In 2023, Aaron and Express Legal Funding received accolades in a leading SEO author case study performed by the leading professionals at WordLift. The in-depth data presented in the pre-settlement funding SEO case study demonstrate why Aaron Winston maintains a high-author E-E-A-T. His original writing and helpful content continue to achieve unprecedented success and stand in their own class.
Aaron was born in Lubbock, TX, where he spent the first eight years of his life. Aaron attended Akiba Academy of Dallas, TX.