Written by Aaron R. Winston
Last Updated: June 29, 2023 3:14am CDT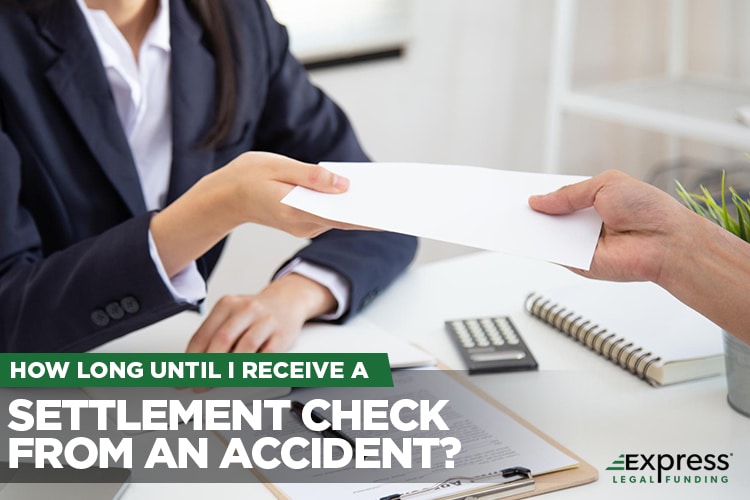 When you are the victim of an accident, discovering it was the result of negligence on someone else's part can be infuriating. These accidents often lead to personal injury claims against the allegedly responsible party and are designed to compensate the accident victims with a settlement to cover the injuries and damages.
It is reasonable and fair to want compensation for your pain and suffering when these accidents happen.
Unfortunately, there is a fair amount of misunderstanding about these types of cases thanks to certain modern film tropes and the like making it seem like you will be offered a settlement check for your pain and suffering in only a couple of weeks.
The reality is that the time it takes to receive your settlement check is not as quick as you may have believed and, in some cases, can take months or even years until you receive a fair settlement offer. A lot of detail goes into the personal injury claim system that needs to be considered.
We hope to provide a little more clarity on how long you will likely be waiting for your settlement release with this article.
Let's get started!
Disclaimer: We need to clarify that all information listed here should not be taken as legal advice. For more detailed information pertaining to your personal injury case, we advise you to receive a free case evaluation from an attorney. During an individualized and free consultation, a car accident attorney will hear the nature of your car accident claim. You can ask questions about the attorney's fee at this meeting, and other legal fees are charged.
How Long Does It Take to Get a Car Accident Settlement Check?
Unfortunately, we have some disappointing news for you regarding the settlement check timeline. There is no guaranteed timeframe for your check or even settling your case. There are too many factors involved for there to be a concrete period in which you will be adequately compensated for the injuries, damages, and even the pain and suffering you experienced.
There are average expected timeframes for how long it will take. Still, these estimates are subject to extreme change depending on your claim's exact circumstances, especially soon after the accident occurs.
The settlement check itself can take, on average, between 4 to 6 weeks to arrive after your claim has settled. However, more than a few details can delay the time for the insurance company to write the check and send it to your legal counsel, and eventually disbursed to you in the form of a settlement check.
The vast majority of these factors are the result of the actual negotiation proceedings for the settlement itself rather than anything to do with your attorney handling the arrival of the check itself. But we will get into the details of that shortly.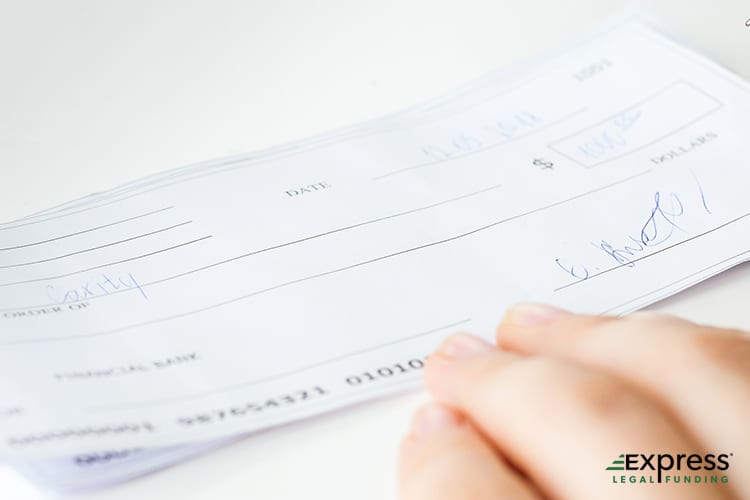 The main thing to understand is that it is common for settlement checks to be disbursed to plaintiffs within 4 to 6 weeks of signing the settlement agreement. However, this is in no way guaranteed since each personal injury claim is different, and the complexity of each case has the potential to disrupt the specific settlement check timeline.
A car accident settlement timeline can be very different from those of other personal injury settlements. Factors like property damage, wrongful death, and passenger injuries can complicate a car accident case and cause delayed settlement negotiations.
For example, in a straightforward auto accident case with minor injuries, your settlement may be confirmed and disbursed in as little as a few weeks or months. However, there are exceptional instances where it can even take a year or more to receive your settlement check.
When your attorney receives your settlement check from the insurance company, the amount you receive your settlement check for is never guaranteed. However, there are details you can consider about your case to determine if you should expect your settlement payment sooner rather than later.
Your Medical Costs Are a Factor
Your medical costs are the primary basis for the settlement amount you will likely receive from the adjusters. When you suffer a motor vehicle accident or a similar personal injury, the immediate concern is seeking medical care to tend to any serious injuries.
Medical attention is always the correct first step when there is bodily injury; however, this will delay the timeframe in which you receive a settlement disbursement. It could also affect the timeline if you have abnormally large medical expenses that might make the insurance companies reluctant.
The reasoning here is that there are limitations to how much most insurers are willing to pay out as compensation for their client, the policy holder's negligence.
As a result, they are prone to drag their heels to some extent and force your counsel to try and negotiate a fair settlement from them on your behalf.
Additionally, any accident case with significantly high costs will lead the insurance claim's adjusters to conduct in-depth investigations to find any medical bills and damages listed that they can attribute to anything that is not their responsibility to pay for.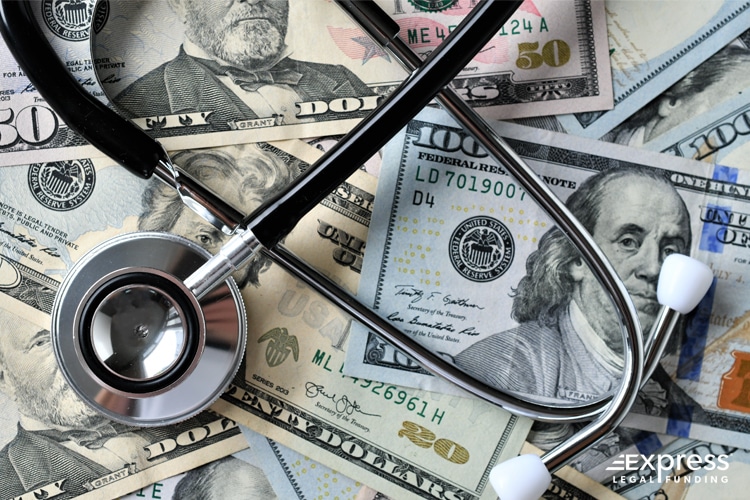 These negotiations and investigations will seriously impact the rate at which your attorney will be able to resolve your claim. The more services provided and money changing hands during the case, the longer the negotiations and investigations will be.
It may be more profitable for the insurance company to take the case to court in some cases, which can draw things out even longer.
In some states, such as California, your medical costs may need to be paid off before receiving your portion of the settlement. Your attorney will distribute the parts of the check to pay off the medical expenses you incurred from treating the injuries from your accident.
Other factors play into the total settlement you will receive, including your pain and suffering and other damages that are a little more challenging to measure. However, your medical expenses serve as the primary variable in the equation.
So, the more expensive your medical treatment, the higher your settlement generally is. The claims adjuster will scrutinize your medical records and bills for details that can associate the injuries with something other than the accident you are suing over, making it easier for them not to offer you a settlement.
Negotiating Medical Liens In The Settlement Check Timeline
In some states, paying your medical costs involves further negotiation from your attorney. After your attorney receives your settlement check in the mail from the insurance company, they will negotiate a reduction in the medical liens placed against you.
Some states allow medical bills to be held as medical liens. That can allow for your attorney to negotiate medical liens for a reduction to ensure there is still some settlement amount for you to claim when all is said and done.
In Texas, it is common for car accident lawyers to negotiate down the medical liens after the settlement check arrives at the law firm. That will always take more time to lower the amounts owed in your favor.
However, negotiating reductions takes time, further delaying how long it will take until you get your car accident settlement check in the mail or directly handed to you by your lawyer.
Evidence Can Speed Up or Slow Down the Claim
One of the driving forces behind a successful personal injury claim is the evidence you have to prove that the negligent driver was responsible for the accident and your injuries.
You will have a much more difficult time settling the claim if you don't have any evidence or if the available evidence suggests something contrary to your claim and side of the story.
A lack of evidence can make it simpler for adjusters to minimize the settlement amount they offer you, or it may convince them to avoid an offer entirely. However, there is plenty of evidence that you (and your law office) can work to gather in advance.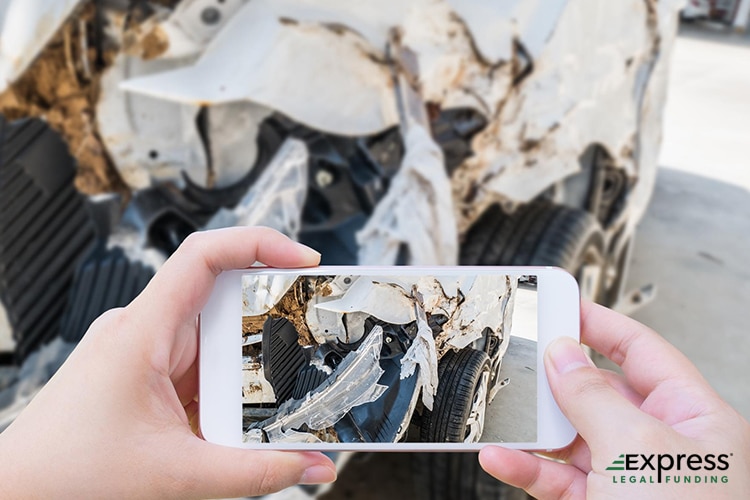 Your hired legal counsel can present to the adjusters to help solidify your claim:
Photographs
Videos
Police report
Insurance adjuster report
Independent legal investigators
Accident reconstruction
Evidence is the quickest way to ensure that a settlement is reached quickly and in your favor. Otherwise, it will boil down to a great deal of finger-pointing, making life more difficult.
Let us say, for example, that your claim revolves around a place of business that failed to adequately warn you and the other patrons of a hazard like a slick wet floor. As a result, you slip and fall due to the water on the ground and injure yourself, breaking your wrist in the process.
If you were the only person in the room when you tumbled, and there is no photographic or video evidence, the odds are high that the opposing counsel will argue that you tripped due to your own fault and not a wet floor. They claim this to lower your settlement, saving the insurance company money and a smaller settlement check.
The inverse remains true. Evidence is the staple of any legal battle and will make your personal injury claim a much simpler matter. However, if there were other patrons or a security camera recording that could corroborate your telling of the events, your case improves.
The more evidence that your personal injury attorney can find to reinforce the story you are telling, the higher your odds of winning the claim and receiving a speedy settlement.
Evidence is typically gathered by the law enforcement authorities or legal experts when personal injury claims are involved. However, when it comes to proof of the associated medical costs, you can save some time by requesting updated copies of your medical records and itemized bills after each appointment.
Doing so will enable you to keep your personal injury lawyer updated without waiting for your medical providers to respond to the law firm's requests for copies of this information.
There is a Complication With the Case
Traditionally, personal injury claims are filed against private and commercial parties such as other individuals, privately owned businesses, or publicly owned corporations.
However, there are exceptions to nearly every rule, and personal injury claims are subject to these exceptions. Some cases are not as clear-cut as they might appear to be.
One of the biggest holdups of a claim is when the opposing party is a government-owned or operated body. The case takes on a far more intensive and complicated ordeal in these situations.
Before you can even file the claim against a government body, you need to warn the institution that you plan to file a claim. This is called filing a notice of claim.
Additionally, government bodies can be exempt altogether from being pursued legally for your injuries due to special protections and immunity in some circumstances. Ultimately, this should not be a significant concern as government bodies are not typically involved in personal injuries, and even if so, fewer still are entirely immune from being sued.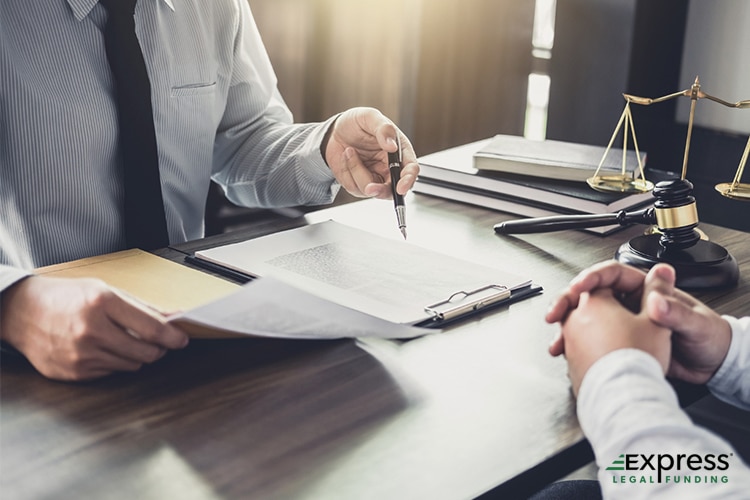 However, even if you file a claim against a government body, investigations into your claim are even more intensive. The government defense lawyers will have far more resources to draw on and will have to evaluate additional factors to determine any wrongdoing.
This increased intensity can drag the settlement process out longer than one would expect and, therefore, cause your injury settlement check to take much longer to be mailed out to you.
The more complicated these cases, the more often you will have to go to court and the longer it will take to reach a verdict and ultimately receive a fair court award.
Government cases are diverse and will need more insight, and therefore we would not even attempt to advise you on the particulars. However, there are a few known examples of how a government body could be responsible for your personal injury.
One of the most prominent examples for metropolitan cities is that you were involved in a motor vehicle accident involving public transport like a bus.
When this occurs, the driver that was involved in the car accident will be dealt with internally, and you can file your personal injury claim against the government department associated with the transport.
A similar occurrence could involve your child being harmed at a public education center. The school can be held liable, but the claim goes through the government department rather than the school itself.
Closing Statements On The Settlement Check Timeline
Personal injury claims are stressful, resource-intensive, and can take a considerable amount of time to resolve. They can be one of the most arduous plaintiff legal proceedings you will go through. In addition to being injured, you may have to deal with a complex legal battle.
You can seek compensation for your pain and suffering, whether your injury was a slip and fall case or a significant motor vehicle collision. Unfortunately, the those liable for paying are not keen on paying out what is owed and will attempt any argument that saves them money before it's time to cut you a check.
Unfortunately, settlement checks will not always be available within the average 6-week timeframe. However, you can find that the wait for your settlement will likely be worth it with patience and perseverance. So in the meantime, your immediate focus should be on your recovery and retaining legal counsel.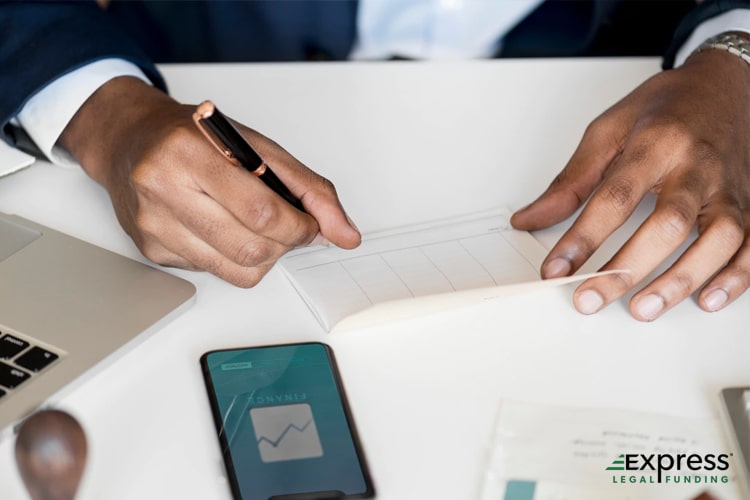 Unfortunately, these long waits can still be detrimental to you financially. A major issue with the personal injury claims process is that you are still liable for your day-to-day expenses. Combined with medical costs, it can not take long for you to be accosted with bills that you were not prepared for.
For example, if you were in a car accident and you no longer have a car to ride to work or get to treatment, a long-term vehicle rental can be costly, especially for a case that can take months or years to resolve.
However, there is a solution that might offer you the reprieve you need to wait out your settlement. We at Express Legal Funding offer a service that is known as pre-settlement funding. It's a type of non-recourse cash advance that can give you access to settlement money for you to pay for your essential expenses like rent while your claim is being settled.
We can provide you with assistance for that express purpose while your attorney is fighting your case. The best part is that there is no risk of debt to you since we only expect repayment from the potential settlement funds or trial award money. So, give us a call today to learn more about pre-settlement funding and a free consultation!
Aaron Winston is the Strategy Director of Express Legal Funding. As "The Legal Funding Expert," Aaron has more than ten years of experience in the consumer finance industry. Most of which was as a consultant to a top financial advisory firm, managing 400+ million USD in client wealth. He is recognized as an expert author and researcher across multiple SEO industries.
Aaron Winston earned his title "The Legal Funding Expert" through authoritative articles and blog posts about legal funding. He specializes in expert content writing for pre-settlement funding and law firm blogs.
Each month, tens of thousands of web visitors read his articles and posts. Aaron's thoroughly researched guides are among the most-read lawsuit funding articles over the past year.
As Strategy Director of Express Legal Funding, Aaron has devoted thousands of hours to advocating for the consumer. His "it factor" is that he is a tireless and inventive thought leader who has made great strides by conveying his legal knowledge and diverse expertise to the public. More clients and lawyers understand the facts about pre-settlement funding because of Aaron's legal and financial service SEO mastery.
Aaron Winston is the author of A Word For The Wise. A Warning For The Stupid. Canons of Conduct, which is a book in poetry format. It consists of 35 unique canons. The book was published in 2023.
He keeps an academic approach to business that improves the consumer's well-being. In early 2022, Aaron gained the Search Engine Optimization and the Google Ads LinkedIn skills assessment badges. He placed in the top 5% of those who took the SEO skills test assessment.
Aaron's company slogans and lawsuit funding company name are registered trademarks of the United States Patent and Trademark Office. He has gained positive notoriety via interviews and case studies, which are a byproduct of his successes. Aaron R. Winston was featured in a smith.ai interview (2021) and a company growth case study (2022).
In 2023, Aaron and Express Legal Funding received accolades in a leading SEO author case study performed by the leading professionals at WordLift. The in-depth data presented in the pre-settlement funding SEO case study demonstrate why Aaron Winston maintains a high-author E-E-A-T. His original writing and helpful content continue to achieve unprecedented success and stand in their own class.
Aaron was born in Lubbock, TX, where he spent the first eight years of his life. Aaron attended Akiba Academy of Dallas, TX.