Written by Aaron R. Winston
Last Updated: September 18, 2023 1:34pm CDT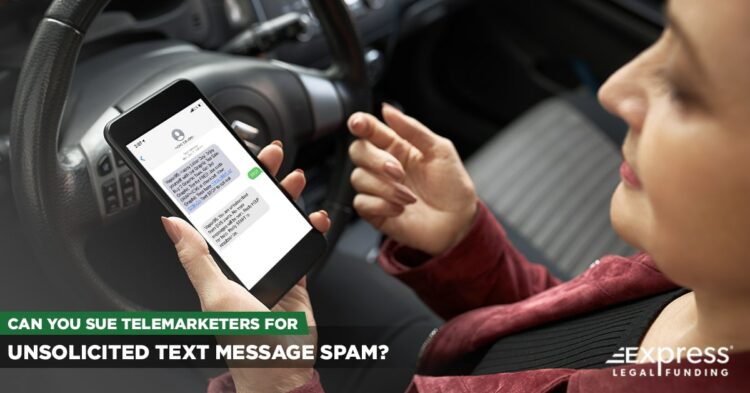 Nobody likes dealing with constant unwanted spam text messages. We all have our own lives to live, and the last thing we want is inconsiderate people or parties interrupting us uninvited.
For this very reason, people have begun trying to take a stand against unsolicited communications from telemarketers and especially debt collectors who intrude on our personal lives based solely on profit.
Unfortunately, the old option of simply telling these telemarketers not to call back and to put your name and mobile phone number on their do not call list is not as effective as it once was.
This noncompliance has led some to question their legal options to combat these unwanted intrusions.
When it comes to taking legal action against telemarketers who contact you unsolicited, it might seem like there is little to be done.
However, you might have more options than you realize. One avenue employed by disgruntled citizens can involve contacting a law firm and filing a lawsuit against the offender.
In addition to these lawsuits being brought to penalize telemarketers for TCPA violations and for defying requests to be placed on DNC lists, they are used to seek financial rewards from those who violate those desires.
This article hopes to provide some guidance about what types of lawsuits are available to file against unsolicited calls and telemarketer scams. So let's begin our quick and easy list of telemarketer lawsuit FAQs..
Are There Laws Against Unsolicited Text Messages?
Yes, there are laws under the Telephone Consumer Protection Act (TCPA) against the sending of unsolicited text messages. Unfortunately, these laws put in place to protect Americans from getting spam texts do not apply in many situations.
While we live in a world that enables us to communicate at will with little effort and text messages are slowly edging other communication mediums out and have become the status quo, very few laws govern who can text you and when.
Still, a federally mandated policy does exist that protects customers who wish to remain undisturbed by telemarketing companies looking to increase their profit margins with unwanted solicitations and robocalls.
If you read our recent article about the SmileDirectClub TCPA lawsuit, you are aware talking we are talking about the amendment to the Communications Act of 1934 enacted by former President George H. W. Bush.
What Is the TCPA?
In 1991, President Bush created the Telephone Consumer Protection Act (TCPA). The TCPA was enacted to provide legal protections for Americans against unwanted communications from businesses like telemarketers. The TCPA is designed to discourage these unsolicited telemarketing behaviors.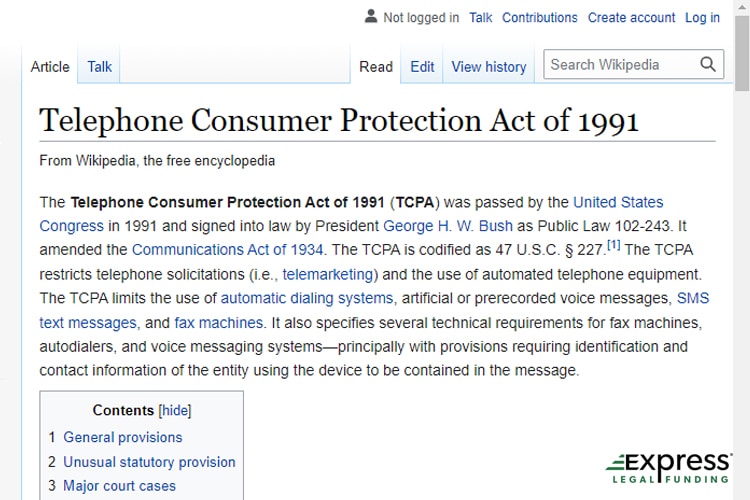 The TCPA, while passed by Congress under Bush, is regulated by the Federal Communications Commission (FCC). Through the FCC's authority and oversight, commercial industries are prohibited from violating consumer requests to be added to the company's "do-not-call" (DNC) list.
Companies must also adhere to the FTC's (Federal Trade Commission) National Do Not Call Registry. These policies are meant to keep telemarketer spammers and scammers from sending a barrage of messages to citizens to boost their business model.
The primary purpose of the Telephone Consumer Protection Act is to prohibit companies and telemarketers from employing automatic telecommunications software to contact American citizens without consent.
TCPA is Federal Law
Although the FCC is a federal agency and the TCPA is federal law, there is a slight caveat to the enforcement of the TCPA in this country. Specifically, violations of the TCPA are not legally processed in federal court but instead litigated within the bounds of state law.
How To File a TCPA Lawsuit?
When a citizen seeks to file a TCPA claim for unwanted telemarketing calls, junk faxes, or unsolicited text messages, they will need to process their legal claim in their state's court system.
The enactment of the TCPA was not well-received by telemarketers, who were upset at the potential loss of revenue. Not long after Bush passed the TCPA, telemarketing companies soon challenged the legality of the TCPA in court.
The two cases, Moser v. FCC and Destination Ventures Ltd. v. FCC, were filed in 1995. These companies challenged the TCPA as being unconstitutional.
Fortunately, both lawsuits were denied for Americans, and the TCPA regulations were upheld and declared constitutional, ensuring that telemarketers would not be able to further abuse their business model.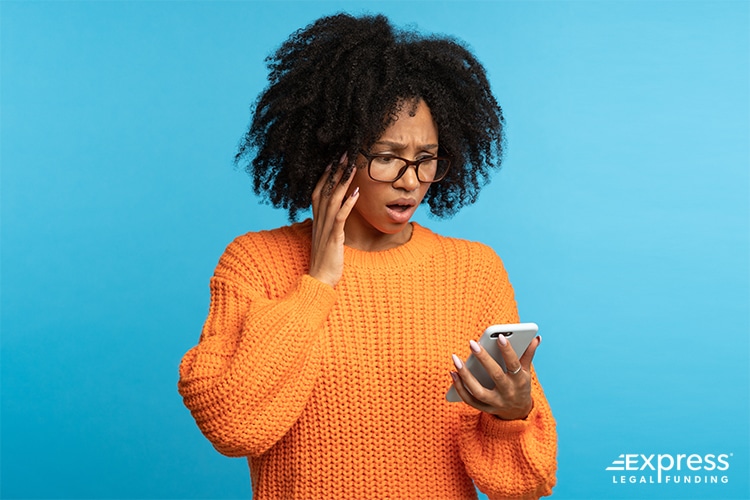 While there have been cases from telemarketers challenging the implementation of TCPA regulations, we now come to the core of this article:
Can You Sue a Telemarketer For Unsolicited Text Messages?
The answer is a tentative "yes." You can sue a telemarketer for unsolicited text messages, albeit with certain qualifiers. There will be different restrictions and requirements depending on your state, as the state court will hear the TCPA violation lawsuit being brought.
That means that the exact legal proceedings of the lawsuit being filed against the company that is alleged to have committed TCPA violations are subject to change depending on which laws are in effect in your state.
To get more exact information regarding your state's options for TCPA lawsuits, you should consider contacting a local attorney for accurate knowledge. You will need to ensure that you have the tools necessary to file the claim successfully.
There are several precedents demonstrating this.
What Is A TCPA Violation?
TCPA violations are relatively straightforward, with certain regulations prohibiting specific actions on the part of telemarketers or other businesses. Specifically, TCPA requires you to consent to any form of automated or regular correspondence from a company.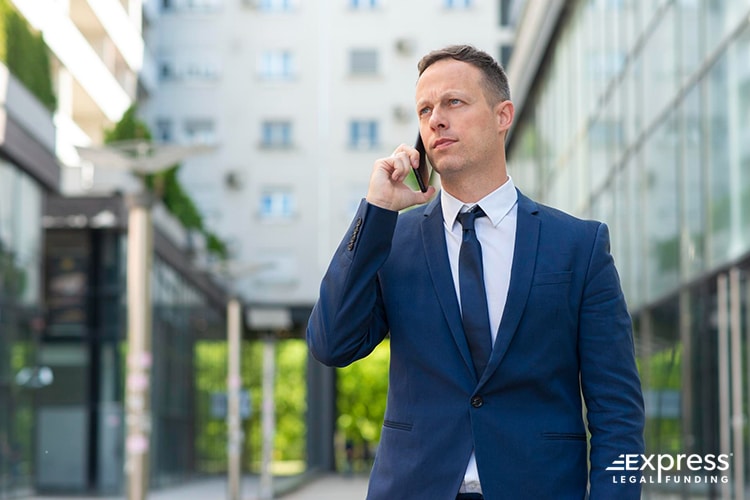 Therefore, if a telemarketer does any of the following, which are prohibited without your express consent, the business that hired them is responsible for violating the provisions of the TCPA:
TCPA Prohibited Activities
The telemarketers have sent a message or called before 8:00 A.M. or after 9:00 P.M. in your time zone.
The telemarketers do not maintain a company-based "do-not-call" list.
The telemarketers ignore the national "do-not-call" registry and pester people on their cell phones.
The telemarketers contact you before the 5-year expiration date of your DNC request.
The telemarketers have failed to provide essential information about their employers.
The telemarketers made contact with you by using robocalls or autodialers with an artificial voice and recorded messages, automatically generated texts, or combinations of these methods.
The telemarketers have sent promotional material via facsimile.
These regulations must be followed by any telemarketers within the borders of the United States of America. Failure to comply is a violation that the FCC and state judicial systems can enforce penalties on your behalf should you raise a TCPA claim against a telemarketer.
However, it's important to note that these violations cannot be successfully prosecuted without evidence, and the burden of proof will undoubtedly fall on you and the other class action claimants.
What Evidence Is Necessary to Sue Telemarketers?
When filing a lawsuit against telemarketers for spam messaging, specific details can bolster your odds of a successful claim. While the evidence needed is not inherently difficult to gather, it is still a crucial tool for securing a victory in court.
The primary resource for your lawsuit will be maintaining records of the unsolicited messages you have been receiving. Often, this will mean replying to the initial text with the appropriate prompt to discontinue notifications.
If they didn't have prior express consent to message you and they honor your initial request, there is likely little for you to file a claim for, even if they used an automatic dialing system.
However, if the text marketers ignore the request and continue messaging you with promotions and offers for their products and services, you may have a basis for a claim.
You will want to maintain records of your initial request to be placed on the DNC list and every subsequent message, including any additional requests you made to be placed on the registry.
DNC laws apply to people who have used the company's services prior and those contacted despite never having purchased their services before.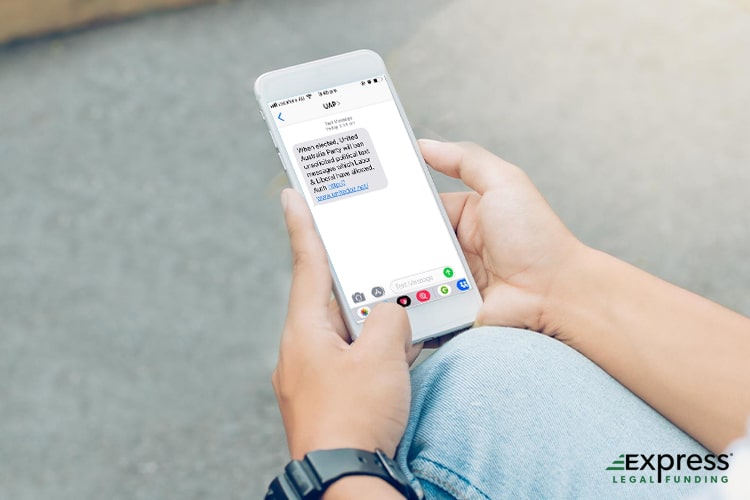 This record of correspondence will help illustrate that the telemarketers never had your consent to send these promotions.
This means that any claims filed will have a higher chance of success since you can demonstrate that the TCPA regulations are being violated.
However, you will also need to find evidence that the messages themselves are violations of TCPA regulations.
For example, your case against the telemarketers improves if, in addition to them ignoring your DNC requests, the texts were automatically generated and not sent to you by a live person with you in mind.
While we focus primarily on unwanted text messages, you might also have to consider unwanted phone calls. These unwanted calls will need to be recorded as evidence if they arrive at the same frequency level as the text messages. In some of these court cases, screenshots of the text messages were admitted into evidence.
Depending on your state, you will not even need to request consent from the company before recording the unsolicited calls, pre-recorded voice messages, and voicemails. However, you will likely only have to worry about telemarketers' text messages, but being aware of the policies on proper telephone calls is essential.
You might be wondering what you stand to gain when filing a claim for TCPA violations. While the rewards might be ambiguous, some general guidelines for what kinds of compensation might be awarded.
What TCPA Damages Can You Claim?
One of the main reasons for filing a lawsuit is to collect damages for what the offender put you through. While spam messages from telemarketers are generally more of a nuisance than a harmful occurrence, the TCPA still allows you to be financially compensated. Depending on which TCPA regulations the telemarketers violated, you might even get monetary damages for your lost time.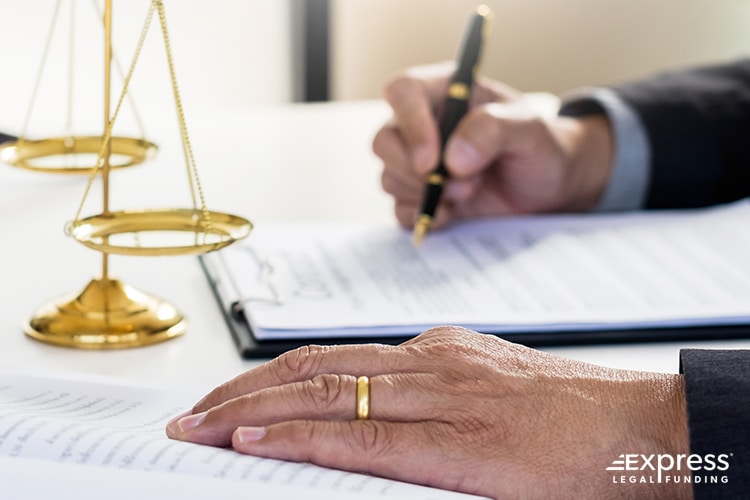 Types of TCPA Damages
The general breakdown of the types of damages you can receive in court are as follows:
If the telemarketers contact you despite being on the DNC, you have the potential to receive $500.00 per message.
If the telemarketers call you in addition to the text messages in a manner that violates the TCPA, that could add $500.00 per call.
If the telemarketers contact you and you can prove it was in willful disregard of TCPA, you could be awarded an additional $1,500.00.
Remember that the above values are the possible maximums for these violations. The more compelling your evidence, the more likely you maximize your settlement. Depending on the court ruling, the amount you get paid per violation could be lower by significant margins.
Acquiring a settlement for TCPA violations should be a secondary concern to getting the telemarketers to stop contacting you.
However, the collection of damages is always a nice bonus. However, your odds of filing a successful claim and collecting a settlement are likely more distant and out of your control compared to more common lawsuits.
It is also essential to keep in mind that there are no guaranteed settlement amounts even if your litigation is successful.
So this is something you want to keep in mind before attempting to rely on a settlement from a TCPA lawsuit for any significant financial obligations. Fortunately, several TCPA lawsuits have already established precedents to amplify the odds of winning your TCPA claim.
Are There Any TCPA Lawsuit Precedents?
Yes, there are TCPA case precedents. Many lawsuits have been filed against telemarketers who violated the TCPA regulations enacted in 1991. Most of the more significant TCPA claims are class-action lawsuits brought by multiple Americans rather than a single individual.
What Is The Facebook Inc v. Duguid Case?
One of the most recent lawsuits for TCPA violations is the case Facebook v. Duguid. This claim technically began in 2014 in response to a man named Noah Duguid receiving multiple text messages from Facebook regarding suspicious activity on his account.
Ordinarily, this would likely be a good thing since it would alert him to the situation, Mr. Duguid's efforts to contact Facebook to resolve the issue and cease the communications. However, Facebook failed to take action to stop the automated messages despite Mr. Duguid's diligence.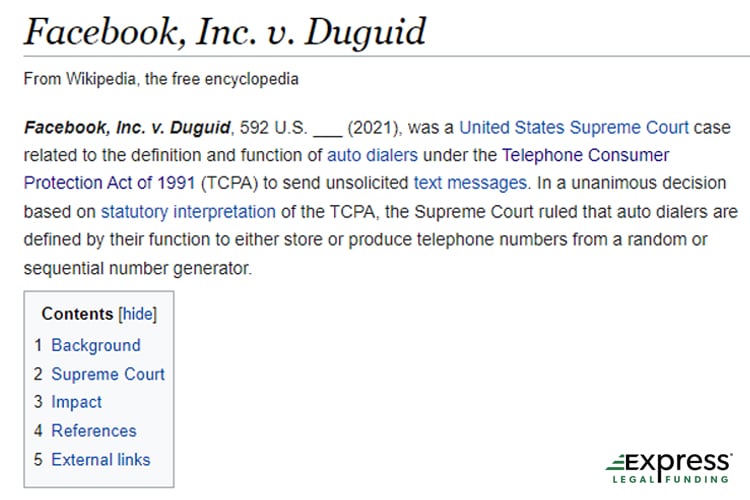 Noah Duguid eventually filed a class-action lawsuit against Facebook over the situation, with a goal of $1,500.00 per message.
Ultimately, the case was resolved in favor of Facebook when the federal judge agreed to the case's dismissal by determining that Facebook's automated messaging system functioned appropriately and did not violate the TCPA.
However, Mr. Duguid appealed the case to the US Supreme Court, which reversed the ruling and enabled Mr. Duguid to claim a settlement from Facebook.
Justice Sonia Sotomayor, who was nominated by President Barack Obama, wrote the majority opinion for the Facebook TCPA lawsuit with other majority justices John Roberts, Clarence Thomas, Stephen Breyer, Elena Kagan, Neil Gorsuch, Brett Kavanaugh, and Amy Coney Barrett were also of the majority.
Justice Samuel Alito wrote the concurring opinion for the Facebook TCPA lawsuit.
As mentioned earlier, another class-action suit in recent history involved more plaintiffs than a single individual. In this case, we refer to the SmileDirectClub incident in which the dental company contacted multiple Americans unsolicited.
The messages were sending promotions and subscription renewal info despite never having purchased anything from SmileDirectClub before.
In a more upsetting turn of events, the text messages did not stop even when they requested that the communication cease and be placed on the DNC.
Unlike Facebook's TCPA violations, as of May 2022, a SmileDirectClub class action lawsuit in Tennessee is still pending. However, SmileDirectClub's TCPA claim history should favor the citizens affected by SmileDirectClub's alleged disregard and violation of TCPA regulations.
The TCPA Makes Telemarketers Liable For Spam Texts And Robocalls
To summarize: Telemarketers who operate on behalf of significant big companies might come across as wielding a considerable amount of power and protection. Their legal teams are seen as making them untouchable and able to be above the law.
However, the introduction of TCPA regulations made telemarketers more liable for their robocalls and other spam phone call actions.
Their TCPA violations can result in severe penalties, as their seriousness warranted the TCPA being signed into law by then President George H.W. Bush.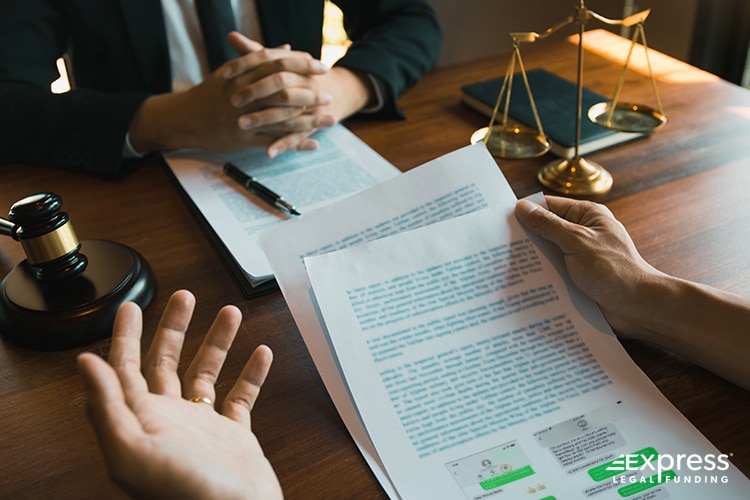 A telemarketer consistently messages you despite your requesting to be put on the DNC for that company is actively violating the TCPA.
So when these violations of TCPA regulations begin to directly affect you, you may be in a legal position to seek out damages against the offending telemarketers' employer. However, class-action lawsuits can take years to settle.
Fortunately, we at Express Legal Funding are here to help in that regard. We know that costs can pile up during life, and class action lawsuits are no different. Between inflation skyrocketing and the daily cost of living, expenses can quickly get out of hand.
That is why we have made it our mission as a pre-settlement company to try and help you plaintiffs and their families through financially trying times with our legal funding services.
Legal funding involves a company advancing funds to you so you can use them to pay for essential costs such as housing and power while your lawyer remains focused on your case.
The vital difference between pre-settlement funding and a loan is that the lien is against your future settlement or trial award and not you or your personal property.
This makes it a non-recourse cash advance, which means we only get repaid if you settle or win your lawsuit in court. There is no risk of debt to you whatsoever.
So, if you have a TCPA lawsuit against telemarketers or another case type you are suing for injuries or damages, check out more of our website and contact us today for a free consultation to see if lawsuit funding is the right choice for you.
Aaron Winston is the Strategy Director of Express Legal Funding. As "The Legal Funding Expert," Aaron has more than ten years of experience in the consumer finance industry. Most of which was as a consultant to a top financial advisory firm, managing 400+ million USD in client wealth. He is recognized as an expert author and researcher across multiple SEO industries.
Aaron Winston earned his title "The Legal Funding Expert" through authoritative articles and blog posts about legal funding. He specializes in expert content writing for pre-settlement funding and law firm blogs.
Each month, tens of thousands of web visitors read his articles and posts. Aaron's thoroughly researched guides are among the most-read lawsuit funding articles over the past year.
As Strategy Director of Express Legal Funding, Aaron has devoted thousands of hours to advocating for the consumer. His "it factor" is that he is a tireless and inventive thought leader who has made great strides by conveying his legal knowledge and diverse expertise to the public. More clients and lawyers understand the facts about pre-settlement funding because of Aaron's legal and financial service SEO mastery.
Aaron Winston is the author of A Word For The Wise. A Warning For The Stupid. Canons of Conduct, which is a book in poetry format. It consists of 35 unique canons. The book was published in 2023.
He keeps an academic approach to business that improves the consumer's well-being. In early 2022, Aaron gained the Search Engine Optimization and the Google Ads LinkedIn skills assessment badges. He placed in the top 5% of those who took the SEO skills test assessment.
Aaron's company slogans and lawsuit funding company name are registered trademarks of the United States Patent and Trademark Office. He has gained positive notoriety via interviews and case studies, which are a byproduct of his successes. Aaron R. Winston was featured in a smith.ai interview (2021) and a company growth case study (2022).
In 2023, Aaron and Express Legal Funding received accolades in a leading SEO author case study performed by the leading professionals at WordLift. The in-depth data presented in the pre-settlement funding SEO case study demonstrate why Aaron Winston maintains a high-author E-E-A-T. His original writing and helpful content continue to achieve unprecedented success and stand in their own class.
Aaron was born in Lubbock, TX, where he spent the first eight years of his life. Aaron attended Akiba Academy of Dallas, TX.