Written by Aaron R. Winston
Last Updated: July 11, 2023 4:05am CDT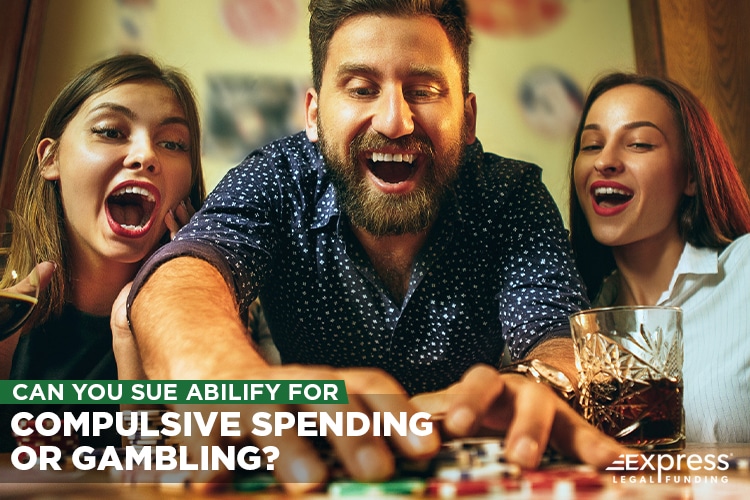 Mental health issues are a serious problem, so medications have been developed for years to combat them. However, these medications are far from foolproof, and many come with severe side effects.
One such mental health medication is the prescription drug Abilify, which has a diverse set of harmful effects. While our justice systems have increasingly moved towards holding those severely mentally ill accountable for their actions, actions performed while under the influence of this medication can be viewed as being more forgivable.
In addition, there has been a connection drawn between Abilify and the compulsive behaviors that lead to financial instability, like gambling.
You are probably wondering if there is any basis to take legal action against the producers of this medication. The fact that a prescription drug like Abilify could lead to compulsive behavior like a gambling problem or financial losses that leave you financially compromised is not a comforting thought.
With this article, we hope to provide some insight into whether or not you have the ability to sue Abilify for compulsive spending or compulsive gambling while using the medication as prescribed.
We want to take this opportunity for a small disclaimer. We are in no way representative of an attorney or attorney's office. All information given here is provided for general information and opinion. We always recommend you get a free case review from a licensed attorney before making a legal decision.
What is Abilify?
The first thing we need to ascertain is what exactly Abilify is so you can be aware of any non-name brand variants of it. Abilify, also known by its chemical name aripiprazole, is a medication prescribed to treat some mental and mood disorders.
These disorders can range from bipolar disorder to Tourette's syndrome, and they can even be prescribed to manage symptoms of schizophrenia.
Abilify is an antipsychotic that can be used in combination with an antidepressant to make it part of an effective treatment plan for clinical depression.
Abilify can be a beneficial and life-improving prescribed drug, which it continues to be for many people. However, for the sake of this blog article, we are focusing on the adverse side effects.
So we are not suggesting patients discontinue the use of the medication as you should always be under the direct care of a psychiatrist before you start or stop taking any antipsychotic medication.
Abilify is an atypical antipsychotic and dopamine stabilizer introduced 20 years ago in 2002. However, the urgency and need for effective mental health medication have led to a rush to invent new medicines spawning a more significant issue.
Some of these medicines can cause severe side effects that impact our lives in unforeseen ways. Recently, Abilify has come under scrutiny for such side effects despite approval from the U.S. Food and Drug Administration.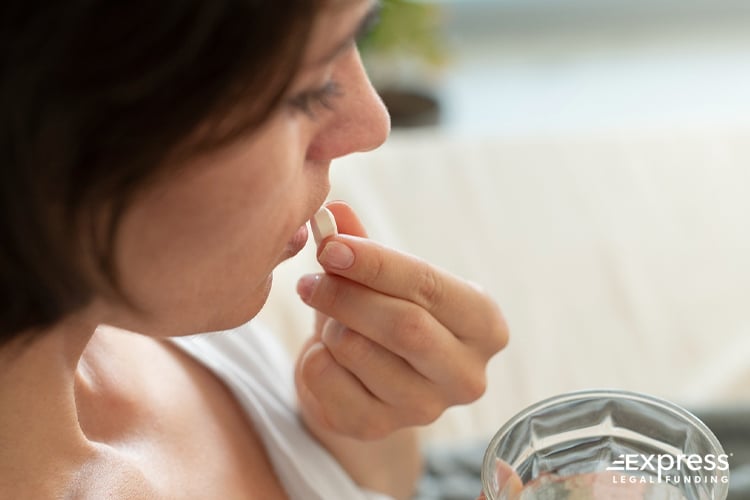 The reality is virtually all commercial medications have side effects, though some are more severe than others. Insofar as Abilify is concerned, that has been a matter of some controversy in the United States and Canada alike. Some common Abilify side effects that are reported include:
Dizziness
Drowsiness
Nausea
Blurred Vision
Stiffness of Limbs
Weight Gain
Headache
Insomnia
Restlessness
Loss of Balance Control
Other reported and more serious side effects include binge eating, hypersexuality, suicidal thoughts, uncontrollable urges and impulse control problems, and pathological gambling and gambling addiction leading to gambling losses.
These severe side effects are cause for caution when using any medication. However, the side effect that has led to such controversy is not one you would typically associate with the drug Abilify to be responsible for causing.
Abilify can produce specific chemical side effects that you might find an issue, the biggest concern in regards to legal recourse is how it can affect impulse control.
While, at first glance, it might seem as though those taking the medication were attempting to deflect responsibility, some evidence points to the drug having adverse impulse control side effects. In 2016, it came to the attention of the FDA and the general public that Abilify can potentially cause you to lose impulse control and engage in certain vices, such as compulsively spending money on arbitrary purchases or turning people into chronic gamblers.
Symptoms of this nature are severe as both actions can quickly leave you financially destitute and unable to meet financial obligations.
In particular, those who discontinued the use of the drug found that Abilify gambling compulsions became a little less prevalent and eventually faded entirely. That said, recorded instances of this compulsive behavior were rare and not a majority issue.
However, this still led to these particular side effects being added to the medication's warning label so that those using it are adequately warned.
However, what of those who are still subjected to the issue? They might have lost a fair amount of money before realizing that the medication contributed to their financial mishaps. Well, it is this question that leads us to the main topic of discussion for this article.
Side Effects: Abilify Gambling Lawsuits
We know there is a good chance you found this article seeking information on whether or not you can file a lawsuit against the makers of Abilify for the financial drain the impulse control issue might have caused for you or a loved one.
However, it is essential to know about Abilify's existing legal history before we can address that question. The FDA's addendum to the Abilify warning label stemmed from an Abilify lawsuit filed by Brad and Denise Miley in 2016.
Denise Miley had been prescribed Abilify two years prior for depression and anxiety but soon found herself frequenting the local Minnesota casinos.
While initially overlooked as little more than outings, Denise Miley's casino visits grew more frequent, to the point that she began abandoning work and family gatherings to go gamble. Eventually, she wound up squandering her family's entire savings and took out a $50,000.00 loan to repay debts.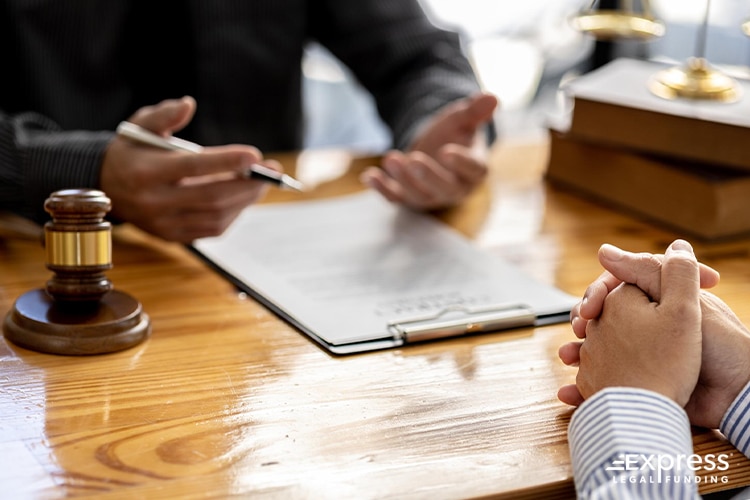 By the time she managed to get off Abilify in 2015 and her urge to gamble dissipated, her overall financial losses exceeded $75,000.00 from her Abilify gambling habit – far from a minor issue.
Plaintiff Christina Milisic lost $400,000.00 from her being on Abilify and was forced to declare bankruptcy.
David Viechec lost over $75,000.00 from his Abilify-induced gambling compulsion.
Other users of Abilify have similar stories of taking a defective drug.
With all of these people who experienced compulsive behavior symptoms linked to Abilify, it was no surprise that they sought legal remuneration for their losses against the drug companies.
They were not alone, and eventually, multidistrict litigation (MDL) was filed against Abilify, and all grievances towards the antipsychotic drug were attached to the MDL. The MDL has been ongoing for some time, and the Abilify lawsuits are still being settled.
There were also Canadian class action lawsuits filed in 2013 and 2015. The suits were brought against the Abilify drug makers Bristol-Myers Squibb Company and Otsuka Pharmaceuticals Inc. The lawsuits resulted in Canada requiring that uncontrollable gambling and sexuality be added to the black box warning label.
As of January 2019, 2,108 claims against the Abilify drug manufacturers have successfully been settled for these issues.
The medication's side effects label has been updated to warn any future medication users about the situation effectively because of this issue.
We can better discuss whether or not you can sue Abilify with this info.
Can You Sue Abilify for Compulsive Gambling?
Suing Abilify can be tricky. So we want to reiterate that we do not intend to offer you legal advice. However, based on the research and sources we have cited on the situation surrounding Abilify, we can provide general knowledge that pertains to any Abilify lawsuit.
To start off, the variation of Abilify that caused compulsive gambling mess is no longer readily available or prescribed.
The formula was withdrawn from the market in 2015 so that the effects would no longer spread and the bottles currently available now have updated packaging to reflect the impulse issues.
The manufacturer did not adequately warn the people afflicted by Abilify's compulsive behavior side effects. The packaging still did not offer any notice of the loss of inhibition at that time. Therefore, they could be held accountable for their actions or lack of actions.
Suppose you were among those who experienced this loss of inhibition by being prescribed Abilify before the change and took the fault medication. In that case, your odds of successfully being added to the MDL are a little higher.
So if you were a victim of Abilify's initial wave and suffered financially due to the subsequent compulsion, you might have a case.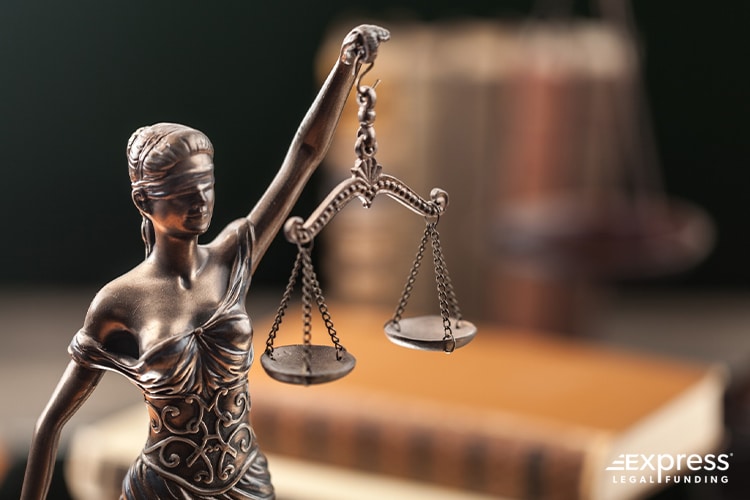 Conversely, if you take a modern version of Abilify that is marked and a member of the modified formula, your odds go down. The odds of Abilify causing these side effects were already rare back when this situation first became prevalent.
Nowadays, the odds of Abilify causing compulsive gambling and spending issues are even rarer, which can negatively affect the odds of your case.
In addition, the fact that the manufacturer updated the labels to mark this potential side effect means that you were adequately warned, which further wears away at the odds of a successful claim.
So, can you sue Abilify for gambling or compulsive spending? The answer is, quite simply, that it depends. Of course, you are always able to try and file a claim. Whether or not it gets accepted or will you win is the real question.
Those are the odds you need to factor in before filing a claim. However, if you believe you might have a case, you should consult with a law firm and attorney specializing in Abilify gambling lawsuits for more accurate information.
This statement is not to say that we are pressuring you to retain the services of an attorney, but more to guide you towards getting professional legal advice on the rights you legally have.
We recognize you might want to get a "yes" or "no" answer from this article. However, given the complicated circumstances surrounding lawsuits of this particular nature, that is not possible.
While the situation is not entirely as black and white as other types of cases, understanding some background information could help you decide.
Just know that you always have the right to seek justice, but your odds of a successful claim will determine the circumstances surrounding your personal experience.
Bristol-Myers Squibb Scandal
With everything we have mentioned, it is worth noting that the manufacturer of Abilify, Bristol-Myers Squibb (BMS), had previously been involved in an alleged illegal scandal surrounding Abilify back in 2007.
This scandal was caused by Bristol-Myers Squibb's alleged illegal selling of Abilify as an off-label use medication for dementia, which increased the chance of dementia-related psychosis in the elderly.
This was symptomatic of an issue within the last ten years in which prescriptions for antipsychotic medication have increased by a staggering 93%. Unfortunately, some of the most common victims of this off-label marketing are children and senior citizens.
These demographics are particularly susceptible to more severe side effects associated with medications.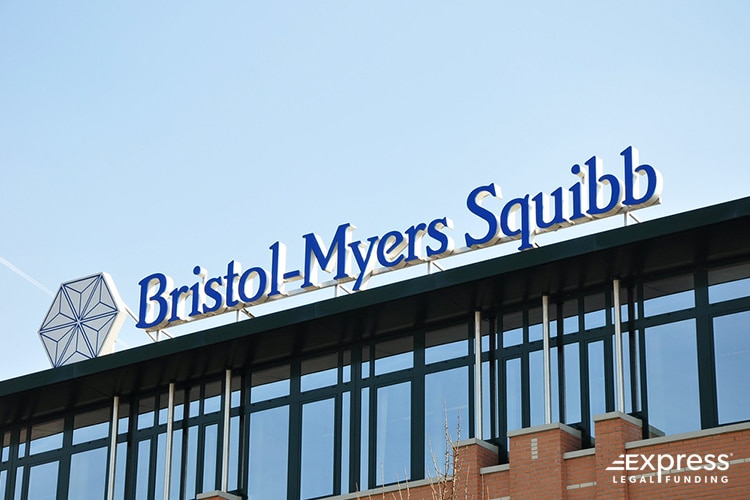 This scandal resulted in Bristol-Myers Squibb paying out $515,000,000.00 in a settlement agreement with the U.S. Department of Justice for a broad list of civil allegations.
Being sold an off-label drug can be severely damaging and even alleged as criminal behavior by pharmaceutical companies. Knowing that the makers of Abilify were willing to do something like this shows that they need to be held responsible and accountable.
The scandal itself was not the only instance of Bristol-Myers Squibb's alleged wrongdoings. Two of the company's officers were charged with fraud back in 2004, just a couple of years after the FDA had initially approved Abilify.
Bristol-Myers Squibb had sold excess medication to their wholesalers before the demand existed. While this may not feel as severe as their medicine's effect on those taking it, it questions the company's character bolstering the government's allegations of fraud.
Knowing all of this information can be beneficial to furthering your consultation with any legal representative you care to retain. However, we cannot legally advise you one way or the other beyond the information for public consumption.
Closing Statements on Abilify Gambling Lawsuits
Suing pharmaceutical companies when their products severely disrupt your life is not uncommon. The creators of Abilify have already been subjected to such scrutiny more than once for alleged illegal practices.
Abilify's potential to encourage compulsive behavior in those taking it caused massive issues for people like Denise Miley. So, her efforts to see those losses recouped if at all possible is something that we all understand.
However, whether or not you can share in that justified pursuit for remuneration is not a guarantee.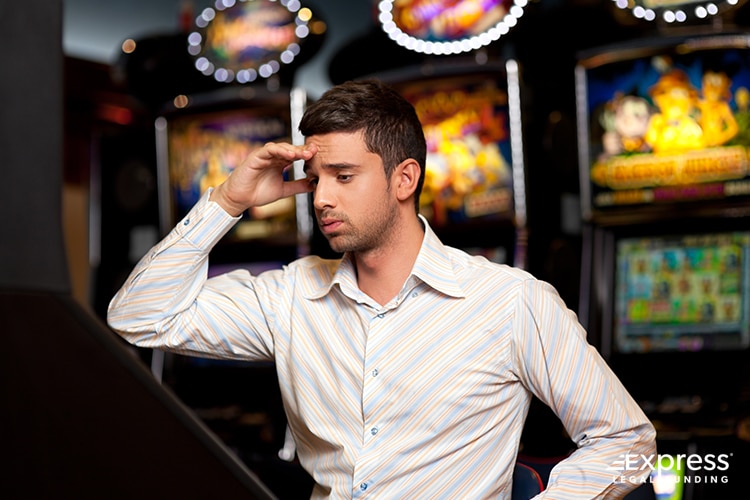 Repaying gambling debts and loans can feel like an impossible task, and inflation increasing daily living costs does not make it any easier.
Even if you learn you can sue the Abilify makers to recover the losses caused by their medication by getting legal advice from an Abilify attorney, Abilify class action lawsuits still take time to settle.
Pre-settlement funding is a risk-free financial product that can help you in this situation. Our team at Express Legal Funding can provide you with lawsuit funding while your case is pending, so you can use it to pay for essentials like food and rent. Plus, it's a non-recourse cash advance and not a loan.
So you can get the funding without the risk of going into debt. So if you are a part of a pharmaceutical class action or mass tort lawsuit and need cash now, applying for legal funding can be a good option for you.
(Please note the only legally allowed pre-settlement finance option for Missouri residents are pre-settlement loans, which are not risk-free. When applying for a pre-settlement loan in Missouri on a claim, whether it be mass tort or personal injury, make sure the Missouri Division of Finance licenses the lawsuit loan lender.)
Abilify Lawsuit Settlement Amounts
Bristol-Myers Squibb $515 Million Abilify Settlement
In 2007, Bristol-Myers Squibb paid a $515 million Abilify lawsuit settlement. The BMS Abilify settlement was in response to their alleged illegal marketing of Abilify. Like other pharma makers, BMS can not promote the off-label use of Abilify.
The U.S. Department of Justice brought the charges against Abilify in this suit.
Bristol-Myers Squibb $19.5 Million Abilify Settlement
In December 2016, Bristol Myers Squibb agreed to a $19.5 million lawsuit settlement with 42 states and D.C. The allegations against BMS were of those involving unfair marketing and deceptive trade practices, which means the way and how Bristol-Myers Squibb advertised Abilify to each state's consumers.
The valid basis for why the states sued the makers of Abilify was about the consumer's well-being.
As Former Attorney General Schneiderman of New York said, "Consumers must be able to rely on their doctor's advice for medication without having to worry about drug companies manipulating their advertising to promote their products at the expense of patients."
We hope you found this a helpful Abilify class action lawsuit guide and a positive resource to start understanding if you can sue Abilify for compulsive gambling or spending losses you may have suffered.
Aaron Winston is the Strategy Director of Express Legal Funding. As "The Legal Funding Expert," Aaron has more than ten years of experience in the consumer finance industry. Most of which was as a consultant to a top financial advisory firm, managing 400+ million USD in client wealth. He is recognized as an expert author and researcher across multiple SEO industries.
Aaron Winston earned his title "The Legal Funding Expert" through authoritative articles and blog posts about legal funding. He specializes in expert content writing for pre-settlement funding and law firm blogs.
Each month, tens of thousands of web visitors read his articles and posts. Aaron's thoroughly researched guides are among the most-read lawsuit funding articles over the past year.
As Strategy Director of Express Legal Funding, Aaron has devoted thousands of hours to advocating for the consumer. His "it factor" is that he is a tireless and inventive thought leader who has made great strides by conveying his legal knowledge and diverse expertise to the public. More clients and lawyers understand the facts about pre-settlement funding because of Aaron's legal and financial service SEO mastery.
Aaron Winston is the author of A Word For The Wise. A Warning For The Stupid. Canons of Conduct, which is a book in poetry format. It consists of 35 unique canons. The book was published in 2023.
He keeps an academic approach to business that improves the consumer's well-being. In early 2022, Aaron gained the Search Engine Optimization and the Google Ads LinkedIn skills assessment badges. He placed in the top 5% of those who took the SEO skills test assessment.
Aaron's company slogans and lawsuit funding company name are registered trademarks of the United States Patent and Trademark Office. He has gained positive notoriety via interviews and case studies, which are a byproduct of his successes. Aaron R. Winston was featured in a smith.ai interview (2021) and a company growth case study (2022).
In 2023, Aaron and Express Legal Funding received accolades in a leading SEO author case study performed by the leading professionals at WordLift. The in-depth data presented in the pre-settlement funding SEO case study demonstrate why Aaron Winston maintains a high-author E-E-A-T. His original writing and helpful content continue to achieve unprecedented success and stand in their own class.
Aaron was born in Lubbock, TX, where he spent the first eight years of his life. Aaron attended Akiba Academy of Dallas, TX.