Written by Aaron R. Winston
Last Updated: November 1, 2022 6:34am CDT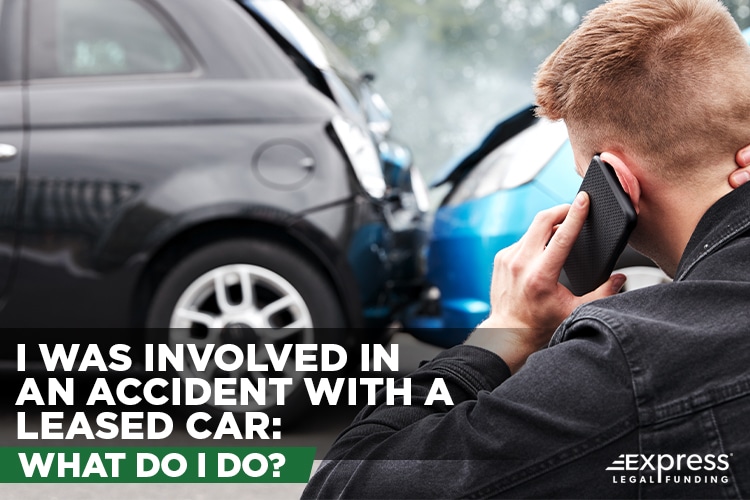 Motor vehicle accidents are an all-too-common issue in a world powered by engines and fuel. They are also further complicated by the many variables involved when car accidents occur. Everything from privately owned cars to government-issue vehicles like buses can change how a personal injury claim is processed following a collision. However, what if you are operating a privately-owned vehicle being lent out to you with a lease contract?
Vehicle leasing is a popular choice for those who require a new car but aren't ready or willing to purchase a new vehicle. However, leasing comes with specific regulations that directly affect how the property damage part of a personal injury claim progresses.
Today, we hope to provide some guidance and insight into your next steps if you are involved in a motor vehicle accident while operating a leased car.
The Differences Between Car Lease Contracts and Owned Vehicles
We first need to define what exactly differentiates a leased vehicle from a vehicle you may own. If you have found this article, there is a good chance you leased a car and were briefed on the terms of your vehicle lease and the different regulations involved. That said, many people sign the paperwork, assuming most of what's in it will never matter. Just because you have access to the information doesn't mean you necessarily understand it.
Reviewing the terms of your car lease before you sign is always a good initial step to ensure no misunderstandings.
Leasing A Car vs. Owning A Car
To put it simply: a leased vehicle is your personal vehicle that you have the right to use for all intents and purposes. However, there is one critical caveat with leases that has several implications. You do not technically own a vehicle lease, as it is more of a long term rental being financed out over a set period of time.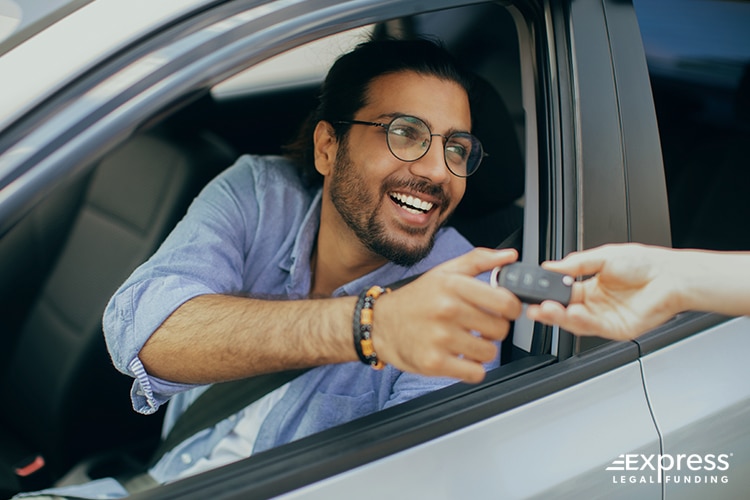 Leased vehicles follow the same payment structure as a vehicle you have purchased in that it is structured to be paid off in monthly payments. Generally, leases last a three-year to a six-year period where you pay a monthly fee until that time is expired. It is no different from the standard payment structure for financing a car loan to purchase a car, as you will still pay interest.
There is only one practical difference. Once the payment period is over, you will return the vehicle to the lender, which in most cases is the car dealership that brokered the lease.
When you lease a vehicle, there are additional factors in the contract, including things like mileage limits where exceeding those limits can lead to extra charges when the car is returned.
However, one inescapable part of leased vehicles is directly affected by collisions where they are involved. Specifically, there are damage clauses in leasing company contracts that require the car to be returned in the same or better condition than when the car dealership leased it to you.
Suppose you are involved in an auto accident with a leased vehicle that results in your car being involved in a crash and severely damaged or even totaled. In that case, you will be indebted to the leasing company for the damage. This clause makes determining the next step after such a collision an essential detail since you will likely want to avoid eating the cost of the damages.
The First Step Should Always Involve The Police and Medical Treatment
If you have been in a collision while driving a leased vehicle, your concern might immediately jump to the damages and the financial fallout they will incur. However, this should not take your focus immediately following the accident.
Instead, turn your attention toward ensuring that you are not harmed or at least tending to any bodily injuries you might have suffered as a result of the collision. Managing your health should always be the first step since severe enough injuries can make the vehicle damage a non-issue.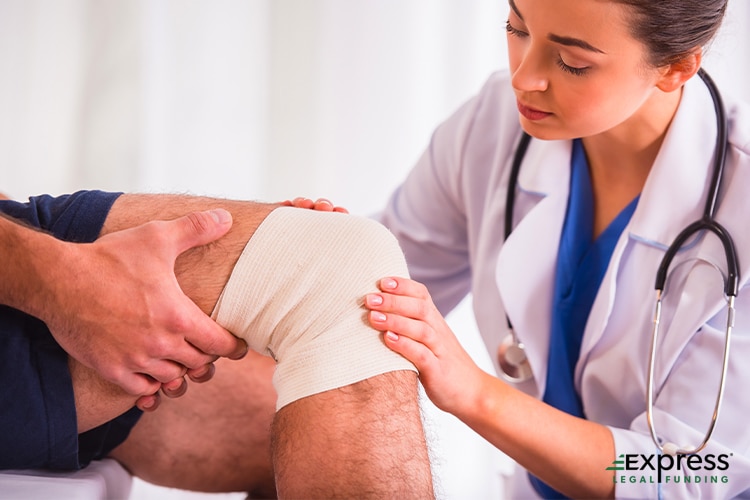 Following the accident, you should contact law enforcement and go to an emergency room immediately upon their approval to leave the accident scene. There you can have your injuries evaluated and an initial treatment plan drawn up.
The physicians you see will check for any long-term damage or critical injuries from the collision, and after treating, you will refer to specialists for any additional treatment or rehabilitation you might need. This step is an essential part of your recovery and processing a personal injury claim once you have been given your now lesser clean bill of health.
Your medical treatment will also be factored in other ways that do not relate to the leased vehicle but more on that later. Once you have a medical game plan, you can begin perusing the legal implications of your leased vehicle being damaged.
The Next Step is to Contact Your Leased Car Insurance Provider
You are entirely responsible for any insurance policy obligations when it comes to motor vehicle insurance for a leased vehicle. Your car insurance policy typically needs to remain within the bounds of your state of residence law. However, when securing insurance for a leased vehicle, your policy must also meet the lessor's standards before you can drive a leased vehicle.
Having motor vehicle insurance is a legal requirement before you are allowed to operate a car in many states, so in most cases, this should be a non-issue. Although, luxury car leases often require more types of insurance to be purchased by the lessee.
Regardless of who is responsible for the collision, you will need to contact your insurance provider to inform them of the situation, especially since your own insurance company will be tapped to financially compensate for injuries and damage if you are at fault.
However, if you are not at fault, you may not have to use your own insurance. The other driver's insurance company will be contacted for a settlement to help pay for medical expenses, damage to the vehicle, property damage, etc. In addition, your lease agreement might require you to spring for additional insurance coverage from your provider to ensure that their car is adequately covered.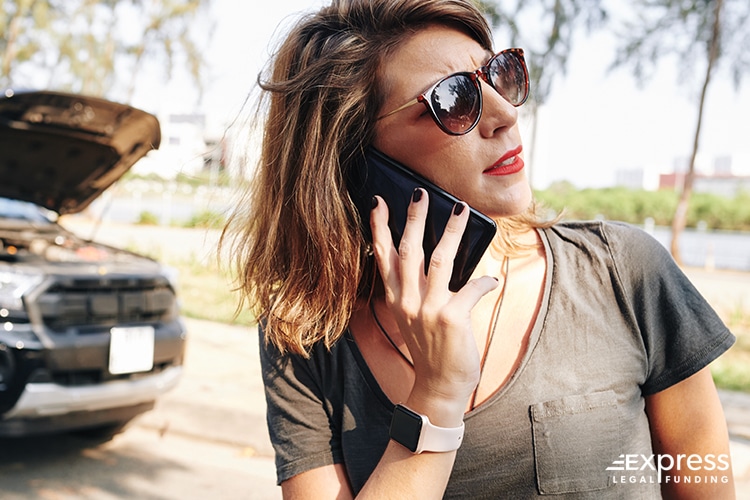 This coverage is when things start to change. Traditionally, insurance companies will provide collision coverage for the damages to your vehicle, and you would receive those funds directly through your insurance claim. However, when operating a leased vehicle, any funds that cover the damages to the car would instead go to the lessor since the vehicle is legally their property, not yours.
If your vehicle is a "total loss," your insurance providers will only pay out the vehicle's current market value. Depending on the year the car was manufactured, the value of the car may not be enough to fully pay off the cost you will owe to the leasing company.
As you don't want to be left holding the bag, it's always a wise idea to review your deductible and gap coverage with your insurance provider if you intend to lease rather than buy. Gap insurance is available in some places to step in to help pay off the remaining balance of a car lease following a collision that standard insurance cannot cover.
Essentially, the leasing company is owed funds to replace the damaged vehicle, regardless of the circumstances of the accident. The lessor is only entitled to the funds that specifically account for helping to fund a replacement vehicle. However, whatever settlement you receive for a personal injury claim against the driver at fault remains yours.
You Have to Repay The Leasing Company For The Damaged Vehicle
Regardless of the circumstances, you will be obligated to make sure the party that leased the vehicle to you is given the funds needed to replace or repair the car. The final amount of the body shop repairs may be marginally less expensive than replacing the entire vehicle, but either one will still cost a pretty penny.
Reporting the situation to your insurance provider is the easiest and most recommended method. Still, it is not always an option, and you might have to turn to an alternative.
The most obvious and less appealing option is to eat the cost of the repairs or replacement vehicle yourself. In most accident cases, replacing an entire car is not an option due to the high price of a new car, but repairing a damaged vehicle with replacement parts and labor might be viable.
You'll have to decide whether to choose aftermarket parts to save money or factory OEM parts, and the waters get a little murky here. If you seek repairs to the car before the end of the lease period, you may be able to return the vehicle to the lessor with no fuss. However, doing so will require you to dip into your own funds if you cannot receive funding from your insurance provider.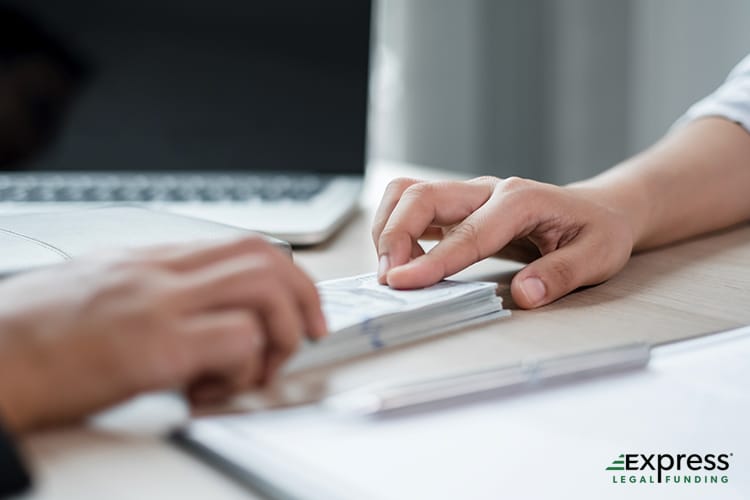 In some rare cases, the lessor might be willing to redistribute the cost of repairs into the next lease if you intend to lease the exact vehicle again. However, you can only do so if you intend to immediately re-lease the car after the initial lease expires. Of course, it will lead to higher monthly expenses, and not every leasing company is willing to indulge in this avenue, but the possibility will remain for some.
Building upon re-leasing a vehicle, you may have one final option to spare you or delay the costs of repairs. That option involves the car dealership allowing you to purchase the car at the end of the vehicle lease. Car leasing companies generally attempt to sell vehicles as pre-owned cars after the leasing period is up anyway. If a damaged vehicle is returned, they will need to repair it and ensure that it's safe to operate before listing it for sale. If you offer to purchase the vehicle, then the need for those repairs is no longer their concern.
Suppose the vehicle is a total loss, and the value paid out by your auto insurance company is not sufficient to repay the debt entirely. In that case, you will be responsible for paying out the difference yourself unless you have gap insurance as well.
In all of these instances, the cost of repairs or replacement is essentially repaid, and the lessor no longer has any cause to pursue additional charges. However, not every option is viable depending on the lessor's policies.
File a Personal Injury Claim After The Leased Car Accident
If you are not at fault for the collision, you can seek compensation from the responsible party to tend to your medical costs, injuries, and damages. The personal injury claim remains exempt from garnishing by the lessor since it is designed to help compensate for your medical expenses and damages.
However, if you have leftover funds in the settlement at the end of the day, you can dedicate some to paying the lessor back for damages to the vehicle or seeking repairs yourself.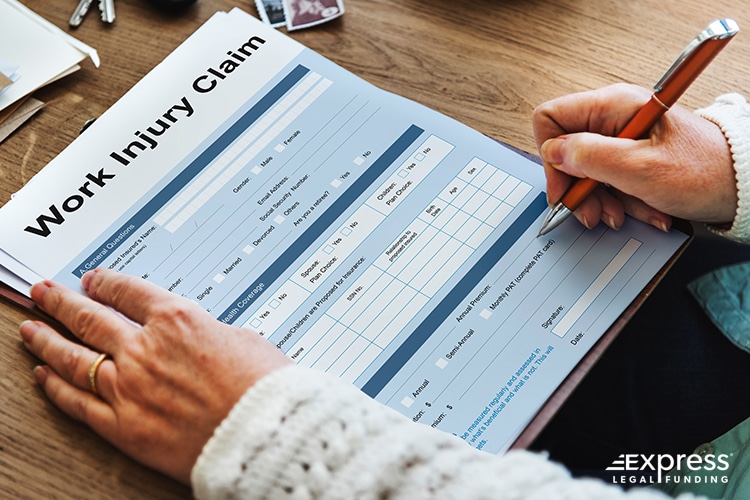 The claim you file will require you to gather specific evidence that you can use to support your account of the events leading up to the collision, and your car accident attorney will work with the defendant's claims adjuster to negotiate your settlement.
Your settlement will be directly affected by the overall cost of your medical care, which is part of what makes it an essential 1st step. While there is no guaranteed settlement amount, insurance should completely cover your medical costs and give you additional money for your pain and suffering.
In reality, the claim should be filed as soon as possible after the accident and will be concurrent with negotiating with the lessor. However, do not let the lessor attempt to wrest a portion of the settlement amount as their repayment is independent of the personal injury settlement.
Leased Vehicle Accident Lawsuits
A leased vehicle is not your personal property. It belongs to the party that authorizes you to use it. As a result, when a leased vehicle is damaged in a motor vehicle accident, additional negotiations and costs arise as you attempt to rectify the situation with the car leasing company.
Ultimately, the vehicle being leased rather than your property has no impact on the proceedings of personal injury claims. The only difference lies in repaying the debt incurred by the lessor's property being damaged.
Any extra funds available in your settlement can be of use in helping repay it, but the payment is not designed to do so and will not be factored into the negotiations. In most cases, one of the liable insurance providers will pay you for the vehicle's repair costs.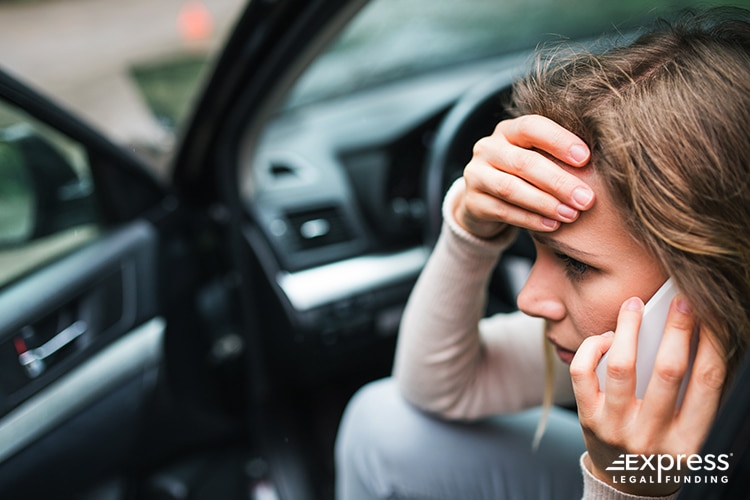 Regardless of the ownership of the vehicle, motor vehicle accidents and personal injury claims involve a great deal of expenditure. In a world where money is essential for maintaining the quality of life we expect, additional costs can become taxing.
These bills can certainly pile up with the cost of essentials like rent and food. You got hit by unexpected medical bills and need to find ways to pay for vehicle repairs (or potentially pay off the debt owed to your lessor).
To that end, we at Express Legal Funding can offer some financial support after your lease car accident. This type of pre-settlement financing is known as legal funding and can enable you to quickly pay for essentials like rent and is given in exchange for a portion of your potential settlement or court award money.
Best of all, the repayment for the lawsuit cash advance is handled by the car accident lawyer, who will take it out of your car insurance settlement or trial award check and not your own pocket. So you don't have to worry about going into debt. Feel free to contact us anytime for a free consultation to see if we can help.
Aaron Winston is the Strategy Director of Express Legal Funding. As "The Legal Funding Expert," Aaron has more than ten years of experience in the consumer finance industry. Most of which was as a consultant to a top financial advisory firm, managing 400+ million USD in client wealth. He is recognized as an expert author and researcher across multiple SEO industries.
Aaron Winston earned his title "The Legal Funding Expert" through authoritative articles and blog posts about legal funding. He specializes in expert content writing for pre-settlement funding and law firm blogs.
Each month, tens of thousands of web visitors read his articles and posts. Aaron's thoroughly researched guides are among the most-read lawsuit funding articles over the past year.
As Strategy Director of Express Legal Funding, Aaron has devoted thousands of hours to advocating for the consumer. His "it factor" is that he is a tireless and inventive thought leader who has made great strides by conveying his legal knowledge and diverse expertise to the public. More clients and lawyers understand the facts about pre-settlement funding because of Aaron's legal and financial service SEO mastery.
Aaron Winston is the author of A Word For The Wise. A Warning For The Stupid. Canons of Conduct, which is a book in poetry format. It consists of 35 unique canons. The book was published in 2023.
He keeps an academic approach to business that improves the consumer's well-being. In early 2022, Aaron gained the Search Engine Optimization and the Google Ads LinkedIn skills assessment badges. He placed in the top 5% of those who took the SEO skills test assessment.
Aaron's company slogans and lawsuit funding company name are registered trademarks of the United States Patent and Trademark Office. He has gained positive notoriety via interviews and case studies, which are a byproduct of his successes. Aaron R. Winston was featured in a smith.ai interview (2021) and a company growth case study (2022).
In 2023, Aaron and Express Legal Funding received accolades in a leading SEO author case study performed by the leading professionals at WordLift. The in-depth data presented in the pre-settlement funding SEO case study demonstrate why Aaron Winston maintains a high-author E-E-A-T. His original writing and helpful content continue to achieve unprecedented success and stand in their own class.
Aaron was born in Lubbock, TX, where he spent the first eight years of his life. Aaron attended Akiba Academy of Dallas, TX.