Written by Aaron R. Winston
Last Updated: May 13, 2023 1:32am CDT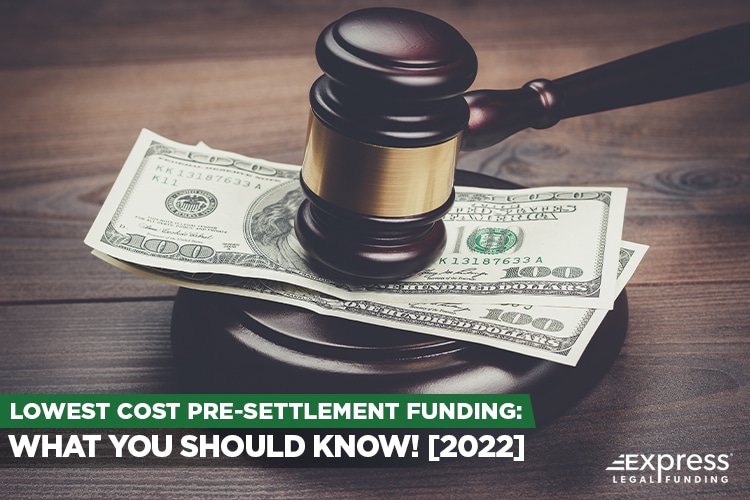 Welcome. In our guide, we discuss the ways legal funding companies make money and how to find the lowest cost pre-settlement funding for you. We are confident this is a helpful resource from Express Legal Funding that you will not want to miss.
It's a look behind the scenes and into the mindset of the legal funding industry and how it can affect you getting a fair settlement.
No matter how much money consumers have, they like getting the best deal when shopping for goods and services.
How do we measure if something is a good deal, though? It comes down to getting the best product at the lowest price possible in today's world.
For example, if you are in the market for a replacement vehicle after a car accident. You would be getting a good deal if you managed to pay the nonluxury car price for your luxury replacement vehicle. You want to pay less for more.
Get the lowest rates with no upfront costs and no credit check.
The same shopping concepts apply to how you can get the best deal on pre-settlement funding. But that's easier said than done, pending lawsuit or not.
It can be tough to identify the lowest cost pre-settlement funding on your legal case from just a fake guarantee that will cost you more.
That's why we wrote this guide to help you learn how legal funding companies charge money and what you need to know to find the lowest cost pre-settlement funding on your claim.
So let's begin.
How much is the lowest cost pre-settlement funding?
Let's first start with the definition behind what the lowest cost lawsuit cash advance should only mean. To be the lowest cost and non-recourse, it should mean the following two things: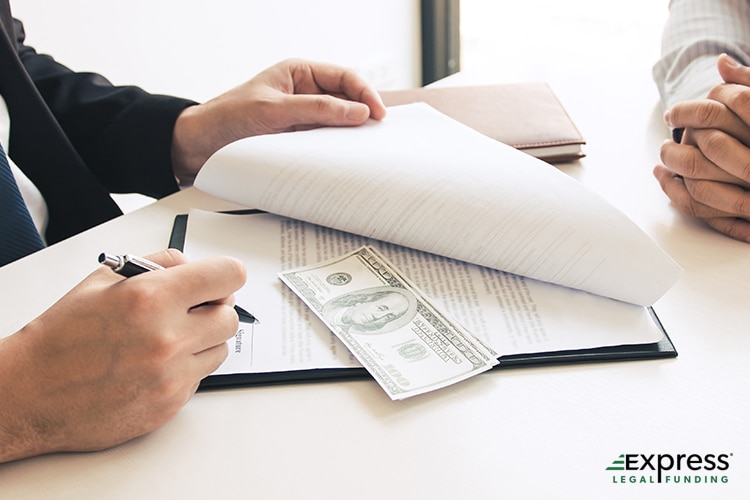 Concepts of Low-Interest Pre-settlement Funding:
The funding is a non-recourse lawsuit cash advance against your claim's potential settlement or trial award. So if you lose your case, you don't owe the legal funding firm any of the funds advanced to you. So it's risk-free for plaintiffs who use it to help with the cost of living expenses and unexpected medical bills.
The pre-settlement funding can only be the lowest cost because the lawsuit funder is owed less at the end of your case than if you got money from any other company. The pre-settlement funding is repaid from your settlement proceeds or trial award. So the more the litigation funding company is owed repayment, the less the check you will get at the end of your case.
How does the lowest cost pre-settlement funding work?
You want to get the lowest cost pre-settlement cash advance to ensure you get the best settlement check sent to you at the end of your case. Not only is it better for you, but it's better for your attorney too. Lawyers want to make their clients happy and deliver large settlement checks to them.
Pre-settlement funding companies that overcharge make things harder for lawyers. That's because if you end up owing too much money come settlement time, you might not want to settle even if it's a fair offer.
No injury attorney or law firm likes telling a plaintiff they will only get a few hundred dollars because the legal funding company will get more from the case than they will. Personal injury lawyers make more money when their clients are satisfied with their settlement amounts.
However, more often than not, clients do not get the lowest cost pre-settlement funding they deserve, which can leave them feeling like they lost their case in the end.
So both the client and the attorney lose when the pre-settlement advances cost more than they should.
This outcome is why some personal injury attorneys have the policy to deny clients pre-settlement funding by refusing to sign off on withholding the owed funds per their client's direction and the agreement.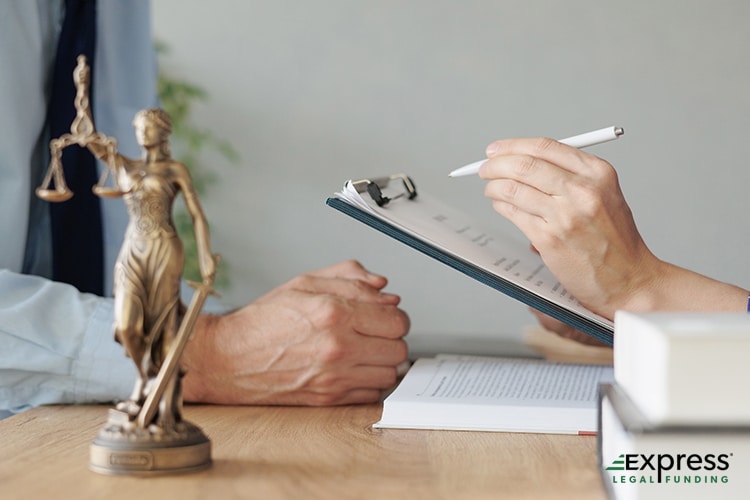 Part of the problem that causes this is that even the best attorneys can be surprised by the total amount owed to a lawsuit funding company at the end of the claim.
It is vital to first research and ask any questions you may have to ensure you will get the lowest cost pre-settlement funding to best fit your needs.
Still, it's easier said than done in 2023 when there are more and more dishonest lawsuit funding companies. That's why we are here to help you separate fact from misleading fiction.
What to Ask a Pre-settlement Funding Company
Below, you will find some of the top crucial questions to ask any pre-settlement funding company when figuring out what they plan to charge you. Each question matters to your financial well-being. So make sure they answer all of them.
What are the pre-settlement funding interest rates?
The interest rate for lawsuit funding is one of the most overhyped concepts clients have to deal with. For starters, many lawsuit funding brokers falsely guarantee you the lowest lawsuit funding interest rates. They are falsely advertising.
That's because they are brokers and can't set interest rates.
Many of these same brokers say they charge your interest rate based on the strength of your case, which is untrue for the same reason.
It's all about marketing and getting you to apply with them instead of an honest legal funding company. They know you will think you will have a low-interest rate on your pre-settlement funding or pre-settlement loan(Missouri) because you feel you have a strong case.
For Missouri residents, it needs to be a lawsuit loan from a licensed lender, which means your credit score technically matters as with traditional loans, no matter your case type.
Like all lenders in Missouri, these lawsuit loan companies require state licensing.
Unfair Pre-settlement Funding
Have you ever heard someone with a personal injury case say, "I don't think I can get approved for pre-settlement funding because my personal injury lawsuit is weak."?
Your answer is likely no because everyone suffering from a personal injury thinks they have a strong case. After all, they were severely injured.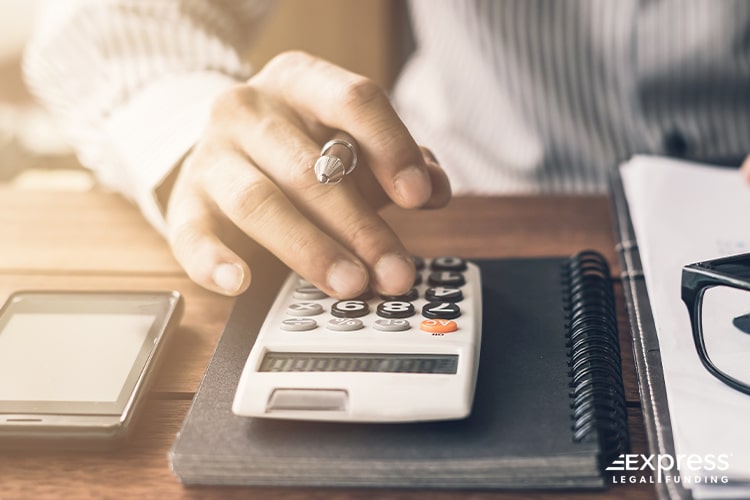 Lawsuit funding broker companies prey on these injured victims using the "determined by the strength of the case" mind trick. They and their websites will try the same thing on you. All of this is not ok and falls under misleading advertising.
Pre-settlement Funding Underwriters
However, interest rates are still worth discussing with a company that underwrites its pre-settlement funding, such as Express Legal Funding. That's because they can set the interest rate of your lawsuit funding contract.
Yet, it's important to note that it's not common practice for even underwriters to adjust interest rates based on the strength of your case.
Underwriters look at the strength of your case to see how much funding you can get approved, not what interest rate you will pay. It does not benefit them to lower your rate.
An Underwriter's job is to ensure they don't give too much funding based on the case's strength since they risk the company's money each time they approve a client for funding against their claim's proceeds.
Lowest Cost Pre-settlement Funding Rates:
So when it comes to getting the lowest cost pre-settlement funding, you need to remember two things about interest rates.
Only direct lawsuit funders can set the interest rate you pay. Broker companies falsely advertise by saying they're based on the strength of your personal injury claim.
Interest rates alone don't tell you how much the legal funding will cost you. The most important part is the lawsuit funding fees. This is extra true for the unfair companies that charge compound interest on their fees.
What are pre-settlement funding fees?
To get the lowest cost pre-settlement funding, you will need to know how the company charges lawsuit funding fees. Express Legal Funding knows that the fees can tell you more than the interest rates themselves based on our real-life experiences and documented evidence.
So make sure you ask each legal funding company to explain all of their fees to you and how often they charge them.
You may be wondering how the fees would cost you more than the interest rate? It doesn't make sense from how most people think of all types of financing.
For starters, pre-settlement funding is not a loan, so it can't be priced out in the many ways a loan would in the states where it's an unregulated non-loan product.
The best example of a fee costing more than the interest is a company that offers "0% interest pre-settlement lawsuit loans."
That company is still charging a single percentage-based fee, so they make money from the calculated percentage of the fee and not an interest rate. (Please note we are not condoning this advertising method, as we believe it to be misleading and unfair for the consumer.)
This type of fee is not a new concept, as credit card companies charge percentage-based fees for every time a credit or debit card swipes.
Types of Lawsuit Funding Company Fees:
Processing fee (code for broker fee)
Origination fee
Underwriting fee
Document preparation fee
Case management fee
Deferred monthly payment fee
Delivery fee
Hidden fees
Upfront application fees
Some of the above fees are similar to a convenience fee, which is a surcharge that is often charged illegally by merchants to offset the cost of processing debit card transactions.
How to ask a lawsuit funding company about fees?
Unfortunately, many pre-settlement funding companies are not honest about charging fees. A lie of omission is still a lie, especially regarding extra costs and legal funding expenses.
So to give you the best chance of getting the truth from a lawsuit funding company about their fees, ask them the following four questions:
What are all the fees you charge on pre-settlement funding?
How much does each fee cost?
How often is each fee applied?
In what ways are the lawsuit funding fees and costs applied? Meaning they could be flat fees or percentage-based. Or even could have interest rates applied to the charges.
These four questions can cost or save you thousands of dollars worth of lawsuit settlement money.
For example, a pre-settlement funding company that charges a 50% interest fee once every six months will have a rate that costs more than 100% except for two days a year.
The interest rate is exactly 100% on only those two days, which are the last day of month six and the last day of the year. The closer it is to day one or day 183, the higher the interest rate.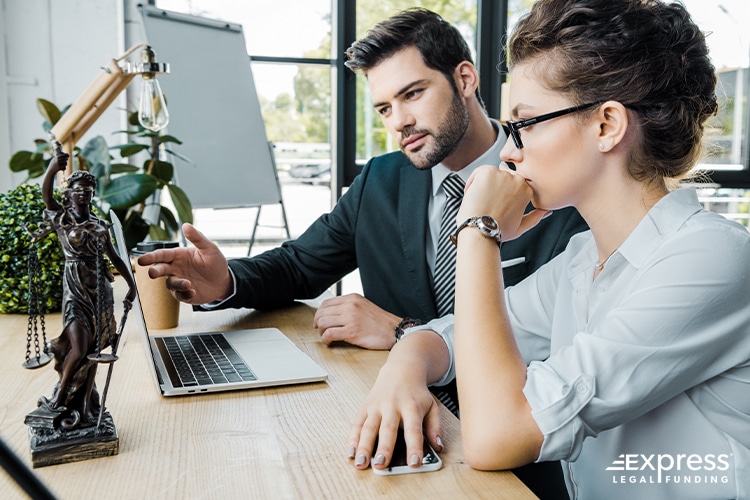 The pre-settlement funding companies that charge this way make a safe bet each time they fund you because cases are a ton more likely to end on one of the 363 days that do not include day 183 and day 365.
So they are betting your interest rate will be much higher than 100%, and they almost always win that bet against you, the client that got pre-settlement funding money.
In our experience, this shows that companies who say they have one simple fee twice a year on their pre-settlement funding are not a good deal after all.
Lawsuit funding broker companies can be misleading illusionists who make money from you falling victim to unfair marketing illusions. They confuse and mislead injured victims into thinking their pre-settlement funding is the lowest cost when it is quite the opposite.
Sadly, some legal funding companies will lie as long as they see more profits coming in. To them, the gamble of being among the legal funding companies harming millions of people each year is worth the risk.
They have maintained their freedom for over 20 years while not losing sleep at night. So why stop now if they are making more money with less work?
At Express Legal Funding, our answer to that question is simple. We don't lie and mislead the consumer because not only is it wrong, it is against the law. Plus, just because other companies do business that way does not justify our doing so.
Why is Express Legal Funding the best pre-settlement funding company?
Express Legal Funding is the best pre-settlement funding company because we continue to redefine better legal funding. Before Express Legal Funding took the industry by storm, there were many flawed and unfair concepts about ethical pre-settlement funding.
Other lawsuit funding companies thought they were ethical because they were less unethical than the competition. The world doesn't work that way.
Lawsuit funders would rationalize not following the law in one state by helping to pass legislation in another. But Express Legal Funding is here to help you know better.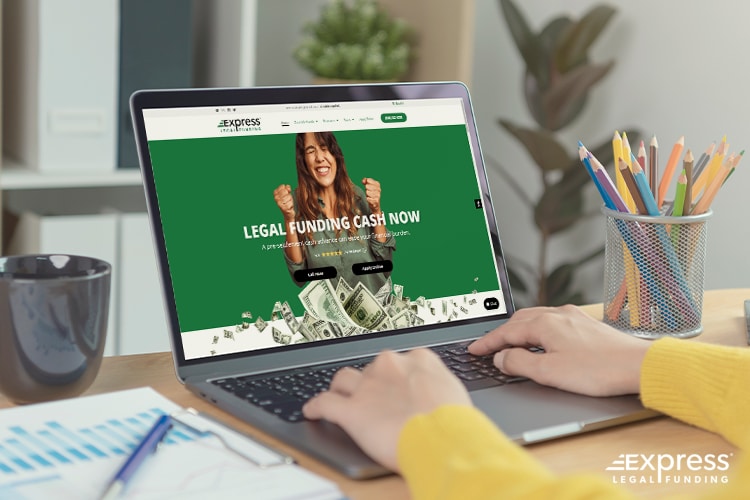 At Express Legal Funding, we challenge and disprove these ideas. It all starts with caring about what each state's laws are. There is nothing complex or secret to how we do it.
What is the lowest cost pre-settlement funding?
All companies have the power to be honest about the actual cost of their pre-settlement funding. No one forces them to lie about whether they can offer you the lowest cost pre-settlement funding or not.
Companies who don't provide pre-settlement funding honestly make more money for themselves more easily.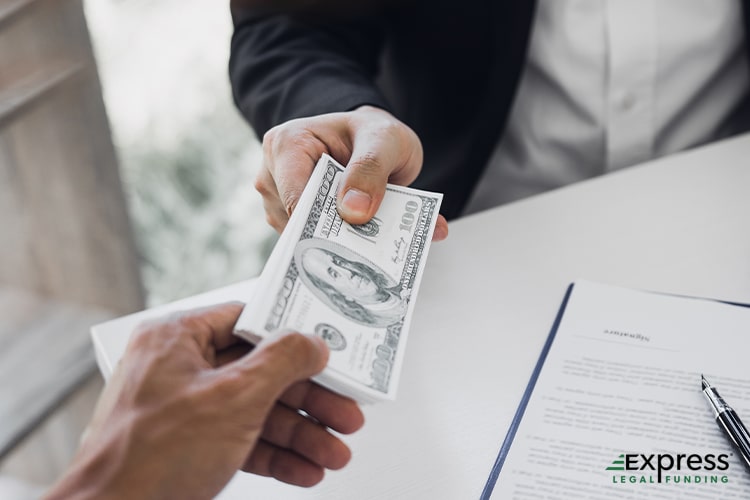 The consumer is the one demographic that benefits the most from these wrongs being righted and restoring facts and truths. You and I are consumers whether we are in need of pre-settlement funding or not. So let's keep that in mind when it comes to getting a fair price on lawsuit cash funding.
Everyone gets harmed financially when their fellow neighbor is financially harmed. If the consumer was forced to file a police report or use social services, that meant we all paid when their consumer rights were infringed upon.
Whether you pay taxes or not, you don't want unfair marketing to use up your state's revenue.
How can companies make pre-settlement funding better?
Our plan about how we could make pre-settlement costs easy to understand is to focus on the interest rates and get rid of the fees. That way, you could compare just the interest rates to tell which is the lower cost pre-settlement funding.
So if one company showed an interest rate of 2.99% on their contract and the other company showed 3.00%, you could know that the 2.99% interest rate was the better pre-settlement funding deal for you.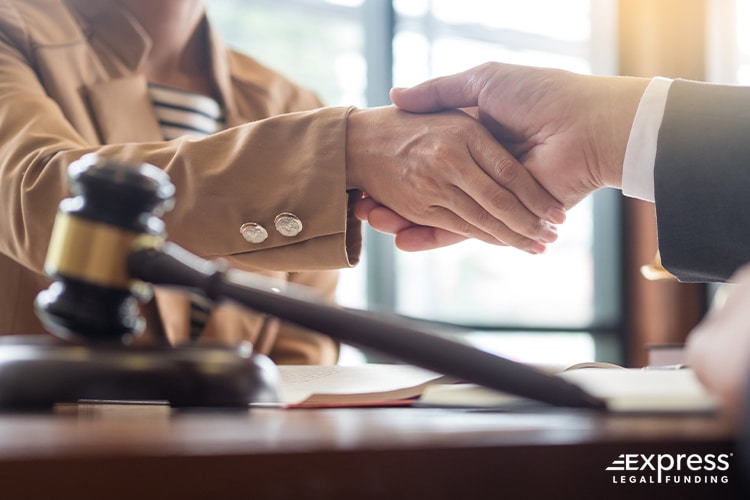 As we stand today, that is not the case. It's our hope the legal funding industry will shift that way for the well-being of the consumer.
Can I get guaranteed pre-settlement funding?
Unfortunately no, guaranteed pre-settlement funding is not a legitimate and fair pre-settlement finance option. This is because no company or person can guarantee that you will get approved for lawsuit funding on your case.
Every company needs to hear a few details of your case and speak to your law firm before approving you for lawsuit cash funding.
This same principle remains true even for the companies that skip talking to lawyers and law firms by looking up client case info in their shared lien management database.
If their underwriters see something about your case they don't like, your approval chances go down.
Funding can never be guaranteed, no matter the strength of your case or how badly hurt you are.
Can I Pre-Approved for Pre-settlement Funding?
No, getting pre-approved or instantly approved for a pre-settlement advance is not possible, and it is misleading and fraudulent to advertise that. These untruths about legal funding increase in nature on search engine platforms like Microsoft's Bing and Google with their paid search ads.
To combat false and misleading advertising, all underwriters and funding companies should make sure the brokers they work with will not dishonestly advertise instant approvals or guaranteed pre-settlement funding to you.
Originators likely save on advertising by using aggressive, less-than-truthful brokers instead of covering the cost of marketing themselves.
So if the legal funding underwriters are not concerned with following these FTC laws, it would make perfect financial sense to them. Once again, none of this is fair to consumers or ethically ok.
Even with these false promises, do not lose hope. Since if you can file a suit against another person or company for the injuries and damages you sustained, you can get approved for a lawsuit settlement cash advance on your case.
Lawsuit funding exists for more than just badly hurt plaintiffs in personal injury cases and the many auto accident case types. Many civil lawsuits and case types can get approved for pre-settlement funding.
Even people with hard-to-prove civil cases can get approved lawsuit cash funding:
Wrongful death claims
Medical malpractice claims, and more.
Can you trust a lawsuit loan calculator?
No! In our experience, you can not trust a "lawsuit loan calculator" and should view them as a sign that you will likely pay a high rate on your lawsuit funding.
Lawsuit loan calculators are misleading and not helpful tools on company websites, as the information shown is wildly inaccurate and cannot be verified at best. Plus, as we said earlier, these lawsuit funding company websites are often broker companies.
So all they should be talking about is shopping your case around to different lawsuit funding companies in New York or Florida, trying to get you a low-interest rate.
Instead, they show their broker company's average interest rate, which according to the CFPB, is misleading.
Then to make this that much trickier, the lawsuit loan calculators show the price change every six months. This equates to day 183 on the calculator being to one entire year of interest, exponentially increasing the true APR.
So at the end of the day, a lawsuit loan calculator is a search engine marketing scheme to get more visitors to a pre-settlement funding company website.
Google has said they like websites with helpful calculators and tools, but a lawsuit loan calculator is not an example of one.
Best Pre-settlement Funding:
Thank you for reading another expert lawsuit funding resource researched and written by our team. Express Legal Funding is here to help, so you can apply online anytime for our lower-cost pre-settlement funding to help you pay your bills and other costs.
Aaron Winston is the Strategy Director of Express Legal Funding. As "The Legal Funding Expert," Aaron has more than ten years of experience in the consumer finance industry. Most of which was as a consultant to a top financial advisory firm, managing 400+ million USD in client wealth. He is recognized as an expert author and researcher across multiple SEO industries.
Aaron Winston earned his title "The Legal Funding Expert" through authoritative articles and blog posts about legal funding. He specializes in expert content writing for pre-settlement funding and law firm blogs.
Each month, tens of thousands of web visitors read his articles and posts. Aaron's thoroughly researched guides are among the most-read lawsuit funding articles over the past year.
As Strategy Director of Express Legal Funding, Aaron has devoted thousands of hours to advocating for the consumer. His "it factor" is that he is a tireless and inventive thought leader who has made great strides by conveying his legal knowledge and diverse expertise to the public. More clients and lawyers understand the facts about pre-settlement funding because of Aaron's legal and financial service SEO mastery.
Aaron Winston is the author of A Word For The Wise. A Warning For The Stupid. Canons of Conduct, which is a book in poetry format. It consists of 35 unique canons. The book was published in 2023.
He keeps an academic approach to business that improves the consumer's well-being. In early 2022, Aaron gained the Search Engine Optimization and the Google Ads LinkedIn skills assessment badges. He placed in the top 5% of those who took the SEO skills test assessment.
Aaron's company slogans and lawsuit funding company name are registered trademarks of the United States Patent and Trademark Office. He has gained positive notoriety via interviews and case studies, which are a byproduct of his successes. Aaron R. Winston was featured in a smith.ai interview (2021) and a company growth case study (2022).
In 2023, Aaron and Express Legal Funding received accolades in a leading SEO author case study performed by the leading professionals at WordLift. The in-depth data presented in the pre-settlement funding SEO case study demonstrate why Aaron Winston maintains a high-author E-E-A-T. His original writing and helpful content continue to achieve unprecedented success and stand in their own class.
Aaron was born in Lubbock, TX, where he spent the first eight years of his life. Aaron attended Akiba Academy of Dallas, TX.