Written by Aaron R. Winston
Last Updated: November 25, 2023 2:52am CST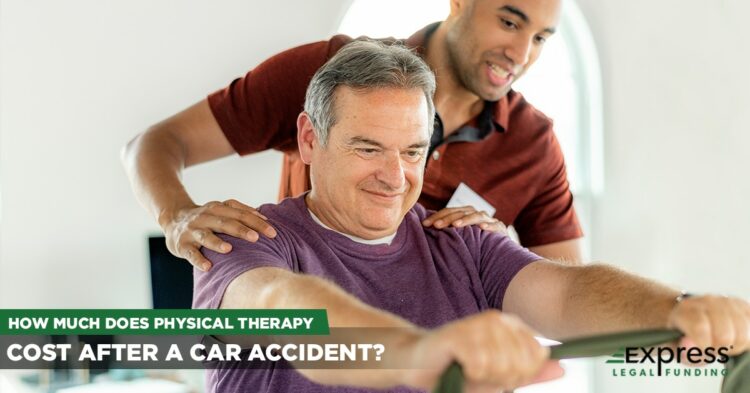 Recovering physically after a car accident can be a costly process. Often the best recovery and treatment plans include cost-intensive therapies. Unfortunately, car accidents that cause serious injuries are not rare, and most people will be in at least one accident during their lifetimes.
Like most traumatic events, the injuries you suffered are just the beginning of a lengthy recovery process. That process will often involve physical therapy to help you recover from the injuries the accident can cause.
After being injured in a car accident, the time it takes to heal from the injuries you sustain can cause your body and muscles to deteriorate if not adequately addressed.
Meaning it is not enough to let your injury settle and recover from the pain, but overcoming the long-term consequences of the accident will require more action.
More often than not, being in a motor vehicle accident will cause you to suffer severe damage to your body and impact your ability to function, hopefully temporarily – this is traditionally addressed with a physical therapy regimen.
Physical therapy is a recovery process where the damaged or affected limbs are put through some exercises to promote full recovery.
This treatment enables you to restore strength and functionality to your body and overcome the pain and suffering caused by the injuries from the accident.
However, physical therapy is far from being a low-cost recovery tool, though it is typically not as expensive as surgeries.
The cost of your physical therapy is not set in stone.
Many factors will impact the costs you will incur to undergo this form of rehabilitation treatment. For starters, the amount of physical therapy you need to recover will affect the amount you will spend to recover.
This article will dive further into this concept and provide insight into how much you can expect to pay for physical therapy.
What is Physical Therapy?
Physical therapy is a non-invasive healthcare specialty that helps patients regain and improve their bodies' mobility and movement functions.
Physical therapy can play a vital role in helping people recover from their injuries, relieve pain long-term without medicine, and strengthen the body to reduce the risk of future injuries.
Essentially, physical therapy is a type of treatment that involves movement exercises to strengthen specific parts of the body that can manage pain and restore functionality to our bodies.
Physical therapy is often provided to people after they suffered a substantial injury that limited their ability to handle daily life's physical strain and movements.
Physical therapists can treat clients in a wide array of circumstances. Unlike acupuncturists, the physical therapist works as part of a treatment team.
Regarding car accidents, physical therapists perform rehabilitative treatment designed to help the clients' bodies recover from their injuries following the traumatic physical incident.
In the US, physical therapy is performed by a licensed healthcare provider overseeing a regimen of rehabilitative exercises.
Before starting the treatment, a physical therapist will evaluate the client and develop a treatment plan to address the pain and mobility issues they suffer. The exercises are chosen for the patient's specific needs so the injuries heal correctly.
Unfortunately, car accidents are one of the most common causes of injuries. So they often require physical therapy to recover fully.
Several physical therapy tests are conducted to measure the level of damage to your body. This way, the physical therapist can get a better picture of what areas of your body are weakest, so the proper treatment regimen can be drafted.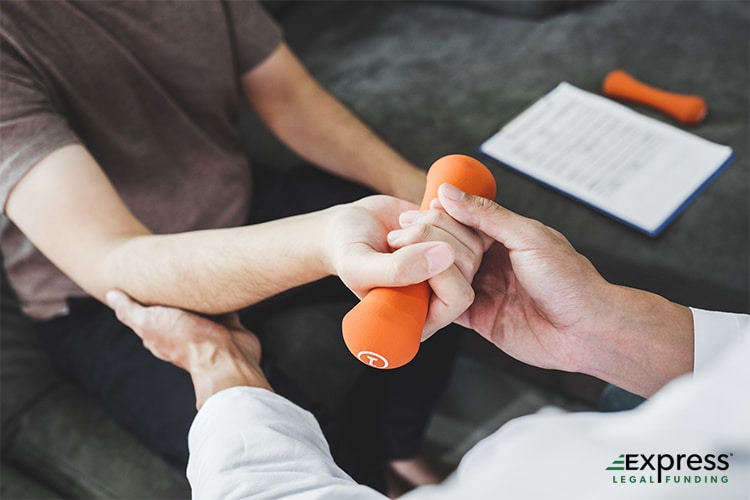 Physical therapy evaluations measure and test:
Your posture.
Your mobility.
Your balance and coordination.
Your range of motion.
Your ability to move, bend, and grasp.
Your ability to reach in multiple directions.
Your ability to walk up steps.
Your heart rate(bpm) while actively moving.
The results from these tests help the physical therapist create your treatment plan. The treatment will include a variety of exercises and other therapies to help you recover some of the types of functions you lost in the car crash.
The treatment method will most likely include specific exercises or stretches that your therapist will oversee and guide you through. However, some injuries, especially post-surgery, can require additional treatment, such as massage therapy or ultrasound.
Still, it's crucial to realize that physical therapy has its limitations. It is not enough to make a therapy appointment and rely on that one treatment to fully recover. Nor should it be the first type of medical care you seek immediately following an accident.
Your primary care physician or another one of the doctors treating you after the car accident will order other medical costs like x-rays or MRIs to supplement your case.
Your doctor needs to get a better idea of your body following the accident to ensure no other severe injuries are being overlooked that would need additional treatment that the physical therapy could not resolve alone.
Physical therapy is a helpful treatment many victims of motor vehicle accidents seek. However, just because physical therapy is one of the most common treatments for victims of car accidents does not mean that it will always be the most affordable option.
Most physical therapy treatments take place in chiropractic offices or the rehabilitative wing of standard hospitals for more severe injury cases.
How Much Does Physical Therapy Cost?
The adaptable nature of physical therapy means that no set regimen will apply to every patient – so there is no set amount you can expect to pay right after an accident.
Not factoring in insurance, the overall cost of your treatment will be primarily based on what kind of treatment you need and how much of it you will need to recover from your injuries.
The first and most crucial detail is how much the average physical therapy session will cost. The average cost of a physical therapy session tends to be somewhere between $20.00 to $150.00 a session. However, these numbers are far from concrete and may be higher or lower depending on the equipment and time per session.
Depending on your insurance coverage and deductibles, seeking treatment might be more expensive for some.
Without an active health insurance policy that will cover your physical therapy sessions, your costs could range between $75.00 and $150.00 a session. Unfortunately, not every insurance policy will offer physical therapy sessions or chiropractic care coverage.
So, you might have to pay out of pocket regardless if your insurance company does not cover physical therapy sessions.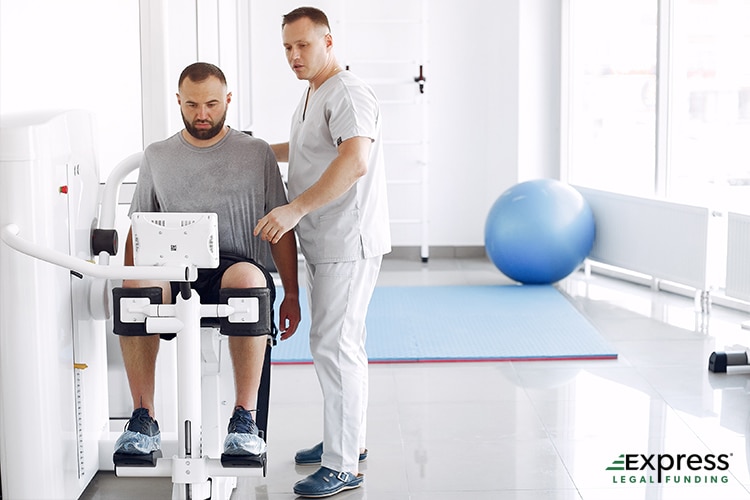 However, these costs only apply to individual sessions. Treatment plans include multiple sessions. Some injuries will require a single session a week, whereas others will require 2 to 3 a week to help you heal.
Depending on your injuries and needs, it is not uncommon that you may need multiple sessions a week over several months.
So, assuming a 3-session-a-week program, paying $75.00 out of pocket per session, your average weekly physical therapy cost would be around $225.00 a week.
However, as said before, these numbers are not guaranteed, and you might have to pay more or less depending on your specific injuries and insurance situation.
That said, some price differences depend on the part of your body that requires physical therapy.
Each body area will require specific exercises and treatments that might require different treatment costs. As a general rule of thumb, the rough prices of physical therapy by the type of physical therapy and the body region may look something like this:
Types of Physical Therapy Specialties and Body Regions Costs:
Knees: On average, physical therapy for your knees following a car crash could start at $100.00 per session without insurance. If you have insurance, you might only have to pay a co-pay of between $25.00 to $68.00 per session, depending on the facility and severity of the injury.
Back and Spine: Back pain is perhaps the most common injury suffered in a car accident. According to the American Physical Therapy Association, physical therapy for lower back pain averages around $126.00 per session, between 8 to 10 sessions total.
Rotator Cuff and Shoulders: Physical therapy for the rotator cuff is not the most common process in the field and has a less common payment structure. Ordinarily, it can start at $100.00 for the initial session, followed by another $50.00 for every subsequent session.
Pelvic: Physical therapy for the pelvis and pelvic floor region is a more expensive and delicate option. Depending on how damaging the car accident impact was to you, your pelvis could break or suffer other forms of damage—getting treated for the pelvic floor region typically starts at $225.00 for the first session and consultation, followed by $180.00 for every subsequent session.

TMJ:

Physical therapists can treat temporomandibular joints (TMJ) disorders. After a car accident, you are more likely to have TMJ pain if you suffer neck and head injuries. TMJ pain symptoms can include chronic pain in the jaw when yawning, chewing, or opening the jaw. Physical therapy costs for TMJ disorders can average $150.00 for the initial consultation and $85.00 for each additional session.
The different parts of the human body are unique enough to warrant various treatments and costs for each. Understanding the proper needs of each body part will give you a better idea of how much you can expect to spend on your physical therapy.
While physical therapy is an essential tool for victims of car crashes in terms of recovery, it is also vital from a lawsuit perspective. The financial loss you have from going to physical therapy can be factored into a legal claim with the help of your law firm. J
ust as physical therapy is vital to your health and recovery, it can be critical to your legal recovery.
If you were in an auto accident that was not your fault, it's essential to speak with a car accident attorney about your treatment to ensure that the other party pays for physical therapy.
Insurance adjusters are known to look over your medical care with a fine-toothed come, so your treatment mustn't be excessive or experimental.
Depending on the type of car accident injuries and the severity of the injuries (whiplash, neck injuries, soft tissue, spinal cord, or other serious injuries), this may be more straightforward with some issues than others.
How Does Physical Therapy Affect Legal Claims?
The use of physical therapy will promote healing and recovery in terms of your body's health, but it also has a bearing on any personal injury claim you file.
A personal injury claim is designed to hold the at-fault driver responsible for any negligence on their part while awarding a financial recovery to the accident victim, either through a trial award or settling the case.
This settlement should cover the cost of your physical therapy. The reason is that the costs of your physical therapy session are factored into any settlement negotiations conducted to resolve the personal injury claim you can file against the other party responsible for the accident.
Settlements are designed to help you recover any financial losses incurred from the accident. This way, your costs should be more or less made up for and then some.
Settlements are not set in stone. Unlike the costs of physical therapy sessions, and will be negotiated settlement will be negotiated between your lawyer and the defendant's claims adjuster with the defense law firm.
Your physical therapy costs are one of many details factored into the settlement amount your attorney will be fighting to reach on your behalf.
However, this is not to say you will get a settlement that will leave you with all the funds you need to pay off every medical bill without issue. There are limits to how much money might be offered for your situation.
If you overtreat with physical therapy, you might find your costs exceed the settlement amount you can receive. Or, even if the cost of your physical therapy is justified, you can still be subject to policy limits, limiting the amount of money you can legally recover on your claim.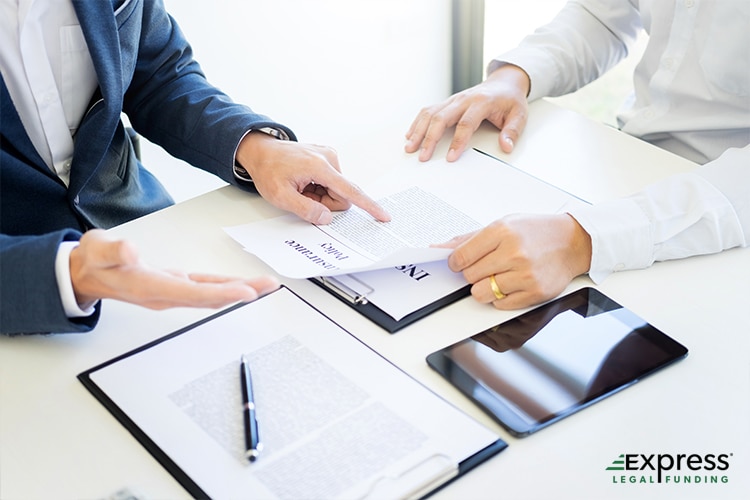 The settlement process will only factor in your overall medical costs and will offer you a lump sum designed to provide funds you can use to pay off your medical expenses.
You may be able to receive a larger settlement for pain and suffering depending on other factors such as lost wages and mental trauma inflicted in the accident.
However, the primary goal of any personal injury settlement is to make sure you have the funds to pay off your necessary medical treatment. Therefore, physical therapy as part of your post-accident rehabilitation is a valuable step in filing a personal injury claim.
It is important to remember that physical therapy is still considered a lesser form of medical treatment than mainstream procedures like surgeries to repair broken bones. Ordinarily, physical therapy is a short-term component of the recovery process and is viewed as a less-traditional medical treatment.
Insurance adjusters are much less likely to offer compensation for the treatment without a doctor prescribing physical therapy as a necessary component of the healing process. Especially since insurance companies think a physical therapist will treat a patient endlessly regardless of the recovery rate.
However, when a doctor prescribes physical therapy, there is little an insurance adjuster can do to effectively counter its validity, even more so when that same doctor performs surgery on the injured victim.
This information should give you a head start when deciding about your physical therapy needs. However, physical therapy costs are far from the only thing that will be of concern during a car accident lawsuit.
Physical Therapy and Car Accident Cases
Physical therapy is a standard and oft-used treatment to heal pain and injury induced by motor vehicle accidents. It allows for the rehabilitation and repair of the weakened and injured parts of our bodies following the accident.
However, it is often disregarded as some doctors still prefer to rely on surgery and pain medication to treat their patients.
Despite this unfair distrust of physical therapy, it seems to have grown into a popular method for physical mobility recovery and a staple of the treatment sought in personal injury claims.
Unfortunately, like most things in life, the cost of physical therapy is not clear cut as most would like. The prices can vary depending on your specific type of injury. The less-than-certain cost can make it challenging to get the treatment you need.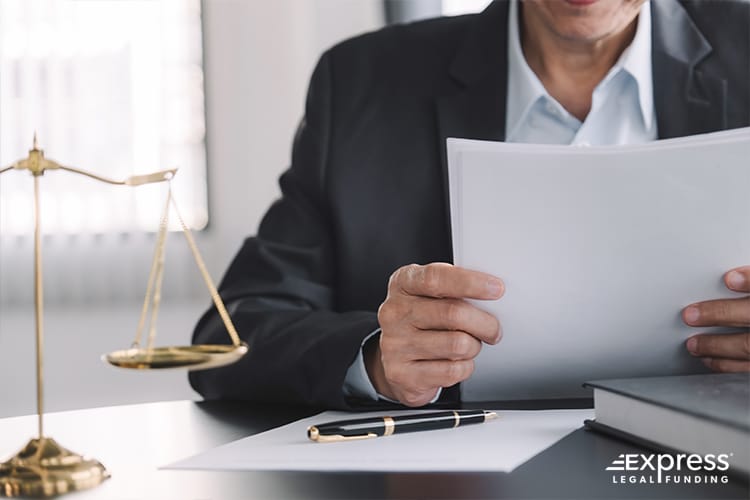 No matter your injuries, you are still expected to pay your financial obligations. Even when you are spending large amounts of money to treat your injuries, you are expected to pay for essentials and wait patiently while your personal injury lawyer is fighting on your behalf.
Nowadays, more and more, it can be easy to find yourself caught up in a sea of surprise expenses. It can feel like you are losing the fight against the cost of inflation and the price at the gas pump.
Our team at Express Legal Funding understands that reality and is here to assist in these situations. We can provide clients with our pre-settlement funding service, a risk-free cash advance against their car accident case's potential settlement or trial award.
You can use the legal funding to pay for any costs except to pay your car accident lawyer or the costs of the case. Many plaintiffs use the funds to pay their monthly bills like rent or power.
You can get money to pay your bills now, and you only have to ensure repayment if you get a settlement or win the claim. So, if you require assistance or want to learn more, visit our legal funding blog. You can contact us at Express Legal Funding today for a free consultation.
Aaron Winston is the Strategy Director of Express Legal Funding. As "The Legal Funding Expert," Aaron has more than ten years of experience in the consumer finance industry. Most of which was as a consultant to a top financial advisory firm, managing 400+ million USD in client wealth. He is recognized as an expert author and researcher across multiple SEO industries.
Aaron Winston earned his title "The Legal Funding Expert" through authoritative articles and blog posts about legal funding. He specializes in expert content writing for pre-settlement funding and law firm blogs.
Each month, tens of thousands of web visitors read his articles and posts. Aaron's thoroughly researched guides are among the most-read lawsuit funding articles over the past year.
As Strategy Director of Express Legal Funding, Aaron has devoted thousands of hours to advocating for the consumer. His "it factor" is that he is a tireless and inventive thought leader who has made great strides by conveying his legal knowledge and diverse expertise to the public. More clients and lawyers understand the facts about pre-settlement funding because of Aaron's legal and financial service SEO mastery.
Aaron Winston is the author of A Word For The Wise. A Warning For The Stupid. Canons of Conduct, which is a book in poetry format. It consists of 35 unique canons. The book was published in 2023.
He keeps an academic approach to business that improves the consumer's well-being. In early 2022, Aaron gained the Search Engine Optimization and the Google Ads LinkedIn skills assessment badges. He placed in the top 5% of those who took the SEO skills test assessment.
Aaron's company slogans and lawsuit funding company name are registered trademarks of the United States Patent and Trademark Office. He has gained positive notoriety via interviews and case studies, which are a byproduct of his successes. Aaron R. Winston was featured in a smith.ai interview (2021) and a company growth case study (2022).
In 2023, Aaron and Express Legal Funding received accolades in a leading SEO author case study performed by the leading professionals at WordLift. The in-depth data presented in the pre-settlement funding SEO case study demonstrate why Aaron Winston maintains a high-author E-E-A-T. His original writing and helpful content continue to achieve unprecedented success and stand in their own class.
Aaron was born in Lubbock, TX, where he spent the first eight years of his life. Aaron attended Akiba Academy of Dallas, TX.